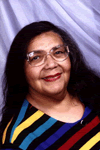 Alice Greenhowe Wootson grew up in Rankin, a suburb of Pittsburgh, PA. She earned a Bachelor of Science Degree in Elementary Education from Cheyney University. Later in her career Alice earned a Master's Degree in Education, with Principal Certification, and Reading Specialist Certification. She retired from the School District of Philadelphia.
Wootson is the award-winning author of eleven novels. She is also a poet and many of her poems have won awards and recognition. She is always working on her latest novel or work of poetry. She is a member of The Philadelphia Writers Conference, the Mad Poets Society, Romance Writers of America and The Authors Guild.
Wootson has presented workshops for several chapters of Romance Writers of America, the Philadelphia Writers Conference, The North Wildwood Writers Conference, several Romance Slam Jam conferences as well for adult and children's writing groups. She is happy to meet with book clubs and group of readers.
Wootson is a member of several ministries at her church: Enon Tabernacle Baptist Church in Philadelphia. She uses any spare time she can find reading, traveling, and spending time with her husband, her sons, and her grandchildren.