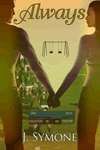 BY: J SYMONE
When fitness trainer JJ Marceaux catches the eye of pro rugby star Desmond Cade, she quickly finds out how hard it is to get off his radar. As fate keeps pulling them together, her heart and her mind go to war over whether or not to let down the protective wall that surrounds her. But can Desmond convince her to trust enough to let him in, or will the heartache from her past rob her of the joy in her future?

TAYLOR JONES SAYS: In Always by J Symone, JJ Marceaux is an aerobics instructor whose five brothers are in the military. One brother was killed in the Middle East, which combined with a broken engagement, has caused JJ to build walls around her heart to protect herself from letting anyone get close enough to hurt her again. Then she meets Desmond Cade, who won't take no for an answer. A rugby star, he's famous, wealthy, and gorgeous. Irresistible. Just what she says she doesn't need, even though he's just what she wants. Plus, he has a teenage daughter who JJ is totally in love with. When her four remaining brothers conspire with Desmond, JJ is hard put to resist, until disaster strikes.
A charming love story with enchanting characters and a well thought out plot, the book is a heart-warming and touching read.
REGAN MURPHY SAYS: Always by J Symone is the story of a young woman who has suffered too much loss in her life. Our heroine, JJ Marceaux, lost her parents when she was just a child. Raised by her five brothers, all of whom join the military, she is further devastated when one of her brothers is killed in action in the war in the Middle East. A failed engagement is the final straw and JJ builds formidable walls to protect her heart. But then she meets rugby star, Desmond Cade, who is determined to break through her defenses. Using every weapon at his disposal, from her brothers, to his daughter, and even his membership at the gym where JJ works, he hacks away at her walls until she gives him a chance. But their relationship is short-lived as disaster sends her reeling and she pushes him away. Now he has to prove he will be there for her, no matter what.
Always is a charming, well-written tale of two people with too much baggage to overcome and a love that could see them through—if they let it. Heartwarming as well as heartbreaking, it's a poignant and entertaining read.
Chapter 1
JJ bent over, gasping for air. By no means was she out of shape, but this Houston winter brought a bitter cold she wasn't used to. It was freezing outside and only the truly committed were out for their morning runs. As she rested against a tree in Hermann Park, she checked out a guy sitting on one of the swings in the nearby playground.
There was no missing him as he watched her run, but now his head was down. She couldn't see his face, but based on how his muscles bulged underneath his fitted hoodie as he sat in the swing, he was well built and tall. His hands were clasped together, as if he was praying. Something about him sitting there, seemingly so at peace with the world despite the thirty-five degree weather, intrigued her. The picture he made stirred an unidentifiable feeling deep inside her. Exhausted from last night's bar outing and her looming workday, she shoved her unexpected introspection aside and completed one last lap around the park. As she passed the stranger, she thought he gave a tiny smile, but he didn't wave or call out in greeting. He simply stood and walked away in the opposite direction.
As a fitness trainer, her job was always more exhausting at the beginning of the year. Between existing clients and new comers sticking to their New Year's resolutions, there was hardly a chance to take a breath between sessions. From the time she clocked in every morning, every minute was either spent with clients or in meetings. As the day went on, the crowd at the gym was dying down, and she finished with her last client. Her thoughts centered on getting home to her loft, pouring a glass of wine, and slipping in to a bubble bath. As soon as she clocked out, she all but ran out the door. In her hasty exit, she bumped in to one of the late night gym goers. Although he seemed familiar, he didn't seem to notice the bump, with his hood up and his headphones over his ears, so she muttered a quick apology and kept moving.
Once home she poured a glass of riesling, lit a few of her favorite scented candles, and ran hot water in her tub. She put her phone on silent, turned on her music, stripped down, and slipped in to her bath. Closing her eyes, she entered a near blissful state.
***
By all accounts, Desmond Cade was an open book, living a life that made most men jealous. With an Ivy League education, the star professional rugby player made it a point to flash his charming smile at the cameras constantly following him and the women who threw themselves at his feet. The media portrayed him as a god among men. With his money, fame, and hanger-ons, the image was hard to dispute. Yet, with the exception of time spent with his daughter, Lively, more often than not, he felt alone. So, to recapture his sense of being grounded, every now and then, he'd go back to where he grew up and sit in the swings of his favorite place, Hermann Park. There, he found a unique peace in a spot where he didn't have to be "the guy."
He was coming off a stellar season, but even the heavy dose of attention from his fans and team couldn't drag out him out of his current preoccupation. As a veteran in the rugby world, he would play until he couldn't. When he wasn't working, he spent time with Lively, making sure she knew her dad would always be there. Yet, after another failed relationship, this time with a Victoria's Secret model, he wondered what else life had in store for him. Maybe, despite the fame and fortune, he'd never find what he was looking for.
For now, he'd focus on the highlight of his off-season, his workouts. He preferred hitting the gym before sunrise and late at night to avoid distractions. Even star athletes had quirks, and since Wednesday was leg day, he was in his favorite pair of basketball shorts and his hoodie was held up with his headphones. Playing his music before walking in helped him get in the zone. Sometimes he got a little too zoned in, and accidentally walked into people.
***
"Heads up JJ, Terence is in the building."
"Oh, please no, I'm in no mood for him today." JJ loved everything about her job, from the opportunity to help people, to having fun in a great environment. There was one fly in her ointment, Terence Stewart. Over the last six months, the gym regular had become persistent in his pursuit of her. An army-veteran-turned-professional-body-builder, his confidence was bullet proof. He used any time she was at her desk alone as an opportunity to hit on her. When she worked out, he came over to offer tips or be her spotter. The more she rejected him, the more determined he became.
Like right now, for instance. He was locked on target and heading her way, even though she did everything she could to stay busy and keep moving. Her patience was at an end, so it was a good thing her best friend and coworker, Cecily Taylor, saw what was happening, and quickly made her way over to JJ, cutting Terence off. "Hey, girl, I brought Jax to the gym today. He's in the kids' zone, dying to see you."
"You're timing is quality." JJ's enthusiasm was obvious. "I'm gonna go see him right now." She beat feet to the kids' zone. Spending time with her cousin and godson, Jaxon always made her smile.
"Auntie JJ!"
"Hey, big guy! How's my main man?"
"Good. Look at my trains."
He held up his toys and his joy made her smile.
"You know who loves trains don't you? The tickle monster!"
Warned by her tone, Jax giggled and tried to run, but JJ already had him in her hands.
They played together for almost a half hour until Cecily finally came to pick him up. "Hey guys, time to go."
"Hi, Mommy."
"Ready to go home, my love?"
"Yes, ma'am."
"Go grab your jacket and your shoes." Cecily turned to JJ. "We still good for tonight?"
"Yeah." JJ got to her feet and stretched. "I have a client intake to finish and then I'm headed home." She watched as Cecily helped her struggling son put on his thick winter coat.
"Perfect."
Jax waved his fingers. "Bye, JJ, I love you."
"I love you too, big man."
***
JJ was ready to spend some quality time with Cecily. They were best friends, who were more like sisters, because Cecily was the only person JJ really trusted with the details of her private life. Mainly because, as outspoken as Cecily could get, she was the one who'd been there for JJ through thick and thin.
"Knock, knock. Hey, girl."
"Hey, grab your glass." On the couch, JJ took a sip of wine, while Cecily settled across from her. "Is it me or did the boy grow again?"
"Nope, not you. He is definitely bigger. My poor guy needed a new winter wardrobe because his clothes didn't fit. Oh, and since we're on the subject, I noticed more of a glimmer in your eye than normal when you were with him today."
JJ's glass halted halfway to her lips. "What?"
"It's the same look I had when I walked by the gym daycare after I found out I was pregnant."
"Ceci, I am not pregnant."
Her best friend grinned. "I know that, but those hormones of yours are going off. Don't deny it." She waggled a finger. "I know you far too well. So what's the problem?"
That was the million-dollar question. JJ couldn't pinpoint why her emotions were all over the place lately. "I don't know. Half the time, I think I don't even want to get married and have kids. Other times, I feel I'd love that life, but there's no one out there for me to share it with." Exasperated with herself, she gave an exaggerated shudder. "Ugh, there are some days I even think about just getting with T–"
"If you say Terence Stewart, our friendship is done, and you will never be allowed to see Jax again."
"Over dramatic much?"
"When you say things like that, it makes me think you are mentally unstable. Terence is arrogant, conceited, and incapable of loving anyone but himself. Do me a favor, please don't settle again. You'll meet your man one day, and I promise you, it's not Terence Stewart."
"Fine, but what do I do until that day?"
Cecily tipped her glass against JJ's. "You enjoy yourself. I love my husband and son with everything in me, but once you have a those things, the freedom to do what you want goes out the window."
"True."
They each took a long sip of wine, and JJ enjoyed the peace that came with it.
"Ooh, and you know what?" Cecily said excitedly. "We can go out next weekend. Max has tickets to the rugby scrimmage."
"Men in spandex. I'm in."
***
The city was alive with the arrival of spring and the start of rugby season. With the rest of his team, Desmond sat at the press table fielding questions. "Des, how you feeling about this season man?"
"Ah, I'm ready to get to work."
With spring training underway, everyone, from fans on the street to reporters at press conferences, was asking Desmond the same question. Was he was ready to help the team bring a championship trophy back to Houston? He was. Winter was spent in the gym getting his body ready. Each day he watched films from the last season, noting mistakes and making corrections. He wasn't going to be beat again.
***
The first practices leading to the intra-squad scrimmage were open to the public. It was a chance for the fans to meet their favorite players, take pictures, and get autographs. The younger kids loved seeing how big the players were up close.
Max's company always provided VIP passes, and he brought everyone to all the exclusive events. Next to JJ an excited Jax could barely sit still in the car. He wore his favorite number-nine, Desmond Cade jersey and a big smile.
As soon as they stepped in to the stadium, Jax sprinted to the players. JJ ran after up with him, while Cecily and Max went to find one of Max's old college friends, who was also member of the team. By the time she caught up to Jax, he was talking to the famous Desmond Cade. Cade was kneeling next to Jax. "What's your name, young one?"
"Jaxon Dillon Taylor, but everyone calls me Jax."
"Right on, Jax. My name is Desmond Quincy Cade, but everyone calls me Des. How old are you?"
"I'm five." Not missing a beat, her godson added, "This is JJ, she's twenty-five."
Heat rose under her cheeks. "Wow, thanks for tossing that out there, buddy." She tried to play it cool with a soft grin, even though she was a bigger fan of the superstar than her pint-sized companion.
Desmond looked up at her with a smile and a laugh. She stood behind Jax while Desmond stared at her.
The moment threatened to become awkward before he finally spoke, "Cade. Um, my name, it's Desmond Cade."
She tried not to laugh at his boyish inelegance. "Yeah, I know who you are. It's nice to meet you Desmond Cade. I'm JJ. Jax, here, is a huge fan of yours."
"I see." He rose to his feet, still staring at her. "What about you? Are you a fan?"
"I love a good rugby match."
His smile widened and the spark of interest in his gaze deepened.
The encounter was cut short when Max called to them, "Jax, JJ, come on."
JJ peeked over her shoulder to find him and Cecily waiting. "All right, coming." Turning back, she said. "Jax, say 'bye.'"
"Bye, Des."
"Bye, Jax."
As she walked away, she could feel Des watching until someone called his name. Since the match was only a scrimmage, their tickets got them access to the field area, which meant they could see all the action up close.
During the match it seemed like the announcer was saying the same thing over and over: "DESMOND CADE WITH THE TRY!" After his third score, he came off the field for a break.
"Desmond! Hi, Des!" Now on a first name basis with his favorite player, Jax couldn't contain his excitement.
"Jax-on! What up, rude dude! How do you like the match so far?"
Obviously unprepared for such an exuberant interaction, Jax ducked behind Cecily.
Desmond stepped away briefly and then came back with one hand behind his back. "Hey, Jax, I got something for ya."
Jax stepped from behind his mom with curiosity written all over his face.
Desmond's arm came from behind his back to reveal one of the game's scoring balls. "It's yours. After the game, I'll help you get all the guys to sign it."
"Awesome! Thank you!" Jax nabbed his new gift and shared it with his parents.
"You are quite welcome, friend."
Desmond's eyes drifted to JJ. Their gazes collided and locked for a breathless moment. A shout from the field broke the moment, and Desmond turned back to the match. JJ continued to stare, this time at his ass.
***
 "Hey, Mike, let me get a towel." Desmond ran past his best friend and fellow rugby player, Mike Canton. They'd grown up together, attending the same schools and playing on the same teams. Eventually, they both ended up at Yale, and after graduation had been drafted to the same professional team. Mike was the brother Desmond never had.
"Hey, man, you see that girl over there?" Des tilted his head toward the sideline. "The one next to the hyped-up little dude?"
Mike followed his direction and let out a low whistle. "Yeah, she's hot."
"Tell me about it. That's the girl I saw at the park and at the gym."
"Nice. You get her name?"
"Yeah, it's JJ."
"Those are initials," Mike grinned. "Did you get her number?"
"It's not exactly the time to do that, you know?"
"Keep waiting." Mike bent over to stretch his hamstrings. "You're gonna mess around and she's gonna be wifed up before you even make a move."
***
On the drive home, Jax talked about his new ball like it was an Olympic medal. Silence only occurred in the car during his brief nap. As soon as they pulled in the driveway, he was back at it.
"Hey, Daddy, can we go out and play with my ball?"
Max put the car in park. "Sure, bud, let's go."
JJ and Cecily watched them head to the backyard. Even before Cecily spoke, JJ could feel her stare. "All right girl, give me the details."
JJ knew what her friend wanted, but pretended ignorance. "What on earth are you talking about?"
"I'm talking about Desmond Cade." Cecily wiggled her eyebrows. "I saw how he was checking you out."
"He wasn't checking me out."
Cecily pushed open the door and the stepped inside the house. "The fact that you don't know when you're getting 'the look' is sad. He was definitely into you."
JJ followed her to the kitchen and took a beer from the refrigerator. "That's laughable. He was just being nice. Besides, he changes girlfriends like I change shoes. No, thank you."
"Whatevs." Cecily tossed her keys on the counter. "If I didn't have Max, I'd definitely ride that ride."
Giving an exaggerated shudder, JJ grimaced. "Thank you for that visual."
Cecily leaned back against the counter and folded her arms. "I'm just saying, you could do a lot worse."
Granted Desmond Cade was a walking wet dream, but who needed that kind of headache? "Yeah, too bad it doesn't really matter. It's not like I'm gonna run in to him again. We roll in two, very different worlds."
Cecily waggled a finger. "Never say never. Fate has a funny was of intervening."
"Right." JJ glanced down at her watch. "All right, I gotta bounce. Five in the morning comes early."
Blowing out a breath, Cecily straightened and gave JJ a hug. "Fine. But it's supposed to pour down tomorrow, so can you please run at the gym? I don't want you sick in my guest room again."
"Yes, Mom. I'll see you at work tomorrow."
Five o'clock arrived while rain pounded against JJ's windows. It was still dark outside as she grabbed her gym bag, hopped in her custom outfitted Chevy Tahoe, and left for the gym. Once there, she found the pre-sunrise crowd already well at work. Jumping on the treadmill, she started her two-mile warm up.
***
Desmond finished on the bench press and made his way to the dumbbell racks to work on his biceps. It was his last step in wrapping up his morning workout before doing satellite interviews and a team press conference later in the day. Before he could start his first set of curls, he looked in the mirror and caught sight of JJ on a treadmill across the gym. Determined to talk to her, he started toward her, but someone called his name.
"Hey, Des!" A guy sporting muscles made by machine instead of exercise was headed his way. His beefy hand was out. "Terence."
Des dipped his head in acknowledgement but didn't encourage conversation.
Not that it made a difference, since Terence kept on going. "Great playing yesterday, man. Looks like good things are in store for the team this season."
"Yeah. Hey, can you excuse me for a minute? I wanted to say 'hi' to a friend of mine." It wasn't intentional, but his attention drifted back to JJ.
Terence followed his look and gave a slow nod. "Yeah, I see my girlfriend over there, so I'm gonna go check in."
Shock coursed through Desmond, but he tried not to let it show. "That's your girl? You're a lucky man."
"Yes, sir," Terence agreed with smug satisfaction.
As if she heard their conversation, JJ stepped off the treadmill and looked up. She flashed a quick, empty smile and kept walking.
Desmond left Terence and headed to the locker room to clean up and get ready for his day of interviews, his mind whirling. What the hell just happened? Terence's claim was hard to believe.
JJ didn't strike him as the type of woman to fall for a meathead. Were they really together? Was Mike right, had he missed his chance? Desmond wasn't the type to try and steal someone's girlfriend, but he'd never come across anyone like JJ. There was something different about her, something that kept him hooked, despite knowing better.
Unfortunately, he had to set the matter aside as he got mentally ready for work. Fielding texts and emails from his assistant and agent, he walked out of the locker room, and straight into the object of his speculation.
He and JJ ran full force in to each other. The impact knocked JJ to the ground. "Ow! Bro, you need to put the phone down and pay attention."
Flustered, he offered his hand. "I'm so sorry, miss. I–JJ?"
"Desmond, I'm starting to think you're following me," she said sharply.
"I–well–no. Uh–you work here?"
"Nothing gets by you, Ivy League." Annoyance was clear in her voice. "Did the shiny nametag with the gym logo give it away?" She didn't wait for his answer. "Yes, I work here and I'm about to be late for a training session, so if you could help me up that'd be solid."
"Right, sorry." He grabbed her outstretched hand and lifted her from the floor. The moment they touched, his pulse quickened.
"Any chance I can get my hand back sometime soon?"
"Huh?" Blinking back to reality, he let go. "Wow, I must seem like such an idiot."
"A little bit." Her rebuke was softened by the teasing glint in her eyes. "Bye now." She took off, leaving him speechless once again.
***
JJ waited until she rounded the corner before leaning against the wall and taking a deep breath. Shake it off, girl.
Later in the day she found Cecily sitting on JJ's desk, waiting. "Hello, boss."
"Don't 'hello boss' me. Why didn't you tell me you saw Desmond this morning?"
"It was a footnote in my day. I saw him upstairs, and then he all but tackled me on the main floor." JJ paused, remembering that she hadn't told her friend about the encounter. "How did you even know we saw each other?" Cecily slowly motioned to an envelope on the desk. "Hmmm, wonder why it's already open?"
Guilt colored her friend's face red. "Shut up and read the damn note."
JJ rolled her eyes and started reading.
JJ, I'm so sorry about almost taking you out. I'll admit, it was nice to see you again, though. Please accept these front row season tickets and field passes for you and a guest. See you soon, Des Cade.
Feeling her heart beat a little faster, she took a deep breath. "Ah, that's nice of him."
Ceci buried her face in her hands. "Girl, wake up before I hurt you! He is in to you. How are you not seeing it?"
JJ threw her hands up. "I don't want to be his girl for two weeks and then tossed aside."
"I'm not saying throw your panties at him. But maybe talk to him, get to know him, and then throw your panties at him."
JJ hung her head at the ridiculous notion. "Classy. These tickets are pretty solid, and Jax would love it."
"Exactly. First match is Saturday night. We'll need to talk about what to wear."
"It's amazing how you have time to work. You're always trying to figure out my life for me."
"Someone has to, if you won't."
***
Opening day arrived, and the city buzzed with anticipation.
Outside the locker room, Desmond was getting his pre-game pep talk from Lively.
"You can do it, Dad. Don't give up. Don't surrender. Play like my life depends on it."
"Lively Cade, you are one of a kind. I love you."
"I love you too, Dad."
He rested a hand on her shoulder. "All right, you and Ashley take Big Don to your seats. I don't want you wandering the stadium by yourselves."
"Yes, Daddy."
The BBVA Stadium was packed and the crowd was amped. When the visiting team hit the field, the entire stadium erupted in boos.
Desmond led his hyped-up team to the edge of the tunnel. "Lock and load, boys. It's show time."
They stormed the field.
***
As the players took the field, Jax jumped to his feet. "JJ, look! There's Des!"
He leaned so far forward that she grabbed a handful of his shirt so he wouldn't topple over the retaining wall in his excitement. "Yep, I see him, big man."
He cupped his hands around his mouth to try and make his voice heard. "Des!"
"It's loud, Jax, I don't think he'll be able to hear you."
On the field she could see Desmond and Mike stretching and getting loose. Desmond glanced up, obviously searching for someone. When he saw them, he got up and jogged over. "Party people! What's up, Jax? Do you like the seats?"
He jumped up and down and pumped his fist in the air. "Yeah! This is awesome!"
"Cool, cool." Desmond leaned in closer and whispered to Jax, loud enough for JJ to hear, "How does JJ like them?" He slid a hopeful glance her way.
"She likes them a lot! On the way over, she kept saying how cool it was to get the tickets."
"Oh, really? Nice to know. You enjoy the match. I'll try to make it exciting for you." Desmond kept his eyes on JJ and flashed his million-dollar smile.
"Hey, Daddio."
The young voice caught JJ's attention and she turned to watch two teenage girls head her way.
As they settled in, Desmond's smile changed into something more real. "What took you so long?"
"Snacks."
He tapped the foil wrapped hotdog in the spirited girl's hand. "You know I hate when you eat this junk."
"I know you hate when I eat it without you," she teased.
"Shhh, don't tell the world. Let's do this." The girl and Desmond did a complicated exchange of finger wiggles and hand slaps. When they were done, he headed back out to the field.
Next to her, Jax who watched the entire exchange with an open mouth, squeaked, "How'd you do that?"
"We've been practicing for about nine years now," the girl said with a grin. "He's my dad. I'm Lively." She held out her hand for Jax to shake, then turned to JJ. "Hi!"
"Hi." It was all JJ could get out of her mouth as she took in the teenager who was Desmond's daughter. Jax spent most of the match asking Lively questions. She answered each one without any signs of impatience, seemingly happy to chatter along.
"So, Jax, is this your mom?" Lively asked, recapturing JJ's attention.
"No, this is my JJ," he said proudly.
"I'm his cousin," JJ clarified. "It's nice to meet you."
"Nice to meet you, too."
When the game ended, JJ turned to her godson. "Time to roll out, big man."
"Aw, man. Can we say bye to Des?" For good measure, Jax added in a whine, "Please?"
"Maybe next time."
"Don't worry, Jax," Lively said. "I'll tell him you said bye."
He pouted but agreed. "Okay. Bye, Lively."
"Bye, Jax. It was nice to meet you."
© 2016 by J. Symone