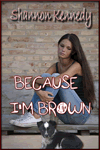 BY: SHANNON KENNEDY
Fifteen-year-old Rita Fernandez feels overwhelmed by all the problems that face her. They're only happening to her because she's brown! Her father won't allow her to date until she gets her grades up to a B average. What's worse is that he refuses to buy her the horse of her dreams until then, too! And a school counselor told her that there's no way she can ever be a veterinarian, a dream she's had since childhood.
As if that isn't bad enough, the guy that Rita adores still sees her as a troublesome younger sister, not a romantic interest. He even tells other boys that she's too young to date and drives them away. Her grades are in the toilet and that jeopardizes her status as a Stewart Falls cheerleader. To top it all off, her mother hates Rita for blemishing her new, perfectly blonde family.
Rita knows she isn't really dumb, it just took forever for her to learn to read. That still hurts her GPA. Even as friends rally around to help her, she sinks into depression when her mother wants to sabotage her quinceañera, the party Rita should have had a year ago when she turned fifteen. How will she ever overcome being brown?

TAYLOR JONES SAYS: In Because I'm Brown by Shannon Kennedy, Rita Fernandez not only comes from a broken home, she has a mother who loves her new "blonde" family more than she ever loved Rita. And while Rita knows that her mother's rejection is mostly because she so resembles her father, who is Latino, that doesn't make her feel any better. Rita's Mexican heritage requires that she have a "coming out" party before she can date or be considered an adult. However, her mother has tied this party to her grades—which suck, as Rita also has a learning disability and her mother refuses to let her get help. Rita should have had her party (called a quinceañera) at fifteen, but her mother wouldn't allow it. And now it looks like she won't get it at sixteen either, since her mother refuses to be supportive. And all because she is brown.
Kennedy's characters are not only believable but feel quite real and authentic. The story is told strictly from Rita's point of view, and, at times, is heart-breaking. It's one thing to suffer prejudice and rejection because of your race from your peers, but from your own mother? Because I'm Brown will definitely tug at your heartstrings.
REGAN MURPHY SAYS: Because I'm Brown by Shannon Kennedy revolves around Rita, a fifteen-year-old girl from a broken home. Her Caucasian mother has divorced Rita's Mexican father, and now Rita has good cause to believe that her mother hates her because she's brown. Though her mother has never really shown Rita the kind of love one expects from a mother, the rejection is felt more keenly now, since Rita is at an age where her Mexican culture requires her to have a quinceañera, or coming-of-age party. Even though Rita is dyslexic and has to struggle in school, her mother not only refuses to allow Rita to get the help she needs, she ties her support for Rita's quinceañera to her grades, which are presently in the toilet. This basically means that Rita will never have her party if her mother has anything to say about it. Rita is certain that her mother's rejection and lack of support stems from the fact that Rita so closely resembles her Mexican father rather than her blonde mother. And now that Rita's mother is married to a blond man with two blond kids, Rita doesn't fit in because she's not blonde like her mother but brown like her father.
As with her first two books, Kennedy has handled the subject of troubled kids with compassion, sensitivity, and humor. Kennedy's characters are well-developed and very realistic, and you can fell Rita's pain as she tried to reconcile the fact that her own mother doesn't love her because of the color of her skin.
Chapter 1
Stewart Falls, Washington, Saturday, November 2nd, 2:23 p.m,:
"Margarita, qué pasa? What are you doing? I told you to put the history books on the shelves next to the door. The Spanish ones go here."
"Come on, Dad," I said, standing by the long row of shelves below the windows of the classroom. "It's no big deal. Mellow out."
That got me one of his stern looks. Dad folded his arms and waited for me to explain. I was just as stubborn as he was so I mirrored his stance. It'd totally piss him off, but wasting my day at the Academy when I wanted to be with my friends on Varsity Cheer was a no-brainer.
In my new campaign-style khaki pants and three-inch, spiked heel boots, I was six-foot-two, the same height he was, so we were eye to eye. I kept my black hair long and let it grow almost to my waist. He hit the barbershop on a regular basis, going for the short and sharp look since he hated curls, claiming they weren't for guys. We both had dark-brown, almost-black eyes. He had on a T-shirt and blue jeans, but he didn't have to worry about impressing anybody and I did, so I opted for a lacy black blouse tucked into my pants. I'd add a bright red corset later when he wasn't around to give me evil looks or one of his long lectures about being a "good" Hispanic girl.
Dad was a teacher at my private high school, Stewart Falls Academy. Under protest, I was helping him decorate his classroom for the Day of the Dead, the Mexican version of Halloween. He got the fun jobs, hanging sugar skulls around the room and a donkey piñata from the ceiling. I got the "girl" jobs of filling the rest of the papier-mâché critters with candy, doing the actual cleaning, setting up the bulletin boards, scrubbing the desks, and on and on and on.
In our classes next week, he'd spend hours talking about Hispanic culture. He'd convinced the Home Ec teacher that we should cook traditional foods for our trip to the town cemetery and the headmaster thought it'd be good community service if we cleaned up the place. These people so needed to get a life and quit wrecking mine.
"You're too smart to behave like this," Dad finally said, when the staring contest didn't work. "Why didn't you listen to me and do what I wanted? What's your problem?"
I shrugged and tried to act like the mistake was a joke, the way I did with "real" teachers. "I thought it'd look better if the books were arranged by color. Ariel told me everybody coordinates their outfits these days. School would be a lot better if it wasn't so boring."
That did it! Dad exploded into one of the fierce lectures about appropriate behavior for "good girls," complete with the macho glare he'd practiced on me for years. I knew I was supposed to take him seriously. But after years and years of hearing him go on and on whenever I messed up, it was easier to tune him out. Besides, I was American and I had rights, something he tended to forget when he was ranting and raving. Sometimes, I wondered if that was why he and Mom divorced. Did she forget how to laugh when they were married? Or was she born without a sense of humor?
Dad kept complaining about me, but at least he did it in Spanish. I understood him. He'd talked to me in what he considered his language since I was a baby. Because I spoke Spanish as well as I did English, most teachers didn't know how dumb I really was. Of course, those same teachers told me I didn't work up to my capacity. Then they told my parents I was precocious. Dad said I was brilliant, which was why I could outsmart the other teachers, but I couldn't outsmart him. I had sense enough not to tell him different.
The whole time Dad scolded, he sorted through the books. "Now, put these in the bookcase by the door." He gave me an armload. "Do it right, Margarita. I want them in chronological order. Start with the Native Americans, then the discoveries made by European explorers, and work up to contemporary culture."
"Yuck! Why do you have all these awful books? Nobody else has this big a library in their classrooms for their students. Are you trying to torture us?"
"Students in the Academy earn their grades," Dad said. "You're a sophomore. You know that."
I wrinkled my nose. "Oh, come on, Dad. You know the truth about school. We're here to look at the guys and they're here to look at us. Classes come second."
"Not in my room. Not in this school and you know that, too." Dad pointed to the bookcase across the room. "Get to work, Margarita."
I already knew I'd mess up his precious books again. That would mean another lecture. I acted tough around my father, but it hurt when he was disappointed in me. Ever since my mother remarried, I came fifth or sixth with her. She had her new husband, Aaron, and his two kids. The three of them were even more important than her job as the manager of the local bank. I never was.
"Dad, can't I have time off for good behavior?" I asked. "I've been working here all day. And Sarah's party is tonight. I'm supposed to help the rest of the cheerleaders decorate her aunt's house and it'll take me forever to walk there. It's clear on the other side of Stewart Falls."
"Tell you what," Dad said. "Put those books over there and I'll run you to Dr. Tiernan's."
"Really?" I stared at him. "Are you sure?"
He ran a hand through his black hair and studied me with thoughtful dark eyes. "Hija, I couldn't have done this much without you. And I'd like to see how Sarah is doing, too. I know she's been released from the hospital, but she hasn't come back to school yet."
"She's doing great, considering how badly Jason beat her up, but Dr. Conway wants her to rest for a few more days." I carted the books across the room, put them on the table in front of the shelves, then grabbed my backpack by the door. "She loves staying with her aunt and she's actually going to get what she really wants for her birthday this year. Besides a slumber party with us for the first time in forever."
"What is that?" Dad asked, stopping to lock his classroom door. "What does she want?"
"A puppy," I said. "One of the heeler-border collies that her grandma raises."
"Is that what you want for your birthday?" Dad asked, following me down the hall.
"No. I want my quinceañera," I said. "I didn't get to have one for my fifteenth birthday because Mom was so busy with her wedding last spring. And I also want my own horse." I probably wasn't going to get either one, but I figured if Dad admitted that I was almost sixteen, I'd be allowed to date. Of course, I really did want Laird, the gray Arabian stallion I'd loved forever. I didn't know if that was going to happen either. I'd keep asking. Or, as Dad put it, I'd keep nagging!
"Margarita, we've talked about the horse and you know the deal. You get a B average at the end of the semester and I'll buy him. As for the party, your mom said she'll arrange it under the same conditions. Many Mexican-American girls wait until they turn sixteen before they have their quinceañeras. If you want more rewards, you have to take on more responsibilities."
I tuned him out as we crossed the parking lot to his SUV. It was always the same story with him and Mom. Give them what they claimed to want and then they'd come up with a thousand reasons why they didn't have to follow through with their promises. If I got all Bs, then it'd be a case of I should have all As and everything would wait until I did. It so wasn't happening. No matter how hard I tried, I never pleased them. And to be honest, it wasn't worth the effort, so I'd stopped busting my butt a long time ago.
Stewart Falls was a string of communities around three separate lakes in the Cascade foothills of Washington State. SF had its share of groceries, gas stations, restaurants, and other stores. The post office, library, bank, and town hall clustered in one strip mall near Lake Charles. Most of the people who lived around Lake Mary had estates with private docks. Gated housing developments with narrow streets surrounded Lake James.
Dr. Cathy lived near Lake Mary in an old Victorian style farmhouse on forty acres that originally belonged to her grandparents. The gravel drive curled up toward the house, rolling lawns on the left and white-board fenced paddocks on the right. When we pulled in the driveway, an old bay Quarter Horse mare trotted over to the pasture fence to meet us, followed by her adopted son. I reached into my pack and pulled out a pound of organic carrots for the equine duo.
Dad walked around and opened up the back of his SUV to grab the rest of my stuff.
Six carrots later, we headed up the brick walkway to the house, me with my backpack and Dad with my sleeping bag, duffel, and nacho makings. Even before I rang the doorbell, I heard dogs barking. That must be the fun part of being a veterinarian, bringing your work home with you.
Once upon a time becoming a vet had been my dream, but I gave it up ages ago. If high school about killed me, there was no way I'd be able to deal with college and all the stuff they threw at me, much less graduate as a large animal vet.
More yapping and deeper barks, then the door opened into a foyer. BJ Larson, a petite redhead stood there, her half-grown, blue merle heeler mix, Guard Dog sitting next to her. He opened his mouth in a collie smile, showing his teeth. His tail swept the floor in big wags. BJ rested one hand on his head. "Hey, it's about time you got here, Rita. We need somebody tall to hang streamers and Abbie's still at the espresso stand."
"I'm glad to help." I glanced behind her. "So, where's Sarah?"
"Napping on the couch in the Great Room. It's on the other side of Dr. Cathy's study. You've got to see this place. She has more rooms here than my folks do in their house which I thought was ginormous." BJ pointed toward the door on the left-hand wall behind her. "It's through there but we're trying not to wake Sarah up." She took the bag of groceries from my dad. "I'll put these in the kitchen. The other stuff goes in the dining room. We're sleeping downstairs. Wait 'til you see the room that Dr. Cathy put together for Sarah. She's got everything, a new computer, a TV, and even a mini-fridge."
"Sounds amazing," I said. "Maybe we could all move in."
Beside me, Dad laughed. "I don't think so. Since Sarah's asleep, I'll see you later, Margarita. Call me tomorrow when you're ready to come home."
I glanced up at him, puzzled. "But I'm supposed to go to Mom's. I'm there Sunday night through breakfast on Tuesday and then back at your place for the rest of the week."
Dad shook his head. "No. Your mom called this morning while you were in the shower. She and Aaron took Austin and Ariel to Victoria, BC. They'll be back Monday morning so you can go there after school."
I nodded and bit my lip, determined not to dissolve into tears in front of BJ. I knew how my mother honestly felt about me, so why did these rejections always hurt so much?
Dad stopped and gave me a long look. "She said she'd mentioned it to you last week."
"No, but that's okay." I shrugged as if it was no big deal and hoped I didn't sound as disappointed as I felt. My mother had gone off to Canada with her new family and hadn't even bothered to invite me. "I have things to do here."
"All right." Dad hugged me and then he was gone, leaving my stuff inside the door.
BJ and her dog stood and eyeballed me. "You really okay with this crap fest?"
"Hey, I'm used to it," I told her. "She's been ashamed of me for years because I'm a living reminder of the fact that she married my dad. I'm as brown as he is and now I really spoil the look of her 'perfect' blond, Anglo family."
© 2014 by Shannon Kennedy