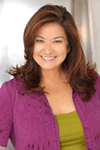 Born in Winnipeg, Canada, Christine Wall is an author, screenwriter and actress in her current hometown of Toronto, Canada. Her love of storytelling has led her to Hollywood with her success in screenplay contests and a decent ranking in the Nicholl Fellowships(Oscars) 2011.
When she's not writing, Wall is acting, learning Japanese, and pursuing her love of martial arts. Her first novel, The Fog (2012), delves into the worlds of science fiction and romance and is currently enjoying success on Amazon and Barnes and Noble.com.
Growing up, watching Saturday matinees filled with science fiction, adventure, and fantasy, led Wall to create compelling universes for a younger generation to explore. With her debut YA novel, Showdown at Evil High, which be release by Black Opal Books in 2013, she combines the world of angels and demons with the daily challenges of the modern teenager.
Wall loves feedback and can easily be found on her website www.christinewall.com and on Twitter @chrstnwll.