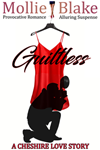 BY: MOLLIE BLAKE
Managing Director of her own successful fashion house, Lauren Chandler should have everything going for her. But at twenty-nine, she finds herself single again, and bored. Seeking a new challenge in her life, under the guise of saving her company money, Lauren embarks on a mission to model their latest range of lingerie herself. She just needs a photographer. When Byron Lord makes an unusual proposal, Lauren is adamant he won't win the contract.
Co-owner of Broadway Studios, Byron Lord is determined to provide job security to his off-beat workforce, and he needs Lauren Chandler's help to do so. Byron may have underestimated how far Lauren would be prepared to go. He had definitely underestimated how much she would demand of him.
And with an ultimatum of her own, Lauren gets far more than she bargained for.

TAYLOR JONES SAYS: In Guiltless by Mollie Blake, Lauren Chandler owns a successful fashion house, but that's not enough for her. Twenty-nine, bored, and restless, she decides to model the new line of lingerie herself. But the photographer she picks to take the pictures, Byron Lord, has his own agenda. He persuades Lauren to star in a sex film and enter into a relationship with him that is unlike anything she has ever tried before. Not one to back away from a challenge, Lauren soon discovers that she may have bitten off more than she can chew.
Blake has done it again. Her second book is as captivating and racy as her first. Filled with fascinating characters, an intriguing plot, and plenty of steamy sex scenes, this provocative romance has it all!
REGAN MURPHY SAYS: Guiltless by Mollie Blake is the story of people who live on the edge. Lauren Chandler owns a fashion house and is used to doing things her own way. When her boyfriend leaves her because she is married to her work, she finds herself single again at twenty-nine and looking for a new challenge. Telling her staff that she thinks they need to save money, she says that she intends to be the model for the company's new lingerie. She has the body, so all they need is a professional photographer to take the pictures. And that's where the trouble starts. Byron Lord, the photographer, won't take on just any client. At their first interview, he shocks Lauren by telling her to take off her clothes so he can see for himself if she will make a good underwear model. And their relationship goes downhill from there. Byron has his own agenda and he sees Lauren as the answer to his problems. All he has to do is convince her to take a starring role in a sex film his company is producing, in hopes that her celebrity status as a successful business owner will procure him the financing he needs. But neither one is really prepared for where their relationship is headed and just how far the other one will go.
Guiltless is both a steamy romance and a gripping thriller. With an intriguing plot, fast-paced action, marvelous characters, numerous hot sex scenes, and tension-filled suspense, Blake has crafted a compelling and spicy romantic thriller that you'll have lots of reasons to love.
Chapter 1
It was a warm, clear June morning. Wispy clouds veiled the sun, affording the perfect light for photographer Byron Lord. It was also perfect for all the motorbike racing enthusiasts gathered at the racetrack in the heart of Cheshire.
Leather-clad multimillionaire Lawrence Bane sat astride his BMW, gloating over the fact he had just beaten his friend, Steve, in the last race of the morning. His guests were reveling in the thrill of the bi-annual track day he had organized as they took time out to grab a bite to eat, in addition to tweaking and adjusting bikes, ready for the afternoon session.
With dogged determination, Byron continued to snap away profusely and unobtrusively. He forced his mind to focus solely on the apparatus in his hand and fiercely blocked out any thoughts of the beautiful motorcycles surrounding him. After several minutes of moving among the racers, he lowered his camera and withdrew to an empty shelter. He had just started to review a few shots through his viewfinder when Lawrence tapped him on the shoulder.
"Do you want any food?" he asked.
"No thanks. I'm good."
"Right." Lawrence peered over his friend's shoulder. "How's it going? You managed to get some good shots?"
"Yeah. Plenty. I'll get some over to you before next weekend. Looked as though there were some good lap times out there today." Byron feigned a smirk but on hearing Lawrence's next words, he knew he hadn't fooled the host.
"Nothing compared to what you could've done. I'd really love to see you on a bike again, you know. We'd all pay good money to watch you hurtle round this circuit. I'd be lucky to see you for dust. But I'd love a go at chasing round after you. The S 1000 RR goes like the clappers. I bet you'd get the best lap time ever for this course, if you gave it a go."
"Mmm. Once maybe. But I'm not interested anymore," Byron lied. He started to wipe the lens of his camera to distract him from the memories this conversation evoked.
Lawrence placed his arm across the back of Byron's shoulders. "I don't believe that for one moment, mate. And I know Ron would love to see you on two wheels again."
"No. I can't. It doesn't feel right. I fucked up and I have to live with that."
"You didn't fuck up. It was an accident. It could have happened to anyone. But life goes on, Byron. You worked hard in helping Ron to get back on a bike."
"Ha." Byron smiled and his vivid blue eyes lit up momentarily. "She wasn't going to give up until she was riding again. You've got to admire her guts and determination."
"I do. To suffer the loss of her legs and be so determined shows courage and spirit. She couldn't have done it without you. I saw what you went through to get her walking again and I know the mental anguish it caused you to help her. It took more out of you than you're letting on. You forgot to let yourself heal, Byron. I know most of your scars are on the inside. And you know most of mine are. But I accepted help from Steve, and Suzy." Lawrence paused a moment as he pictured the woman who breathed new life into him, who was his life now even though they had only been together for a few months. "I wish you would open up a bit, Byron, and let us help you. I know what it's like to try to shut yourself away because you don't feel worthy to be happy. But I also know that's not right. You have one life and you need to live it."
Byron placed his camera on the bench and turned to face Lawrence. "You are helping me. With the story line for my film. Ron and I can't thank you and Suzy enough for the details you've given us on Miranda and the life she led."
Lawrence laughed. "Hey. You're welcome. Just remember though, you didn't hear anything from me."
"You don't need to worry there, Lawrence. I've got a gold medal in being discreet."
Both men were laughing, relieved that the mood had lightened, when Suzy Harper joined them.
"You two need to come and join the others. Richard's still gloating in the glory of the fastest lap of the morning." She placed her hand on Lawrence's arm and gazed admiringly at the man she was still head-over-heels in love with. "You've got to remind him you won that race!"
***
Lauren Chandler closed her laptop and switched off the desk light. Grabbing her handbag, she strode across the spacious office into the hallway. Security lighting illuminated the route to the lifts and she pressed the call button. It was eleven-thirty p.m. and, as often happened, Lauren was the last to leave Chandler Tower.
"Goodnight, Miss Chandler," the security guard called as Lauren made her way outside to the dark blue Rolls Royce waiting at the curb.
"Hi, Edward," she called to her chauffeur as she stepped wearily into the car and settled into the quietness of the back seat.
As the car turned off Deansgate in Manchester, she glanced at the billboard displaying Luscious Lace, the latest range of minimalist underwear for women from the fashion house that she had created. The model emphasized the low cut bra, just covering the nipple and raising the breast to optimize its sensuality, together with the small, delicately laced triangle of fabric forming a thong, which disappeared into the recess of her behind. The model was none other than Clara Wood, one of the most sought after lingerie models in the country, and this ad campaign was costing Lauren's company a fortune.
Mental note to self, thought Lauren, I can do that, and she raised the central console to take out the chilled glass of gin and tonic that Edward had prepared for her.
It was Friday night and she was allowing herself to take the weekend off. The promotion of Luscious Lace was going well and she was pleased with her decision to pay the premium for the delicate underwear to be made in the UK. Initial sales were ahead of forecast and she was actually looking forward to Tuesday's board meeting.
But first she had the weekend to enjoy. Hopefully, Nick would already be at the apartment and they could just chill out for a couple of days. Lauren had been so focused on the latest new range to come from Chandler's menswear, a revival of men's waistcoats, that she had hardly spoken to her boyfriend during the last four weeks, let alone seen him. But it had been worth it. She had fought with her creative director over the waistcoat range, confident that marketing the product to be dressed up with collared shirts and ties or dressed down with T-shirts and collarless grandad shirts, would be a success and so far the response from buyers had been excellent.
She knew she would have to make it up to Nick, but then over the six months they had been dating, she had become quite adept at making him feel wanted again when her work commitments had made him feel second best.
As the car pulled up outside the smart Mansions apartment block in Wilmslow, Lauren gracefully stepped out and gazed up at her penthouse suite on the fourth floor. The glow of light reassured her that Nick was there.
Exiting the lift, she smiled, grateful that he had left the door open for her to walk straight in. He must have been waiting at the window for her car to pull up.
"Hi," she called as she stepped into the hallway and made her way down the corridor to the master bedroom. She slid one of the four mahogany wardrobe doors aside to reveal shelving, on which she placed her handbag. A second was pulled back to take her coat, and a third revealed rows of shoes with a space for the Jimmy Choo gray stilettos she slowly eased off her feet.
Mmm, that felt better.
"Have you eaten?" She checked her Rolex. It was just after midnight.
Silence.
She made her way into the living room, her bare feet quietly sinking into the thick pile of the cream carpet. Nick was sitting on one of the leather sofas. He was leaning forward with his forearms resting on his knees and he looked pensive.
"I thought you were having the weekend off," he said quietly, not looking up from the carpet.
Lauren sat down next to him. "I am."
"A weekend includes Friday night in my book. I thought you would have been home by seven."
He gazed up at her and Lauren couldn't fail to see the look of disappointment on his face.
"Your dinner's in the oven. It's probably ruined."
"Oh." Lauren suddenly remembered. On the phone on Monday she had promised she would be home for seven and Nick had offered to cook dinner. How the hell had she forgotten? She had been so euphoric with the success of Luscious Lace and the great uptake on the waistcoat revival scheme that she had gloated over the reports and buried herself in the statistics she intended to discuss at the next board meeting. That's how!
"I'm sorry," she muttered, as she also recalled giving herself one final task for the day–to look at the last quarter's advertising costs for the various divisions of Chandler Limited, finding herself becoming more and more frustrated with the fees from Clara Wood's agent.
Nick stood up. "It's always the same with you, Lauren. Apologies for broken promises. It's a shame you don't apply the same conscientiousness to your home life as you do to your professional one. You never learn from your mistakes. You don't even try not to make them again. Last month we missed my best friend's wedding because you said we could take your jet at the last minute to head over to Paris. We'd had plenty of time to plan a weekend for the occasion, but oh, no. You said we could save time by taking your own jet so you could get some more hours in at the office. Except you cut it too fine and the plane had to be ready to take your father to his charity dinner in Milan. That left us high and dry, unable to get to Gary's wedding. And then there was the time you said you would join me at the opening of the new conference center in Liverpool. I'd worked my balls off on that project and was in line to meet the client's Chief Exec. But again, you let me down at the last minute. My work isn't as important as yours, is it, Lauren?"
All the time Nick spoke calmly and quietly. Lauren almost wished he would yell at her, show some of the emotion that was obviously troubling him. Damn it, she would have preferred him to have shown some real anger. But Nick wasn't like that. He was too much of a gentleman and, all too easily, he let Lauren walk all over him.
Lauren waited patiently for a pause where she could say sorry, again, and then he would warm her food up or even prepare her something fresh, and they could carry on as normal.
But that wasn't going to happen this time. It was Nick who made the apology. "I'm sorry, Lauren. But this isn't working out. You don't need me. And I want to be needed. I think it's best if I go." He got to his feet and headed to the door. "Enjoy your work, Lauren. That's all you need in your life. I need someone who needs me."
She watched him disappear into the hallway and heard the main door open and close.
© 2017 by Mollie Blake
My Chestnut Reading Tree:
"Mollie Blake hits all the right buttons once again with her newest Cheshire Love Story! It's a potent cocktail of glamorous people having hot and heavy encounters with a few 'too hot to handle' shocks along the way. Irresistible!" ~ My Chestnut Reading Tree, Top 500 Amazon reviewer