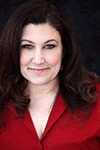 Jennifer Moss was born and raised in Evanston, Illinois and is a graduate of Northwestern University. Although she received her degree in music theory/composition, Jennifer had an affinity for computers and entered the technology field upon graduation. In 1989, she relocated to Los Angeles, where she worked as an Information Technology Manager for several international law firms and dot-com companies.
In 1996, Moss launched one of the first parenting websites, BabyNames.com. At the same time, Jennifer began her writing career as a freelance author for articles about the internet industry, published in Red Herring Magazine and Working Woman. In 2008, she published her first book, The One-in-a-Million Baby Name Book (Perigee Press) as a companion to her website. Jennifer has appeared on national TV media, including CNN Headline News, MSNBC, FoxNews, CBS This Morning as well as a multitude of international radio programs speaking about names and naming trends.
Moss is an active board member of the Northwestern University Club of Los Angeles,  serving as both President and Treasurer of the club. She also founded and organized the Los Angeles Female Business Owners (LAFBO), a networking group for female entrepreneurs in the greater Los Angeles area. She currently serves on the executive boards of the Crescendo Young Musicians' Guild, a non-profit dedicated to bringing music education to under-privileged youth; and The Bully Police Squad, an organization founded by police officers to help schools define and enforce their bully prevention strategies.
Moss divides her time between Los Angeles and her home in the mountains near Yosemite National Park. She is the mother of one extraordinary daughter, Miranda Margaret, who is entering her sophomore year in college.