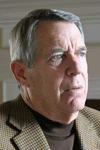 J J Burke was born in Brooklyn NY and, through subsequent moves, spent the majority of his formative years in New Rochelle, NY (Westchester County). He attended the Philadelphia Textile Institute and has been a prolific reader all of his life. He was first introduced to the joy of writing, and encouraged to pursue it, by his college English Professor. He wrote for his college newspaper and prepared business advertising copy for local and national printed media. His first exercise in fiction was demonstrative writing for his older son. Burke was more than pleased with the results and was "hooked," but never went any further with writing as a serious pursuit, until now.
Burke's business career started in the textile industry, which was where his international travels began. These travels covered Canada, northern South America, some areas of Central America, Europe, and a number of Caribbean islands—Cuba being the primary one. He and his wife of twenty-eight years live in southeastern North Carolina. He is self employed as a residential appraiser.
His first novel, The Lethal Fisherman, employs some of what he experienced on a firsthand basis, and some from acquaintances, as well as the use of his current location as a geographical background. This is the first novel of a trilogy. The idea to write this novel came to him when walking his dog at four-thirty a.m. It was unusually dark that morning and he muttered, "God it's dark." He walked a few steps farther and decided that would be a good line in a story. After just a few days of thought, he sat down and began.
Burke enjoys woodworking, cooking (he cooked professionally for ten years), and when time permits, fishing and travel. A favorite enjoyment of his is dining out and experiencing new restaurants and cuisines.