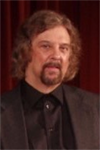 John Vance should have known he'd end up writing novels, especially when he portrayed Charles Dickens in his one-man show A Victorian Christmas with Charles Dickens. He can remember writing stories—such as his own "Hardy Boys" tales—when he was a boy, and in college he wrote a "Canterbury Tale," three short stories, and a short play. He also began a novel (every word written in such a sloppy hand that the writing is for the most part indecipherable to anyone but him). His career as an English professor directed his writing to things scholarly—namely, six books and some forty articles and reviews. But he wished to stretch his creative side; therefore he returned to the theater as an actor and director—and in 1994 he wrote his first full-length play. From 1994 to 2012, he wrote some forty plays and had the pleasure of staging some thirty-five of them.
In 2004, Vance finally listened to his inner Dickens and completed his first novel. For the next eight years, he worked on both stage plays and fiction before turning exclusively to novel writing. Two literary agents took on three of his books, but no luck in each case. It was in 2014 that he began contacting independent publishers on his own. The long wait was finally rewarded, as his first novel was published in the fall of 2015—with nine more since that time.
Vance lives in Athens, Georgia with his wife Susan. They have two grown children and three granddaughters.