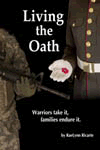 BY: RAELYNN RICARTE
Michael Martinez, a Marine veteran, stepped on a bomb during a 2010 patrol in Afghanistan and lost both legs…Christian Bagge, an Army veteran lost his legs to a 2005 roadside bomb blast in Iraq…The stories of Martinez and Bagge are featured in Living the Oath: Warriors Take It, Families Endure It. Their experiences, like those of the other subjects in the book, reveal how hardship and suffering can result in a greater awareness of what it means to be a human being.
Despite their inner turmoil, these men and women did not falter as they spoke about the ugliness of war and how they have been forever changed by their time on the battlefield. They agreed strongly with the purpose of Living the Oath, which is to educate Americans about the sacrifices being made by the one percent of the population providing national defense. This is their book, their message to civilians—it may sometimes be uncomfortable but it will always be enlightening.
TAYLOR JONES SAYS: I found Living the Oath: Warriors Take It, Families Endure It by RaeLynn Ricarte to be an interesting journey into the lives and minds of those that protect our freedom and the freedom of people around the world. It was a great reminder of the atrocities that have been committed by the extreme radicals around the world. May we never forget what happened when some of them flew our own commercial planes into the World Trade Center and the Pentagon. Living the Oath: Warriors Take It, Families Endure It is a must read for anyone that has or desires to have the fruits of freedom.
As a daughter, mother, and loved one of a veteran, I found this book to eye opening and a coping device to endure to the end. It will make interesting reading for any veteran or family member of a veteran. I highly recommend it. It gets down to the brass tacks of what it is to serve.
REGAN MURPHY SAYS: Living the Oath: Warriors Take It, Families Endure It by RaeLynn Ricarte was a thought-provoking, eye-opening, down-to-earth account of what it takes to either be a warrior, or to be a family member/loved one of a warrior. We all hear about the casualties on the news and we all claim to be grateful for their sacrifices, but how many of us really understand just what those sacrifices are and/or appreciate that not only the warrior makes them?
Ricarte made me laugh, cry, and shake my head in wonder—sometimes all on the same page. This book is a must read for anyone living who claims to love their country. Can we truly be grateful for what our military personnel and their families go through to keep us free if we don't fully understand the cost to both the military personnel and their families and loved ones. I came away from Living the Oath: Warriors Take It, Families Endure It with a new understanding of what freedom costs and the fact that the price does not end when the warrior leaves the service. It is something that can affect them and their loved ones for the rest of their lives. The book made me wonder what I have done lately to deserve what these people so willingly give. I am ashamed to say that I haven't done that much. The book left me with the realization that I need to do more to support our troops.
"When people ask what I'm in the service for, I tell them '5 minutes.' I tell my guys that 100 years from now we'll all be bones in the ground, but if we've each bought 5 more minutes with our lives, if nothing more than to keep our people breathing free, or to protect the things we love, it justifies all the suffering in between." — USMC Captain Jesse Atay, veteran of Operation Iraqi Freedom and Operation Enduring Freedom.
***
PREFACE
During the past several years, I have noted an alarming rise in the level of bitterness among troops serving in Afghanistan as part of Operation Enduring Freedom and those who have participated in Operation Iraqi Freedom or Operation New Dawn.
They believe the horrific memories of nearly 3,000 Americans dying in the September 11, 2001, terrorist attacks on U.S. soil have faded enough for people to just go on with life and forget the sacrifices made by the 1 percent of the population that serve as its defenders.
"America isn't at war. We are at war and America's at the mall," is one popular saying amongst Marines, a ground assault force that, along with the Army, has experienced high casualty rates during multiple deployments.
It becomes easy for the vast majority of citizens to shelf thoughts about the war during the course of busy lives. No one is really comfortable thinking about young men and women fighting for their lives every day in a foreign land and suffering injury or death in those battles.
Because little media coverage is given to combat deaths that are not spectacular in nature, it takes an active effort by the general public to monitor the list of fallen warriors on the Department of Defense website or some other online source.
My reason for putting pen to paper with this book is to help you understand that post 9/11 veterans and their families need your support now more than ever. They need to know that America still cares about the hardships they endure, the injuries they suffer, and the tragic losses they bear. A tiny segment of this nation's population has stepped forward to protect more than 316 million people from an enemy who lurks in the shadows and preys on the innocent.
My son, USMC Captain Jesse Akamai Atay, 31, says 9/11 is the defining moment of his generation and he has given up his 20s to either train for war or go into combat. He has survived five deployments and earned decorations for saving the lives of others on the battlefield. He refers to those incidents as "doing something suicidal and stupid" but is reluctant to claim them as noteworthy out of the belief that any Marine would have done the same for him.
My son and I have both been forever changed by his transformation as a defender but it was not enough to just share with you the struggles and successes of one family. This book needed to be a chronicle of our military culture, the realities of combat, and how both the warrior and his or her loved ones survive the monumental stresses.
To tell this story accurately required many angles and perspectives so that Americans without someone in uniform could better understand the challenges that their neighbors and co-workers grapple with.
I have wept over the pain that has been shared by warriors and their spouses who, with quiet dignity, have invited you all into some of the toughest times of their lives. These stories were not told without a price. I have had warriors exhibit symptoms of great emotional distress while reliving their experiences. They have sometimes been embarrassed and always, always watchful to see how I reacted to the horrors that they shared.
What I have witnessed is an absolute and unshakeable belief, and pride, among these veterans that they have kept the wolves from America's door for more than a decade.
In this book you will primarily meet military figures with ties to Oregon because that is where the Gorge Heroes Club, a troop support group I founded, is based and where I have gotten to know many warriors. I also felt it was highly appropriate to have a larger percentage of my subjects drawn from those serving in the National Guard because more than half of all U.S. troops deployed in these wars have been citizen soldiers.
Although the people in this book are primarily from one geographic area, I have interacted with enough troops to feel confident that the viewpoints of my subjects are representative of the military as a whole.
Whatever judgments you may make about these testimonials, please don't use them to fuel a political agenda. This book has been written with great love and respect for the many warriors who walk among us. I have never felt safer than when in their midst.
***
"This place is about taking care of business and when the pain recedes and the body restores, I'm glad I came. I've learned that the Marines won't give you anything you don't already have. They just force you to go places you never thought you could." — Jesse Atay in a June 2002 letter from Marine Corps Recruiting Depot in San Diego, California.
***
CHAPTER 1
Retrospective
My son stood ramrod straight and stoic in his dress blues on Veteran's Day in 2002. The fall sunlight filtering through the naked branches of an oak tree on a nearby hill seemed to be concentrating its energy on this handsome young warrior. My new Lance Corporal had worn the formal uniform of the Marines, which incorporates all three national colors, because I had pleaded with him to let me "show him off" at the annual ceremony in Hood River, Oregon, that pays tribute to those who have served. Jesse Akamai Atay, who enlisted in 2001, had just completed boot camp three months earlier and was, in truth, just as proud to be representing the Marines as I was to have him at my side.
I was the flag-waving military mom that day and nothing has changed in terms of my patriotism, although my life hue over the past decade has become much more camouflage-colored as idealism has given way to reality. That moment, at the beginning of this incredible journey, is forever etched into my memory. It is a photograph that was never taken but, nevertheless, will never fade or be forgotten.
I was looking at my son on that cold and clear day from a short distance away while engaged in brief conversation with a political figure after the ceremony had ended. Jesse was patiently waiting for me in the crosswalk of a street that had been closed off to accommodate the large crowd of people who were still milling around Overlook Memorial Park, a place honoring the town's war dead.
Not only was the white of Jesse's peaked hat gleaming, so were his brand-new white dress gloves and white web belt that fit snugly over his midnight blue jacket that was trimmed in red and had a standing collar. The stiffness of the neckband made it extremely uncomfortable for my Marine to do anything other than hold his head high, so he was expecting a challenge at the lunch I had promised as part of the outing. Sunlight refracting off the gilt brass buttons on Jesse's uniform made him seem like an exalted being standing among ordinary mortals–something that he, with Marine arrogance earned in battle, would now concur was likely the case.
I was not the only one looking at the resplendent 20-year-old man. People were either casting looks his way or coming over to shake Jesse's hand and thank him for his service. Several of those who had attended the ceremony took photos of my son that were later given to me for his military scrapbook.
But no one captured the image that still has the power, even after all these years, to move me to tears and to touch my soul with its nobility.
I noticed while wrapping up my conversation that an elderly woman using a walker had begun to carefully move my son's way. The woman was tiny in stature and appeared both ancient and frail as she worked her way off the curb and into the crosswalk. The organizers of the event had begun removing chairs from the pavement and were dismantling the sound system. The woman seemed oblivious to the chaotic scene going on around her and people moved out of her way as she headed toward Jesse, even altering her path when he stepped back to provide her with extra room for passage.
When she was directly in front of my son, the woman stopped and, without saying a word, held out a feeble hand that clutched one of the red silk poppies passed out by the Veterans of Foreign Wars organization at patriotic ceremonies. The poppy stands for blood shed on the battlefield, as noted in the poem "Flanders Field," and pays tribute to America's fallen heroes.
Jesse, while thanking the woman, bent down slightly and extended his gloved right hand to accept her gift. She laid the crimson flower on the white cloth and that moment represented, to me, what is best about this nation. There was respect mutually exchanged between these two generations. It almost seemed to me as if the torch of patriotism had trustingly been passed from the elder to her young defender and a silent acknowledgement of that transfer had taken place.
In juxtaposition with the purity of that moment, I recall a more recent photo of Jesse standing in the middle of the desert in Helmand Province, Afghanistan, inside a ring of sandbags protecting a large tent and a fire pit where the Marines burned their feces at night in hopes of preventing dysentery. My son is shown next to another Marine and an Afghani interpreter who calls himself Sam and has become my adopted son. All three men have sweat running down their faces from the extreme heat and the few inches of hair on their heads is spiked. I am surprised to see that Jess has hair at all since, at the age of 31, he has long preferred to be clean-shaven. The men are all wearing combat gear and holding assault rifles in hands that are encased in filthy and bulky gloves of an undetermined color.
My son informed me almost six months after I received the photo that the Marines were preparing for an attack by the Taliban and had chosen to open a bottle of hair gel that someone had sent in a care package to give themselves a new "do" for the occasion. They had also taken a couple of shots of mouthwash in .50 caliber shell casings as part of their impromptu warrior ceremony.
"When they finally came they didn't know that we were waiting for them and about 100 of us opened fire. That was pretty much the end of the story," wrote Jesse in his explanation of the picture.
Other photos that I treasure feature my hard-eyed son posing with Marines and, often, Iraqis or Afghanis that he has worked with on one of his five deployments to the Middle East. Somewhere along the way, I quit being a spectator to this drama and put down my flag to begin packing boxes to care for my child's bodily needs, much the same as I did during his infancy and childhood but minus the protection. Every package contains wet wipes that allow Jesse to clean up in the weeks between showers, anti-fungal foot cream and clean socks to keep his feet in good enough shape to leap over canals during running battles and to track the enemy who are killing his brothers with roadside bombs and sniper fire.
The day is long gone when I can get my son to go anywhere in public in any type of a uniform. He no longer has to prove anything, nor does he want to draw attention that could result in having to listen to someone's opinion about the wars he has fought in and the horrors he has witnessed and survived.
My son has flirted with death more times than I will ever know and he seldom talks of his experiences. But, when he does, I realize how blessed I am that he lives and that his soul can still recognize beauty in a world that he now knows is full of dark places.
Haystack Broadcasting:
Thursday, August 8, 2013: Rodger Nichols of Haystack Broadcasting says it is impossible to read this book and remain dry-eyed.
He says: "Each copy of Living The Oath: Warriors Take It, Families Endure It should come with a bucket of Iraqi dust, a blood-soaked bandage, and an MRE. It's about the only way to make this book any more real in bringing home the sacrifices made by our deployed military. RaeLynn Ricarte has gone above and beyond being a Marine Mom with this book. She's used her experience of her own son, Jesse Atay (whose comments throughout are worth searching out for their keen insights) as both a goad to her own troop support activities and as a key to unlock the stories of troops and their spouses from all branches of the service. Ricarte's strong background as a journalist serves her well as she sets the context for the stories in each of the 35 chapters, then lets the subjects tell the stories in their own words. In Living the Oath: Warriors Take It, Families Endure It, you'll meet those who have deployed in Iraq or Afghanistan and their loved ones at home, who are also all too often their survivors.
Many of the stories are not pretty, with scenes of paranoia, divorce, drinking, violence and PTSD. But don't let that, or the occasional raunchy word or phrase, stop you. Because they are also tales of striking sacrifice and selflessness, of the kindness of strangers to the survivors, and the respect and support of groups like the Patriot Guard and the Gorge Heroes Club. It would be damn difficult, if not impossible, to read Living the Oath: Warriors Take It, Families Endure It and remain dry-eyed. If the book stirs you out of your complacency and reminds you of the one half of one percent who have put their lives on the line to protect the rest of us, good. Ricarte will have done her job. One of her subjects, Debbie Lee, puts it well about her own efforts to support the troops at home and abroad following the death of her son, a Navy Seal, in Iraq, "If Marc wouldn't quit even in the face of danger, how can I, while living in peace and security?" It's a good question. How would you answer it?" ~  Rodger Nichols, News Director, Haystack Broadcasting