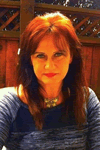 Award-winning author, Lucia Gorea is a Canadian poet and writer who has authored fourteen books, as well as poems and articles. Growing up in the beautiful Transylvanian province of Romania, Gorea was filled with literary passion and began writing and acting at a young age. Her interest in history inspired The Impaler her debut novel, which tells the captivating and intriguing story of a young Romanian prince in the Middle Ages, whose life ultimately inspired the legend of Dracula. Her books include Welcome to America!, Journey Through My Soul, ESL Games and Classroom Activities, Yukon the Polar Bear, and Speak English for Success, to name a few.
Gorea graduated from the University of Bucharest with degrees in English, French, and Linguistics and earned her PhD in English and Education from Atlantic International University. She taught various post-secondary English and writing courses in the USA before settling in Vancouver, Canada, in 2005 to teach and write. Here she founded Poetry Around the World, a multicultural reading series to help promote non-native poets and writers, and hosted radio and television poetry shows. Gorea is not only an award-winning author but also a professional translator who was selected as keynote speaker at The Eighth International Symposium on Translation, Interpretation, and Terminology in Havana, 2013. She lives in Vancouver, B.C. and teaches English at the University of British Columbia, Mosaic Language Centre, and Atlantic International University. She is currently writing her second novel.
Visit www.luciagorea.com to find out more about her writing.