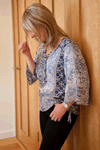 Living in the heart of the Cheshire countryside in the UK, Mollie Blake is a regular mum of one son and wife of one husband. As a former finance director, she was a bit of a latecomer to writing, but now she has ventured from analyzing figures in her spreadsheets to creating steamy scenes for her characters between the bed sheets.
Her stories are filled with provocative romance and laced with suspense. She loves to wander through Google Earth in search of locations to inspire—from castles in the Channel Islands to high-rise flats in London, from the streets of Melbourne to hotels in Kenya. However, the heart of her stories rests in Cheshire, England.
Directionally challenged, she can be found getting lost in most places! She is also guilty of a love of reading, swimming, fast cars, Prosecco, and chocolate. She has been condemned in the kitchen on more than one occasion. As she warned her husband—she kisses better than she cooks.