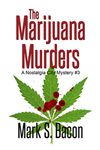 BY: MARK S. BACON
Nostalgia City executive Kate Sorensen finds the body of a mechanic crushed under an automobile hoist in the theme park's garage. Accident or murder? Will it impact Kate's decision to become advisor for one of two competing statewide campaigns to legalize marijuana in Arizona?
When the death is ruled a homicide and the DEA stages a surprise raid, park cab driver Lyle Deming is recruited to help solve the murder and find out if the park's garage is being used to smuggle drugs. The sometimes erratic ex-cop is soon poking around a Mexican border town, looking for a park contractor who might be a drug mule. Or he might be dead.
Meanwhile, Kate is dragged into a dangerous, high-stakes race to control the legal pot market in Arizona. Amid setbacks and threats, she and Lyle must sort through a tangle of complex evidence and shifty suspects.
Then there's another murder.
The Marijuana Murders is the third novel in this mystery series set in Nostalgia City, a theme park that re-creates—in every detail—a small town as it would have appeared in the 1970s.

TAYLOR JONES SAYS: In The Marijuana Murders by Mark S. Bacon, Lyle Deming and Kate Sorenson are trying to solve another murder at the Nostalgia City Theme Park where they both work. They suspect the murder is drug related, and Kate wonders if it will affect her decision to serve as an advisor to a group trying to legalize marijuana in Arizona. While the case takes Lyle to Mexico and back, Kate gets dragged into the politics of the two competing campaigns to legalize marijuana and control its profits. But as the bodies pile up, Kate and Lyle can't help but wonder who will be next.
Well written, fast paced, and intriguing, this is one you won't be able to put down.
REGAN MURPHY SAYS: The Marijuana Murders by Mark S. Bacon is the third in his Nostalgia City Mystery series. This time the DEA suspects the theme park's auto restoration garage might be being used to smuggle drugs in from Mexico with the old cars the park buys to restore. When a mechanic at the garage is murdered, ex-cop and park cab driver Lyle Deming is asked to help solve the crime. Meanwhile, a friend of public relations office Kate Sorenson asks her to serve as an advisor to his campaign to legalize marijuana in Arizona. But there are two competing factions trying to legalize marijuana—one because of principles and the other because of profits, and Kate is caught in the middle. Then there is another murder, and Lyle is soon poking around the Mexican border, trying to find a park contractor they fear might be dead. As Lyle and Kate dig for the truth, they paint bullseyes on their own backs.
Bacon's character development is superb, the action fast and exciting, and the mystery intriguing, making The Marijuana Murders a worthy addition to the series.
Chapter 1
That can't be blood, there's too much of it. Kate Sorensen watched the automobile hoist lift the 1975 sedan off the garage floor. As the car rose, inch by inch, she peered under it looking at a damp, red area three feet wide. Seconds later, the lift operator on the other side of the car staggered backward, gagging. Kate moved toward him.
"No," the mechanic sputtered as he held up a hand. "Esta muerto. Dead."
Kate still took tentative steps toward the car suspended four feet off the ground. She peered around the left rear fender then took in a breath as if there were no oxygen left in the building. Beneath the car, a leg and arm squashed into pulp, lay on the concrete. Kate looked away before she saw more.
"We've got to call for help," she said. She forced her legs to carry her to a counter where she'd left her purse—and cell phone. Her footfalls echoed through the cavernous auto repair facility, nearly deserted this early in the morning. She dialed 9-1-1.
"There's been an accident. The Nostalgia City garage. Someone's dead." She paused for a moment to breathe and steady herself. "My name is Kate Sorensen. Yes, Nostalgia City, the theme park. I'm in the garage complex. No, it doesn't have an address that I know of. The thing's as big as an aircraft hangar. The sheriff knows where it is. They can get access through the park's emergency entrance."
When Kate hung up, she knew she should also call security, but there was no time. She looked at her watch. Five fifty-one a.m. The TV crew she arranged would be there any minute. Too late to cancel. They were coming more than 100 miles up from Phoenix. The show must go on. And what would the show broadcast about the park? A bloody corpse, a ghastly accident that crushed an employee?
Kate could do nothing for the victim, but she had to keep the TV cameras out of this area. She knew well the TV news maxim, if it bleeds, it leads. She stared at the wide-open metal roll-up door and the parking lot outside. She could imagine the TV van appearing any second.
The mechanic walked toward her on unsteady legs, his face pale. She thought he'd thrown up. She didn't have the luxury.
"Can we close this door?" she asked.
The mechanic seemed to have trouble swallowing. He stared without expression.
"I know, horrible. But the sheriff won't be here for a few minutes and I need help. I'm expecting a TV crew almost any time. Can we close this door and let them in at the other end of the garage? You can come back and open the door for the sheriff."
The man blinked, trying to regain his composure. He looked up at Kate. Her Nostalgia City name badge identified her as vice president of public relations.
"Si, okay…yeah." With trembling hands, he pushed a button and the wide metal door clanked as it descended. "This way. Follow me. We open the west entrance."
The mechanic, dressed in blue work clothes, had the name Luis written on a patch over his breast pocket. At first, Kate followed him, but then her long legs and nervous energy propelled her past him. A head shorter than Kate, he hustled to keep up.
They passed rows of service bays occupied by cars from the '60s and '70s, nearly all built before Kate was born. Maintaining a fleet of forty- and fifty-year-old curiosities—most used as rental cars—was a key to the success of Nostalgia City, the elaborate retro theme park. She'd planned to feature the classic cars and the park's vast automobile restoration facility when she invited Tamara Cox, a host of Rise 'n' Shine, Phoenix, to broadcast a portion of her morning show from the park.
Prepared for her on-air appearance in an emerald dress with her long blonde hair gathered behind her head, Kate reached the west entrance several steps ahead of Luis. She paced as she watched the mechanical door roll up. She wasn't being heartless. The man was already dead. She couldn't help him. She had her job to do.
Kate stood at the end of the restoration garage, hundreds of feet away and around a corner from the accident scene. Luis finished raising the door then turned and headed back.
Kate's cell phone rang. The camera van was rolling down a back street in Nostalgia City. She managed to direct them to the west end of the garage. As Kate watched a few employees arrive early for work, she saw the red and gold Channel 9 TV truck. She considered it a PR coup, persuading Cox to broadcast part of her show from Nostalgia City. Cox had a solid following in Arizona, and Kate hoped her credibility and charm would rub off on the park, provided no one stumbles over a flattened corpse.
When the truck stopped just outside the garage, Cox got out. She wore a dress and blazer and walked up to Kate extending a hand. "Good to see you, Kate," she said. "Looking good this morning. You don't even need much makeup. I'm envious. You look stunning."
Stunned is more like it.
"May we pull the truck inside?" Cox asked.
"Sure," Kate said.
She stepped back, and the camera truck rolled forward. Two crew members got out and started setting up a camera and sound equipment. Kate turned around, glancing up and down the service bays searching for an interesting background. Unfortunately, most of the cars at this end of the building were new arrivals, beat-up refugees from who-knows-where. Kate would have to shift gears. She and Tamara would focus on the "before" aspect of the automobile restoring process. Kate told herself to concentrate on just what she had to do, nothing else.
She looked to her left and spotted a bright, two-toned convertible, probably a rental in for a tune-up. The aged vehicle looked brand new.
"You could get lost in here," Cox said looking around, "and they'd never find you."
Kate put on a smile she didn't feel. "Welcome to the center of Nostalgia City's car culture. We could start the interview in front of that convertible over there."
Cox nodded and asked her camera person to check out the lighting near the new-looking rag-top sedan.
"Since you opened," Cox said, "lots of stories have already covered your mid-1970s town, and your Fun Zone with the movie-themed rides. A behind-the-scenes view of the world largest theme park is a good idea. It is the world's largest, right?"
"In terms of square miles, Disney World is slightly bigger. We like to say it's the living history theme park and resort. Or just one-of-a-kind."
"Or the most expensive?"
Kate knew her talking points as well as a seasoned politician. It helped her extoll the virtues of the park, even though her mind kept traveling back to the dried blood and the lifeless limbs. "We're not inexpensive," she said, "but we do have special school days and discounts for service members and vets. What I'd like to talk about today is our accuracy and authenticity. Everything here is as close as possible to 1975."
"And you have authentic examples to show on camera."
"Right," Kate said, and she froze.
A siren wailed from a distance then reverberated throughout the building making talking impossible.
"What's going on?" Cox asked as the siren faded.
"An accident this morning," Kate said.
"What kind of accident? Anyone hurt? The news director is always pestering me to jump on breaking stories. Can we go see?"
© 2019 by Mark S. Bacon
Debbi Mack:
"Bacon deftly blends nostalgia and crime. If you're looking for a mystery that touches on today's issues while harking back to earlier eras, The Marijuana Mysteries does so in a fast pace with humor and style." ~ Debbi Mack, New York Times bestselling author of the Sam McRae Mystery Series
Becky Clark:
"Visit the Nostalgia City theme park, where the 1970s are alive and well, and the murders are dope. Suspects are as plentiful as bell bottoms at the disco, and the mystery as twisty as a vintage roller coaster." ~ Becky Clark, author of the Mystery Writer's Mysteries