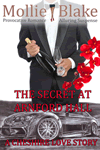 BY: MOLLIE BLAKE
He lived in a nightmare. His son brought him daylight. Can this woman be his breaking dawn?
Gabriel Black didn't give a damn about the world. Until, that is, his seven-year-old son enters his life for the first time. The young boy brings daylight into the darkness of Gabriel's world. But a single parent needs a distraction. And this single parent has no limits when it comes to getting what he wants…
She's built a new life for herself on the ruins of the old, but this man can destroy everything she's worked so hard to gain…
Grace McGuire lives with a dark secret—one that, if revealed, will destroy her new life. Then her world collides with that of forceful Gabriel Black, a multi-millionaire with a secret of his own, a secret Grace is determined to uncover for her sanity and all she holds dear.
TAYLOR JONES SAYS: In The Secret at Arnford Hall by Mollie Blake, Grace McGuire has built a new life on the ruins of her old one, even going so far as changing her identity. Now she harbors a secret that would destroy everything she has worked so hard for—her job, her happiness, her new life. Things go well for Grace and her past remains hidden until she meets the rich and powerful Gabriel Black, who claims to know her secret, but the price for his silence is unthinkable. Can Grace deal with this or does she dare call his bluff, if it is a bluff?
The story is clever, intriguing, and has a solid plot. And there are plenty of hot and spicy sex scenes. Just my kind of book.
REGAN MURPHY SAYS: The Secret at Arnford Hall by Mollie Blake is the story of one man's rage at the betrayal of his family and the effect that has on his life. Gabriel Black has a dark secret that has controlled his life since he was a teenager, and, as a result, he doesn't much care about anything or anyone. Then he suddenly gains custody of his seven-year-old son. But it's when he runs into his son's new teacher that his life, and hers, really changes. The teacher, Grace McGuire, also has a secret, and Gabriel knows what it is. The price for his silence is high, but not in terms of money. Can Grace afford to pay it, or will she risk losing everything she has worked so hard to gain?
The Secret at Arnford Hall explores the underside of sexual control and domination, and the author handles it with both realism and sensitivity. Her plot is strong, her characters realistic and well developed, and her sex scenes hot, spicy, and plentiful. What's not to love?
CHAPTER 1
Gabriel Black sat on the black leather and chrome chair in front of the beech desk. It was Monday, the twenty-eighth of August, 2017, and the sunshine was streaming through the windows of the fourth-floor offices of Abacus and Cornworthy Solicitors in Manchester. The sunlight formed a vivid bright triangle on the corner of the desk next to Gabriel's coffee cup, and he was mindlessly creating the image of a sword in its sheath with the shadow of his pen–a slight distraction from the document in front of him. His dark expression matched his Hugo Boss black suit, dark blue shirt, and deep gray silk tie. He had not taken his jacket off, despite the heat of the day. He took a sip of his coffee and frowned.
One of the family solicitors, Andrew Cornworthy, was sitting back in his chair observing his client through his rimless spectacles. Andrew was fifty-eight and had represented the Black family for the last thirty years. Over eight years ago, he had been instrumental in preparing the document now under review and was mildly amused at his client's growing frustration with it. Of course, no one had actually expected something to happen to necessitate this document coming into effect–but it had.
Andrew leaned forward and spoke quietly to the man who was still staring at the shadow of his pen.
"It accurately reflects your and Eliza's wishes at the time of John's birth. Of course, its…let's say…unique character could make it unenforceable."
Gabriel looked up at Andrew and his frown deepened.
Andrew refused to be unnerved by Gabriel's formidable glare. He knew his client too well. "But we both know that wouldn't be in the spirit in which it was written, and wouldn't follow Eliza's wishes. When you're ready, perhaps you could let me know how you wish to proceed."
He sat back again and, placing his elbows on his waist, formed an apex with his fingers and thumbs, and contemplated nothing in particular. If it were not for the tragic circumstances which were responsible for this necessary appointment, he would have almost enjoyed it.
"Don't patronize me, Andrew. I know what I agreed to. But I should consider what's in the best interests of the child."
"I think Eliza already did that in getting you to agree to the conditions in the first place."
Gabriel stood up and walked to the window, his highly polished black shoes glistening in the sunlight. He had his back to his solicitor and couldn't see the faint smile on Andrew's lips.
Looking out across the skyline at the new skyscraper under construction, large billboards on the building site prominently promoting Black Construction, Gabriel wondered if it was still on schedule and made a mental note to check with his managing director.
He was very conscious that, since hearing about Eliza's death, certain changes needed to be made in the way he worked. This included lines of communication between the subsidiary companies and Black Holdings Limited, of which Gabriel was Chief Executive Officer.
He turned to face his solicitor. "Have you ever even heard of Arnford Primary School?"
"No, but I'm sure it's a perfectly acceptable institution for the education of small children. I'd imagine it won't differ significantly from John's current school: the curriculum, targets, parents' activities–" At this point, Andrew couldn't fail to notice the raised eyebrows of the man still standing at the window, and his smile became more evident. "–will be very similar."
"You're enjoying this, aren't you?" Gabriel returned to his seat and sat down, sliding the chair back slightly and resting his right ankle on his left knee.
Andrew thought he was finally beginning to relax but was careful not to dismiss the huge change that recent events would bring to Gabriel's life. He remained silent while the other man continued.
"How well educated will the teachers be? How good is the curriculum? And I don't just mean reading, writing, and math. And what sort of children will he be mixing with?" Gabriel's voice was filled with a superior scorn. "I should have made her see sense and gotten the boy a decent education, to prepare him for Eton! They were the best years of my life. What chance will he have in the ineffective state system?"
"I think you're exaggerating, Gabriel. Check the EdBest reports, go and see the head teacher, and form your own view on the competency of the school. There are other state schools and academies too, you know. What about the other conditions in the document?"
Gabriel sighed, resigning himself to acquiescing to the demands of his son's dead mother.
"Tell Carol I will adhere to the conditions. She has my word. When can I see John?"
Andrew pressed his intercom. "Andrea, can you please get me Eliza Redfern's sister, Carol, on the phone."
A moment later his telephone rang.
"Hello, Mrs. Beardly. I have just had a meeting with Mr. Black and he has agreed to reconfirm the terms of the agreement he made with your late sister. May I take this opportunity to say how very sorry we are for your loss?"
There was a pause as Andrew listened to the woman's response.
"Yes, I understand, and I will, of course, be acting as intermediary, as had always been agreed with Eliza. I'll forward a copy of the signed agreement for your information. Mr. Black will arrange to collect John in the morning." At this point, Andrew glanced over at Gabriel for confirmation that this was in order, and his client nodded. "I presume that will be from your home in Mobberley, Mrs. Beardly. Would ten a.m. be convenient?"
There was a moment's pause.
"Good. I'll inform Mr. Black and he can confirm this with you. Can you please ensure that all John's personal belongings are ready too? Thank you, Mrs. Beardly, and please don't hesitate to contact me at any time in the future. I think you have my details." Pause. "Good. Goodbye." Andrew put the phone down.
Gabriel scribbled his signature on the document and slid it over the desk to his solicitor. "This had better satisfy her, and she can damn well stay out of our lives."
"Don't alienate this woman, Gabriel." Andrew spoke disapprovingly now. "She is the closest relative John has now, after you. And, let's face it, he doesn't know you yet. You'll need to give him time and support to adjust to his new life, not to mention the fact that he has just lost his mother. Have you sourced a counselor yet?"
"Roger is onto it. I thought I would try to spend a few days with my son, just the two of us." Gabriel was on the back foot now, sheepishly aware that Andrew was right about Carol. She and her three children were going to be part of his life from now on, starting tomorrow, when he would drive over to meet John for the first time. "Ring and get my car out front, please." Not waiting for any response, Gabriel walked over to the door and headed for the lift.
Andrew let this abrupt ending to the meeting go. He realized Gabriel had a lot of thinking to do.
© 2017 by Mollie Blake