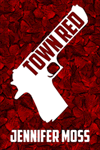 BY: JENNIFER MOSS
His partner is killed. His girlfriend takes off. His job is hanging by a thread…
Chicago Homicide Detective Ryan Doherty has one last chance to save his career—solving the case of Scott and Carly Redding, ad execs who each appear to have died of natural causes…on the same night. And there are hundreds of people who could've wanted the Reddings dead, including every ex-employee of their high-powered firm, Town Red Media.
At the top of the list is Catharine Lulling, a former VP at Town Red Media. Ryan becomes obsessed with Catharine: she is charming, intelligent, wealthy, and possesses psychic abilities he can't even understand. Drawn into her unconventional world, he risks the case—and his life—to find out if she's the real thing, or the real killer.
TAYLOR JONES SAYS: Town Red by Jennifer Moss is a first class mystery. And the fact that it also includes a sweet romance as a sub plot is just additional spice. I'm big on alpha heroes. I like them hot, hunky and determined. Put them in a uniform and I like them even better. Moss's hero, Ryan Doherty, is a Chicago PD homicide detective. Yum! The story takes place in Chicago—one of my favorite America cities—and revolves around the murder of a husband and wife team of advertising agency execs and owners of Town Red Media. They die on the same night of apparent natural causes, but in different places. The husband dies at his office at approximately the same time as the wife dies at home. When it's discovered the causes of death weren't so natural, current and ex-employees are suspects. But the list of ex-employees is long, and every employee, current or ex, has a good reason for wanting the couple dead, including a beautiful physic, Catherine Lulling. Ryan is immediately attracted to Catherine and his attraction begins to interfere with the case when Catherine becomes not only a suspect, but the prime suspect. Ryan is ordered by his boss to stay away from her until the case is solved, but he is afraid that solving the case will take her away from him permanently.
Moss did an excellent job of character development, as well as doing her homework on cop-speak and police procedures. Not that I'm an expert, of course, but the story had a nice ring of truth to it. I felt authentic, as if the author did her research and knew what she was talking about when it came to things like police polices and interrogation of suspects. The plot has a lot of nice and interesting twists and turns to it that kept me reading long after I should have stopped and done my chores.
REGAN MURPHY SAYS: Town Red by Jennifer Moss was an extremely intriguing paranormal mystery. Not sure if that is a real genre, but that's what I'd call it. Yeah, it did have some romantic elements, but that was a minor sub-plot and didn't really detract from the intensity of the story. Actually, it seemed to have the best of both worlds. When the hero's, Ryan, partner dies in an accident, and Ryan's girlfriend leaves because she thinks he's been unfaithful, Ryan's job is all he has left, and it's been hard for Ryan to keep even that. When a husband and wife are murdered on the same day, Ryan knows it is his last chance to save his career. Especially since the police department is downsizing due to the economy. So Ryan knows he needs to get his act together or find another job. Enter gorgeous, wealthy, and psychic suspect Catherine Lulling, and Ryan's determination to solve the case by any means necessary suffers a blow. He wants to solve the high profile case and keep his job, provided Catherine isn't the killer. But all the evidence seems to point that way.
Usually, I can solve the crime before I get to the end of the book, but this time I didn't see it coming. The plot is tricky and it really kept me on my toes. I don't know much about Chicago, but the attitude of the cops and civilians in the book seemed to fit what I do know. Moss's character development was superb, the storyline riveting.
PROLOGUE
Three minutes before three a.m. Ryan Doherty attempted to enter his apartment without waking the girlfriend.
"Be kind to her for a change," his partner's voice whispered from behind. He glanced back to respond, but he was alone in the hall. It's possible he'd had one too many tonight.
He inched the door open and stepped inside when something shattered against the doorframe, just missing his head. He ducked, pulled his gun, and threw the light switch, all in one-point-three seconds.
"Jesus, Kelly, what the hell? I could have killed you," he said, holstering his weapon. When she didn't respond, he glared at her for an explanation. Fresh tears had plastered her dark-cinnamon hair to her cheeks. Shit.
"Where were you," she whimpered. "Where were you—where were you—where were you?" The mantra escalated as she made her way toward him until she was close enough to pound her fists against his chest.
"I told you, I was with Jon," he said, grabbing her wrists.
'Don't you use me for your asshole alibis,' his partner had told him many times. But he did anyway. Jon owed him a favor for fixing him up with the bartender over at McGinty's.
"You weren't with Jon, Ryan." Kelly angled her head in inquisition. He'd never forget the look on her face—a mix of hatred, accusation, and the slightest hint of pity.
"Yeah, I was. Call him."
Kelly extricated herself from his grip.  "Jon's dead."
He snickered. "What are you talking about? I just saw him a couple of hours ago." Ryan pulled his phone from his pocket, but Kelly slapped it out of his hand.
"They tried calling you. I tried calling you."
"Sorry, I guess I turned my phone off."
"Are you listening to me? Ryan? Jon is dead."
"Look, I know you're mad because it's late, but this is even beyond your—" When he realized that Kelly wasn't fighting back, his heart seized. It was her eyes—they weren't filled with fire this time, but with grief. He shook his head. "No. He can't be dead. We weren't on shift tonight. He's not dead."
"Ryan, listen to me. Jon—he stopped to help a guy—on the Edens. Change a tire—" Her words were punctuated with uncontrolled gasps of air. "A truck swerved. It sideswiped Jon…and the guy. They're both…dead."
The room went gray.
"Call the station, Ryan. Call Sergeant Besko." Kelly gave him one last disgusted huff, turned, and walked into the bedroom, slamming the door behind her.
Ryan glanced down at his phone lying on the floor among the shards of glass. Jon had just texted him. It was the last text he'd received. No, Kelly's text was the last one: where are you???
He had to call the sarge. He had to call in. But maybe if he didn't call in, everything would be fine. Everything would be normal.
Jon wasn't dead. He couldn't be. Jon was his partner, he wouldn't leave him. Ryan leaned his back against the door and froze, willing time to do the same.
Any regular night Kelly would have screamed, bestowed him with colorful names, threatened to leave him if he didn't grow up.
After she slammed the bedroom door, he would've still heard a string of expletives until she decided to come out for round two. There was always a second round. Until tonight. The apartment remained silent, with the exception of a shudder from the fridge.
He raked his fingers through his hair, slid to the floor, and picked up his cell. His fingers shook as he dialed the sarge's number. Someone picked up, but no hello. No identification.
"Sarge?" Ryan rasped. "You there?"
"D," Besko answered. "You better come in."
KIRKUS Reviews:
Thursday, March 28, 2013: KIRKUS calls Town Red clever and fast-paced.
They say: "Moss' page-turning debut novel is engrossing, with natural dialogue and a mystery that plays out in a mostly believable fashion, though the novel's paranormal elements never quite mesh with the more realistic aspects of the book. Overall, the story is more fluffy than gritty, but with a hero as compelling as Doherty, few readers—especially those who have a soft spot for tough cops with sensitive souls—are likely to complain. Dashes of humor balance the darker moments in the engaging whodunit, which will leave readers guessing until the end. Clever and fast-paced, this cocktail of romance and mystery goes down smooth with a nice finish." READ FULL REVIEW
[end_wptabset