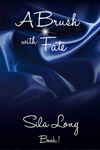 BY: SILA LONG
Brook Jacobson is on a mission to live her life on new terms after being consumed with grief in the complicated aftermath of her husband's murder. She never imagined that fate would catapult her into the surreal world of Isaac Coles, mega film star. Isaac is captivated by Brook's intellect, beauty, warmth, her strength of character, and an undeniable visceral sexual attraction, but the unresolved pain from his past complicates his feelings of love. As their passion ignites, Brook falls hard for Isaac, but if he can't commit to their relationship, she knows their love is doomed. And Isaac is used to doing things his way, which doesn't include being monogamous.

TAYLOR JONES SAYS: In A Brush with Fate by Sila Long, Brook Jacobson is a new widow whose husband was murdered. She is just getting back into the dating scene when she meets mega movie star Isaac Coles. Both bring "baggage" from past relationships as both of their spouses cheated on them. But Brook draws the line when Isaac says that he wants Brook to be exclusive to him, but he won't commit to being exclusive with her, especially since Isaac gets insanely jealous over Brook's innocent encounters with other men. Isaac storms out in anger and Brook is left devastated.
This book is hot, just the way I like them. And the sex is plentiful. The book is written in present tense which isn't my favorite, but I quickly got past that. It also has a strong plot, which makes it a cut above most books in this genre. If you like erotic romance, you can't go wrong with this one.
REGAN MURPHY SAYS: A Brush with Fate by Sila Long is an erotic romantic suspense. Brook Jacobson is a self-employed human resources manager/consultant. After her husband cheated on her and then was later murdered, Brook gives up on men, until she meets Isaac Coles, actor and playboy. Isaac's first wife cheated on him as well, and he finds out about it just before she dies of breast cancer. So both parties have trust issues from their dead spouses, and both are afraid of commitment. But Brook gets a little upset when Isaac tells her that he doesn't want her seeing anyone else, but he won't offer her the same consideration. Oops. Not exactly what Brook needs to hear.
A Brush with Fate is full of hot sex, endearing characters, and fast-paced action, from Brook's determined investigation into her first husband's murder to a love triangle with not one, but two other gorgeous men. You can't help but feel for Brook when, with all she has to choose from, she falls in love with the one who won't commit.

Chapter 1
My stride toward the gate is like that of a tiger–long, strong, confident, and regal, surveying my territory and threatening anyone who would dare to get in my way. I glance up toward the balcony, feeling piercing appraising eyes gawking–onlookers, admirers, confirmers of my current state of joy, but none of the faces are discernible. I check my watch–12:47 p.m., a time scorched into my memory. Eric's declared time of death, my past once again raining on my parade. Damn! Not today! Today is my birthday, May eleventh, and at the age of thirty I am new. I'm feeling irresistibly beautiful and powerful today with the new me on full display. This morning every strand of my often unruly black curly hair fell into place, gracing my face like a tiger's mane. The sun from my brief stay in Miami kissed my skin just enough for it to glow warmly against my all-white sleeveless fitted dress. The contrast is divine. I am basking in this once familiar feeling, holding onto it. What about that zit on your face, Brook? Damn zit, popping out of nowhere this morning right under my lower lip, probably stress. I'm not going to let it spoil how I feel, about myself, not today!
I'm cutting it close, needing to arrive back home in time to host a fund raiser. If everything doesn't line up perfectly, I'm screwed. How did I get myself into this? Ha! Faith, my sister, who knows what heart strings to pull to get my juices flowing. She approached me months ago, after the true damage of the storm was realized, sharing the heart wrenching stories about the people she met and the unbelievable destruction she witnessed. She was one of the first volunteers on the scene, not really sure at the time what she was going to encounter.
But that was Faith, adventurous and generous–not always a good combination.
The event is a partnership tapping into Faith's contacts and using my home. It was how Eric and I had planned to use our striking new home in New Jersey with its soaring ceilings and massive widows framing a spectacular view of the city's skyline. It was the perfect house for entertaining, and hosting events for a foundation we established a year before his death.
The plane should be boarding now with departure set at 1:00 p.m. It would land at 4:05 p.m., and the event is scheduled to start at 6:30 p.m. Please, Jesus, let all things come together in perfect timing. Oh yea, and while are you're at it, would you please get rid of the zit.
Oh no! No, this can't be happening. No plane. Arriving at the gate, I look out of the huge terminal window to see no plane. It is boarding time and no plane.
An attendant seeing my expression of disbelief points to the gate on the other side of the terminal. "We had to locate a different aircraft due to the first having technical difficulties. Your flight just started boarding, but there will be a short delay."
"How short?"
"Hard to say."
Shit! Shit! Shit! I board the plane, settle into my seat, and take a deep breath. I hate it when things are out of my control. My text to Faith, informing her of my delay, is interrupted.
"Good afternoon. This is Captain Shriver. We are so sorry for the necessary change and delay but will make every effort to make up for the time. I will keep you posted. For now, relax and thank you for choosing Southwest Airlines."
Thank you, Jesus! I go about my business of finding that comfortable spot to support my head for the nap I plan to take. None of my usual reading on this flight. I have to be on for the entire evening and need to be well rested.
My cell phone, situated at my side, wakes me. I can't believe that the plane is on the ground, taxiing to the gate. Its 4:15 p.m., only ten minutes late. I scroll through the numerous texts before I find one requiring an immediate reply.
Brook, is there another contact number for the valet service? There was no answer or answering service and we have not heard from them. Did they contact you? Connie.
Connie is Ron's wife, my best friend I've known since grade school. He could not have picked a better match. She is adorable with a sweetness about her that is disarming–her carrot. People are usually not prepared for the no-nonsense side to her personality, befitting a trail attorney–her stick. An effective weapon she uses whenever necessary. I was forced to relinquish much of the planning to Connie, a team of friends, a few Board members, and my sister. Not my style, but I am determined to live life differently now. Connie's text is a priority. I immediately call Danny, having an additional contact number to solve the problem. I promise myself that the remaining messages will be answered in the order of priority during my ride home.
My earlier spark is a little less vibrant during this leg of my trip. I quickly reach the taxi area and spot the chauffeur holding my name.
I am barely situated in my seat when the phone rings. It's Ron. "Hey, BJ, have you landed?"
"Yes, I'm in the car on the way home now."
"How did it go?"
"It was well attended, and my portion of the presentation stimulated quite a few questions."
"Good. That's always a good sign."
"I guess. Where are you?"
"I'm home, but I'll be leaving shortly to go to New York."
"New York? Aren't you coming? You can't miss it–I'm treating this event as my coming out celebration."
"Ha! Yes, I know. Of course, I'll be there, just a little late."
"Why are you going to New York?"
"I'm picking up a friend from the airport. He agreed to come to your event after some coaxing. So I'll be a little late."
"Who is he?" It feels like Ron is being mysterious.
"Well, I'm trying to kill two birds with one gigantic stone. We haven't been able to meet face-to-face to discuss a project, and I believe he'll be a generous donor."
"Sounds good to me." I want to ask his name, but I know Ron well enough to know that he wants to keep this a mystery. As Ron is a film writer and director, I've learned not to be in awe of the people he knows. It just comes with his territory, but this is intriguing news. "Okay, I'll see you later," I say.
"Yes, see you later."
I spend most of the ride home replying to text messages. I finally look up. I'm surprised that we're approaching my street. The time seemed to melt away in a zone of communiqué–private moments between my personal and professional circles. It will be good to see so many friends I've not seen since the funeral
The street gradually inclines with scattered peeks of the skyline on the right until it widens into the cul-de-sac of three homes situated on the ridge. My home is in the middle and sits back on the property near the end of the ridge, giving way to an unobstructed breathtaking view. The house is contemporary spacious but not overwhelming–a warm and comfortable place, an answer to a prayer that would have been out of our reach had it not been secured through a short-sale.
The driver is inquiring about my bag, but I am lost in the beauty of the entryway. This is Faith's handiwork I'm sure. On both sides there are large containers filled with large purple and white lilies. The simplicity of the arrangements makes such a wonderfully bold statement against the massive intricately carved dark wooden door. I hand the driver a tip as I retrieve my bag. The familiar pang of sadness wants to surface. I push it back–my secret battle. You can do this, Brook!
As I open the door, the sweet unfamiliar scents tease me, only to be blown away by the beauty of the room. The exotic arrangements of birds of paradise, orchids, and calla lilies are like pieces of art to accent a sun filled room with a colossal wall of glass doors and windows. The room is drenched in sun light and the large, low, contemporary sofas have a new look, transformed by large, exotic, vibrant print pillows. The rearrangement of the furniture, including my baby grand piano, is designed to accommodate the flow of expected guests. It's breathtaking. "Wow!" I say softly.
Faith enters, pleased with my reaction. "You are here. You look beautiful."
We hug as she sings a verse of Stevie Wonder's "Happy Birthday Song."
"Faith, I am speechless. This is gorgeous!"
"Oh, you like? That's a relief. I actually pleased the woman with impeccable taste, the perfectionist with an unabashed eye for detail, ha. Let's see if I continue to get good marks. Let me take you outside and tell me what you think about the set-up."
I reluctantly follow Faith outside, not wanting to leave this room–the room that sold both Eric and me on buying the house.
"Faith, we need to take pictures of the place before people arrive. They would be great to have when it comes time to sell."
"Can we stay in the moment please? Tell me what you think."
I am surprised at how big the space looks. There are people scurrying around with a clear purpose. The view was carefully left unobstructed and there are designated areas for casual seating on either side with small round tables. There are several lounge chairs pushed back to the wall, and two bars at opposite sides of the deck near the seating areas. In the middle of the deck area is a circular serving bar to accommodate hors d'oeuvres.
"It looks spectacular, so spacious." I'm both surprised and relieved. I hug my sister with gratitude and genuine awe of the choices she made and how incredible the place looks.
"Okay, I'm done!" Faith flops on a lounge chair and sighs as if the weight of the world is now lifted from her shoulders. "You've given me the stamp of approval and soon it will be show time."
We both look at our watches at the same time.
"Is Connie around? Where's Terri?" I ask.
"They left right before you came. Terri went home to change, and Connie had a few last-minute errands. She should be back any minute now."
"Connie said Ron will be arriving late."
"Yeah, he called me on the way here. He says he's bringing a big donor."
"Oh really? Who?"
"I don't know. A mystery man."
"Hmmm, big donor, that's great. Can't wait to meet this mystery man."
It's 5:20 p.m. and, for a moment, we are both lost in our thoughts.
"The quiet before the storm," I observe.
"What was the reaction like at the conference?"
"I finally feel like I'm getting some recognition for my hard work. Folks were interested in what I had to say."
"That's great!"
"I made the right decision to go–Wow, Faith, when did you have the time to do all that?"
Her makeup and hair looks gorgeous. She is already dressed, in a black jumpsuit accented with an unusually stunning necklace. It never takes much for Faith to look like she just stepped out of a fashion magazine.
"It took you long enough to notice."
"Well, there is a lot to take in here, and I just placed my feet on the ground an hour ago. Give me a break."
We laugh.
"Brook this is going to be a spectacular event, and I am so happy that we are doing it together."
"Me, too. Oh, I need to take pics before I get dressed."
"What are you wearing?"
I'm quickly out of hearing range as I leave to retrieve what I call my "real" camera.
***
I look in the mirror at myself, wondering what Eric would say about my outfit. We would critique each other after dressing for special occasions. I'm pleased, it looks boldly sophisticated. A light crepe grass green two piece outfit–a pencil skirt, which hugs my body in all the right places, with a matching halter backless top. The patent sandals are strappy, a nude color with heels higher than I like but sexy. My hair has cooperated again, and the cut allows it to surround my face with soft loose curls, my simple diamond-stud earnings peeking through. My sun kissed body radiates with a warm glow, but that zit on my face just under my mouth feels like an eye glaring at me. It's always the total package I work at creating, so maybe the zit will fade away under the weight of the entire look.
"Happy birthday, Brook," I whisper to myself. "I am on my own," I assert, taking a final look at myself in the mirror before exiting my room to descend the stairs.
I want to see Connie and Terri before guests arrive. The smooth trumpet sound of Chris Botti is in the background. I pushed for background music instead of live music, not wanting to be asked to sing, a past vocation to help pay college expenses. Some folks can't seem to resist placing pressure on me to perform. It gets exhausting.
Standing at the bottom of the stairs, I close my eyes and take a deep breath, inhaling the clean fresh aromas that saturate the room. Then I open my eyes to see Connie totally preoccupied. She is surveying the room while placing material at strategic places.
As I approach she looks up. "Wow. You look incredible Brook."
"Look at you. I am sure we'll earn the reputation of the Powerful Beauties for Hire after this evening."
We high five and hug.
"How did it go in Miami?"
I'm laughing. "Oh, yeah I was in Miami this morning. It went well."
"Did you talk to Ron?"
We are interrupted by Terri. "Hey, girls. We all look awesome."
Terri is not waiting for a compliment, she stops and swirls. Connie and I applaud to give a diva her due.
"Where's Faith?" Terri asks. "We need to have someone take a picture of us before the evening begins."
***
Folks are flowing in now at a constant pace. It is a few minutes before 7:00 p.m., and both Faith and I are positioned in the entryway, greeting guests and having somewhat lengthy conversations. For many, this is the first time they have seen me since Eric's death, and the first time they have been to my home. Faith's guests are in awe of the intensity of her work. Faith has traveled the world and has a reputation for exposing ugly situations as a researcher for major syndicated news outlets. She never wanted to be the face in front of the camera, although she could fill that role easily. Her friends and colleagues know her gutsy contributions and have nothing but respect for her. They have much to say about her most recent work and she is finding it hard to keep the encounters brief in the service of time.
There is a buzz in the air. The evening is progressing quickly and there are easily a hundred people socializing between the great room and the outside space. It is 7:15 p.m. As I walk toward the assigned area for the presentation, I feel a tap on my shoulder.
"Oh my God! What a surprise!" I say to Lenny.
"Yes, I know."
"This is your wife," I ask Lenny.
"Yes. Camille, this is Brook."
"So glad to finally meet you."
Faith is gesturing for me to get things moving.
"We will talk in a bit. My sister, the task master, is making me keep to a schedule."
"Go ahead, Brook. We'll talk."
Wow! I haven't seen Lenny since Eric's funeral. One Christmas card, not what I expected from his friend and partner. Maybe he is now trying to make amends.
"Good evening. I am so happy to welcome you into my home and, on behalf of The Threads that Bind Foundation, I would like to thank you for taking the time to join us on this special evening. I would also like to especially thank my sister. Those of you who know Faith understand her passion and commitment to expose and help victims deal with problems beyond their control. I believe that our program will give you an inside look into the lingering consequences of Hurricane Sandy. Many of us are familiar with the places that you will see, that unfortunately are unrecognizable today. These are our extended neighbors, dealing with a bureaucracy vortex with no solution in sight, and so many remain homeless. We want to give you a sense of the many issues people are experiencing by providing real accounts from those who are living through this nightmare. At this point, I would like to introduce Faith Jacobson, my sister, who will provide context to the visual presentation. Thank you again for coming."
It is a tight program–my welcome, followed by Faith and then sufferers who share their real stories and provide accounts of their neighbors–victims left to figure things out on their own. It is overall a powerful presentation. People are visibly moved. Many had no idea of the extent of the damage and suffering just in "our backyards." As I return to the presentation area to spell out the fundraising goal for the evening, I am distracted. While visually panning the room, I see Ron with Isaac Coles.
"Holy shit!" I can't believe that Ron would bring my fantasy man–the super-star, Isaac Coles–without giving me a heads up. This is not funny. I manage to verbally stay on point.
Ron has his mouth covered with his hand to hide what I imagine is an expression of shameless glee. He knows that Isaac is my favorite male star, and Eric and I had often teased each other about us both having one fantasy movie star lover. And now Ron walks into my home with him in the flesh. I manage to maintain my cool and get through my semi-prepared remarks. I avoid looking in their direction. Get a grip, Brook, my inner voice scolds.
Many of the guests seem eager to talk, following the presentation. Faith and I find ourselves moving from one guest to another. Lenny and his wife have positioned themselves to talk with me next. Lenny is an attractive man of average height and built, full of himself, and a little eccentric. His flowing blond hair, blue-eyed wife looks like a damsel in distress, a match made in heaven.
"Well, Brook, I see that you have picked up the philanthropic mantle. Eric would be proud of you."
"Ha, I'm trying to find my way. Camille, I think this is my first time I'm meeting you."
"Yes, I know. I was either having a baby or home with a new born at the events where we would have met."
"How many kids now?"
"Three," Lenny answers. "Brook, I'm sorry that I have not reached out before. I just…
"We all miss him," Camille says, rescuing her husband.
Did you even know him? "Lenny, no bowtie?"
"No bowtie. I decided to adapt the boring style of the masses when I left the firm."
"You poor thing,"
We all laugh.
"Where are you now?"
"I left to pursue my own practice shortly after Eric's death. Things there were just not the same for me."
"Wow. How's that going?"
"Great. Brook, are there any developments in the investigation?"
"You probably know as much as I do. It is still active, so they say–"
Lenny is distracted. Ron and Isaac are behind me.
"Isaac Coles! What an unexpected pleasure."
Lenny and Camille take turns greeting my super-star guest.
Isaac smiles and extends his hand. "Thank you."
"Ha!" I say. "Unexpected is right. Ron, this is Lenny Bell and his wife Camille. Lenny was the person responsible for bringing Eric into the law firm. They attended law school together."
"Pleasure, pleasure."
"Please stay for a while, mingle, and eat. I'm sure there are folks here that you know."
"Will do."
Did I just dismiss them?
Yes you did.
Of all days for Lenny to show up. He's a reminder of everything.
Wasn't he invited?
That's beside the point.
Ron hugs and kisses me on the cheek. "Happy birthday, BJ."
"You remembered."
"You know I wouldn't forget that." He turns toward Isaac to make the introduction. Isaac extends his hand before Ron has completed his sentence. "Brook, this is my man, Isaac."
"Your man? I thought I knew all your friends."
Isaac smiles and uses his grip to pull me closer and whisper in my ear, "I saw you earlier."
Jesus!
He has a spicy but smooth masculine scent. What is that? I pull away slightly to look at him.
I'm intrigued. "Really? Where?"
"The airport." Now Ron can hear.
"I thought you landed in New York?"
His lips are so smooth, exposing perfect white teeth from time to time as he speaks, looking directly into my eyes. I'm having trouble staying focused on his words. It feels like every ounce of my body is drawn to this man.
Keep it together, Brook.
"I saw you in Miami. I was just leaving the VIP lounge and I happened to look over the balcony and I saw you."
"This is the woman you spoke about?" Ron seems completely taken aback by Isaac's admission.
Okay, I think I've heard him. Not sure. This man has me in a state…I can't describe. Damn!
He turns to Ron and continues. "Yes, I told you she left an impression on me in her stunning white dress and, now face-to-face, I'm more impressed."
"Wow!" is all that I can manage to say. Surreal doesn't even begin to describe this day. "Such an interesting coincidence."
Ron appears to be mystified. "Interesting? It's eerie."
Isaac is still holding my hand with both of his hands. "I am so glad to be here, and I commend you on your work. I had no idea what folks were still dealing with in the storm's aftermath."
He is charming, more handsome, and taller than he looks on the screen. I'm five foot, six inches, and he is still taller than me in my four-inch heels. There is something about him I find fascinating. I return to Earth and remember that he is the "generous donor" Ron promised.
"Yes this is a cause that I just could not ignore. My sister's accounts of her experiences, and the people she met, pulled at my heart strings. The fact was that I was so familiar with many of the places. I just knew we had to do something."
I hear Faith summoning me. Some of the guests are leaving and I must issue appropriate thank-yous and good-byes. Yes! I need to get some distance from this man before I make a complete fool of myself. "Please excuse me."
I feel Isaac's eyes on me as I walk away. I wonder if it is my imagination. It feels like every time, no matter where in the space conversations take me, Isaac has positioned himself so that he can watch me, regardless of whether he is talking to someone or not. I dismiss the thought and continue to have my closing encounters with many of the remaining guests.
I reenter the great room after escorting Warren and his wife outside. I had not seen them since Eric's death, and there was so much they wanted to say. He was one of Eric's mentors, and I feel terrible that I had not considered his pain until a few minutes ago. The room is empty, and there are mainly close friends and family members mingling outside and in the kitchen.
I can see people on the deck and notice that Simone has Isaac in her hungry grip. "That should be interesting," I whisper.
Behind them, sitting at a small table, I see Faith and Jason, a longtime friend, in what appears to be a warm and animated conversation. He has never attempted to hide his feelings for Faith, and I've always secretly wished that she would develop a liking for him, but Raj, her fiancé, put that wish to rest.
I steal away to my room for a quiet moment and to freshen my make-up. My head is spinning. I am exhausted and exhilarated at the same time.
"I knew you were here." Only Faith would feel that she could intrude on my private space. "Can you believe this evening?" She is exuberant.
"I'm trying to take in the entire day, and it is not over yet."
"Isaac Coles?"
We both laugh, rolling all over the bed like two teenage girls.
"Brook, he has the hots for you!"
"What makes you say that?"
"Coyness does not become you, dear. He can't take his eyes off you."
"Isn't he married?"
"No, he's not. His wife passed away about a year and a half ago."
"Oh God, what happened?"
"Breast cancer"
"That's awful!"
"All I know is that today he has Brook on his mind."
"Why me? He can have any woman in the world. You wouldn't believe what he told me." I have Faith's attention. "He saw me at the airport in Miami and was so impressed he mentioned 'the sighting' to Ron on the way over here."
I am sure I have a strange look on my face as I consider the chances of Isaac ending up in Simone's grip downstairs.
"Are you serious? That's weird, Brook."
"Maybe he is a little weirded out by that, and that's why he seems so interested."
"Yes, and he finds you beautiful, intelligent, and sexy!"
"I am not going to be just another feather in someone's cap."
"Well, that's a cap plenty would love to feather."
I roll my eyes at her.
"We better go back downstairs."
"I'll be there in a minute, I have to pee. Faith, this zit on my face, does it look gross?" I position my head so she can see it.
"What zit? Oh, please, girl, you look fantastic."
***
I re-enter the main level and, as I approach the outside area, I notice how much the atmosphere has changed. The night lights are on the deck and the laughter is at a higher pitch. I wonder for an instant why everyone seems gathered in one spot.
"Happy birthday, Brook," is shouted in unison, followed by the "Happy Birthday Song."
I'm a little embarrassed by the rush of emotion surfacing. You have good reason to feel the way you do, Brook.
"Make a wish," they all command.
I'm faced with the task of blowing out thirty candles on the most beautiful cake as I make a wish.
I am surprised to find Isaac standing next to me. It feels strange and good at the same time. This is not by accident. His moves are so decisive. I only met this man less than two hours ago and already he is making his way into my head. I'm intrigued but, at the same time, I feel vulnerable. I look up to see my sister with an expression of curiosity as she studies his movements while taking pictures of the gathering.
Both Isaac and I get the first slices of cake as the birthday girl, and the honored super-star guest. This is the first time so many of my friends and family have been together in my new home. I savor the moment but I am also dead tired and hope the evening will come to an end soon. Isaac grasps my hand and leads me into the great room where he finds the most secluded place to sit. The clarity of his actions gives me no choice but to follow.
"I want to finish telling you the story about the airport and you."
I smile. There's something about his style that makes you forget about his celebrity status. This is who he is, sitting next to me wanting to share some sort of story with me as the star.
"There's more?"
"So I spot you, and I have this urge that I have to meet you. I try to figure out how to get to you without drawing attention to myself. I finally decide to just go for it. I quickly go downstairs, not really knowing what I'm going to say to you, but I have to do this. I walk as fast as I can without running in the direction you were walking, but I can't find you anywhere."
"So do you usually follow strange women through airports?"
His expression looks a little deflated. "It was more than your beauty. There was something about you that I found interesting. Maybe it was the way you were walking through the terminal–as if you owned it."
I chuckle, realizing how much his perception matched how I felt at the time. But now I feel like a hungry woman, yearning to be touched by the man next to me. "It must have felt strange to end up here in my home."
"Strange…" He contemplates the word. "Brook do you believe in fate?"
I weigh the significance of his question and think about the sensation I experienced earlier while walking through the airport terminal, as if someone was appraising me from the balcony. It was Isaac, who is now sitting beside me asking if I believe in fate. "Yes, I guess I do, but it could be your strong desire for something coming to fruition."
"I have to admit that you made a lasting impression on me. I told Ron about the incident during the ride here, because it felt like you had disappeared into thin air."
"Well, if that's the case, you'd better watch your thoughts very carefully because you have awesome powers."
We both laugh, feeling comfortable with each other.
At that moment Ron calls for him.
Isaac sighs. "That's my ride, and he is probably ready to go."
"It's been a long day and, to tell you the truth, I'm more than spent."
"Yes, I can imagine."
"For you too, Isaac. Why were you in Miami?"
"I just completed shooting a film there yesterday and had a meeting this morning before heading home."
"So you live in New York?"
"Yes, Westchester is where I call home, but I also have a place in Miami."
There's a pause as we both rest our heads on the sofa back. He has not responded to Ron's call yet. I want to say something about his wife, but decide not to broach that territory. It would mean that he could ask about Eric. The day has already taken its toll.
"The event was fantastic. I am pledging $25,000. It is a worthy cause and, as you said, it is too close to home to ignore. Your passion is contagious."
Wow! "That is so generous of you, Isaac. It will certainly be put to good use."
I'm surprised by the size of his pledge, but Ron did say that he would be a "generous donor." I reach for material on the table with information on where to send pledges.
"Your home is relaxingly beautiful. I truly enjoyed this evening, thank you."
We both stand. He pulls me close to him and whispers, "Happy birthday, lovely lady."
His body is so strong, and I can feel the firmness of his muscles. That scent hits me again. It's dangerous. My jealous past intrudes on how good his embrace feels. I slightly retract from the closeness so as not to seem like I don't like it, because I do, but it may still be too soon. He seems to understand and kisses me lightly on my cheek.
"Thanks so much for coming, Isaac."
He turns to look for Ron as I walk with him into the foyer area. He's not going to ask for my number? Shit! It must have been my reaction to his embrace. So this is it? The end of a strange and wonderful encounter. Damn!
Ron and Connie approach, saying their goodbyes, and I walk them, alongside Isaac, to their waiting chauffeured limo, wanting to give him every opportunity to say something. He pauses before entering the limo, smiles, and kisses me on the cheek.
"It was great meeting you." I turn to ascend the stone stairs as I hear the car swiftly make its way to the main road.
© 2013 Sila Long
December 30, 2015: Alberta of MR Reviews give A Brush with Fate 4 Stars!
She says: "A very good hero's & heroine's journey as Brook & Zack recover from both their deceased mates' deaths and infidelities. Well written, although I find first person narrative a bit difficult to identify with and therefore it's not my favorite type of writing… A good read, with a few twists & turns that I didn't expect, like the letter which isn't resolved here, lots of sex, and a pretty good story. You'll have to buy all the books in the series to find out what happens." READ FULL REVIEW
March 8, 2019: Irene Roth reviews A Brush with Fate
"This story weaves a modern-day romance. Not too many people commit wholeheartedly to anyone anymore. But the story is so much more than about a romance. It is about two people coming together at a time when they need each other the most. I can't wait to read the next book!" READ FULL REVIEW
March 7, 2019: Piaras O Cionnaoith of Emerald Book Reviews gives A Brush with Fate 5 Stars!
She says: "Author Sila Long weaves an exceptional erotic romantic suspense that will easily captivate the reader's attention from the beginning. The author paints a compelling and intriguing story of love, passion and jealousy in a very vivid and convincing way. In addition, the characters are drawn with great credibility and conviction." READ FULL REVIEW