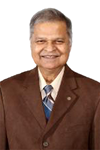 Anoop Chandola is a linguist-anthropologist. Before coming to the US, he was educated at the universities of Allahabad and Lucknow. His last two degrees in linguistics include an MA from the University of California, Berkeley, and a PhD from the University of Chicago.
He has taught Indian literatures, cultures, and religions at several universities in India and the US, including Sardar Patel University, the MS University of Baroda, University of California at Berkeley, University of Washington at Seattle, University of Texas at Austin, and University of Wisconsin at Madison. Now he is Professor Emeritus of East Asian Studies at the University of Arizona. He is a member of numerous professional associations including the American Anthropological Association, Association for Asian Studies, Linguistic Society of America, and Linguistic Society of India.
Chandola has published fifteen books and numerous papers. His scholarly books and articles are in the areas of linguistics, music, religion and literature which include extensive interdisciplinary and theoretical analysis. He founded the field of "musicolinguistics" based on coining the term, arguing for its creation and laying a theoretical framework for the discipline. He lives in Tucson and Seattle with his wife Sudha.
The Dharma Videos of Lust: The Mysteries of Indian Religions, published by UKA Press, London, received two finalist awards: "Best Books Awards" of USA Book News and the "National Indie Excellence Awards." His novel In the Himalayan Nights, released in 2012 by Savant Books & Publications (USA), received a Great Northwest Book Festival award.