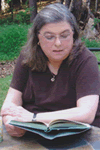 Award-winning author B K Stevens grew up in Buffalo, New York and met her future husband, Dennis, on her first day of classes at Kenyon College in Ohio. They got married two weeks after graduation and, since then, have lived in seven different states and ten cities and towns. Her favorite was Cleveland, which provides the setting for her debut novel with Black Opal Books, Interpretation of Murder.
For many years, Stevens was an English professor, writing mystery stories whenever she could pry a few minutes free. She's published over forty short stories, most in Alfred Hitchcock's Mystery Magazine. One story was nominated for Agatha and Macavity awards, and another won a suspense-writing contest judged by Mary Higgins Clark. A 2010 Hitchcock story introduced American Sign Language interpreter Jane Ciardi, the protagonist of Interpretation of Murder. That story won a Derringer from the Short Mystery Fiction Society.
Currently, Stevens and her husband live in central Virginia. They have two daughters, Sarah and Rachel. When Dennis became a dean and finances got easier, Stevens decided she'd graded all the freshman compositions any human being really needs to grade. She's taking a break from teaching to focus on writing. If all goes well, the shift may become permanent.