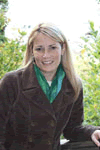 Becca Johnson started penning her debut young adult novel, Dreamer, while her students were taking a test. She was teaching middle school social studies in Kentucky and she was feeling homesick for Michigan. So she set her novel in her hometown: Troy, Michigan.
Johnson is currently a high school History and Health teacher back in Michigan. Her love of history has taken her to 39 of the 50 states and three foreign countries. She hopes to see as much of the world as she can.
When she isn't teaching, she loves to spend as much time as possible with her young son. She is happy that he shares her love of books and make-believe, when he takes a minute from running to sit and listen to a story.
When Johnson isn't teaching, playing with her children, traveling the country, or writing, she can be found cooking, reading, or cheering on her favorite Michigan sports teams. Go Spartans, Tigers, Red Wings, and Lions!