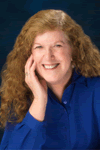 Bonnie Vaughan became fascinated with space travel when the first lunar lander took off from the moon, a feat she had thought was impossible. As the author of numerous newspaper and magazine articles, her most exciting interview was with Colonel Al Worden, pilot of the Apollo 15 command module, who told her how fragile the Earth looked from a distance.
A journalism degree from San Jose State University landed her a job as a technical writer. While writing her own science fiction stories on weekends, she authored many software books for Silicon Valley companies. The National Association of American Pen Women, Santa Clara County Branch, gave her an Achiever award for the Ada User's Guide.
For her latest project, she received some technical advice from Dr. Harrison Schmitt, the geologist who walked on the moon.