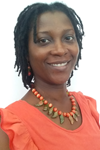 Empi Baryeh is the award-winning author of Most Eligible Bachelor (Book of the year: 2017 Ufere Awards). She writes sweet and sensual African, multicultural, and interracial romance and women's fiction.
Her interest in writing started around the age of thirteen after she stumbled upon a YA story her sister had started and abandoned. The story fascinated her so much that, when she discovered it was unfinished, she knew she had to complete it. Somehow the rest of the story began to take shape in her mind and she's been writing ever since. She lives in Accra, Ghana, with her husband and their two children.
Her published novels include: Most Eligible Bachelor (2012), Chancing Faith (2012) and Forest Girl (2018). Baryeh is a member of Romance Writers of West Africa, an organization that is a support group for romance writers of West African origin and/or writers who write romantic fiction set in Africa.