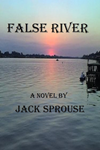 BY: JACK SPROUSE
When Frank Ross met Sarah Mayeux in high school, it was love at first sight. Little did she know when she married him, however, that fate had deemed the worst-case scenario for her, that she would lose her husband before they had a chance to grow old. Clayton Conner has loved Sarah for years and feels her pain, especially since he is now married to a woman he doesn't love and not free to make his feelings for Sarah known. Sarah's son, Frankie, and Clayton's daughter, Addy, always thought they would grow up and get married. Then Addy meets someone else in college, and Frankie is devastated. But fate isn't any kinder to them. Each married to someone else, they discover too late just how wrong their choices were. Will fate intervene with these star-crossed lovers, or are they all doomed to be unhappy forever?

TAYLOR JONES SAYS: In False River by Jack Sprouse, Sarah Mayeux falls in love with Frank Ross in high school and several lives are changed forever. The story follows Frank and Sarah and their children as well as the Connor family, Sarah's old boyfriend who never got over her. As tragedies and loss affect the families, each member is forced to make hard decisions and examine past choices. Never an easy thing to do.
A touching and inspiring story of love, loss, and starting over.
REGAN MURPHY SAYS: False River by Jack Sprouse is the story of a young couple in New Roads, Louisiana. Sarah and Frank fall in love in high school, even though Sarah is dating someone else at the time. When Sarah gets pregnant, Frank quickly marries her, fulfilling the promise he made her the first time he met her. Frank and Sarah have a son, Frankie, who grows up in New Roads. Frankie falls in love with Addy Connor, the daughter of Sarah's old boyfriend, but fate has other plans for them and life is not kind.
False River is a story of choices, some good and some not so good, and how those choices can affect our lives and the lives of those we love. Heartwarming and poignant.
PROLOGUE
The people who lived in New Roads, Louisiana, as did people who lived in any scenic locale, rarely took notice of the natural beauty of the small town and its environs. Caught up in the daily grind of life, love, responsibilities, and obligations, it was most likely true that few of them ever indulged themselves in quiet, pensive, appreciation of the pleasant little town. The mighty oaks and pecan orchards that graced the stretches of road along Louisiana's Route 1 provided shade and comfort and images of the Old South. The town was laid out along the banks of False River, called False River, after the Mississippi River changed course in 1722 and left a lake, where once The Big Muddy, had flowed.
The little town was a microcosm of contrasting demographics. Small, two-bedroom, wood frame houses, lined most of the streets extending away from Main Street. They had, in latter days, begun to be interspersed with more attractive homes, having garages, patios, and landscaped yards. It was a side-effect of creeping affluence and the influx of vacation-home owners from Baton Rouge and New Orleans, who had built million-dollar homes across Main Street on the river side. Boat houses and docks dotted the shoreline on both sides of the river, and piers jutted out into the river, from which people fished and gained access to watercraft.
Frank Robert "Frankie" Ross had little inclination to contemplate the scenery afforded him by the warm greenery and sparkling blue water of his home town and its magnificent lake. Frankie's life had been hard after his father died, when Frankie was twelve years old, in a car wreck. Frank Ross had been returning from his job in Baton Rouge.
The Ross family lived in a house on Janis, "Jah-neese" Street, as it was pronounced by the locals. In the four years since his father's death, Frankie's mother, Sarah, worked as a waitress in a very popular local restaurant to support herself and her only child. It was hard work, and Sarah often came home so exhausted that she could not devote much time to Frankie.
Frankie was now eighteen and about to graduate from high school. Summer was upon him and, unlike most of his friends, Frankie expected to work all summer. For many, it would be a hiatus before beginning their college careers, preparing them for their future lives and greater things.
Frankie had no future, except for that which was encompassed by a diminutive, beautiful, girl named Adeline Connor. Her parents called her Adeline but, to the world outside the Connor home, she was Addy. Addy had brown hair that fell just below her ears. Captivating dark brown eyes, so dark they almost looked black, drew admiring comments from boys and men, and women, as well. She often wore her hair with one side pushed behind her ear. Pearl-drop earrings were her only accoutrements, save, a smile that could light up a crowded room or a broken heart.
Frankie first became aware of Addy when they were in elementary school. Addy had a crush on Frankie and the two became friends, despite their families being on opposite sides of the economic scale in new Roads. The Connors were well off, and the Rosses were not.
By the time they were in high school, Frankie was in love with Addy Connor. He was a senior and she was in her junior year at Rosenwald high school in New Roads, and he believed that he would never stop loving her.
CHAPTER 1
Sarah
The ceremony was over, and everyone had left. Two men stood by, a short distance from the canopy, waiting respectfully, to cover the grave. They were careful not to disturb the lady, sitting alone with the young boy.
She was spending a few final moments with whoever was in the casket. She held an American flag, given to her by the men from the VFW, who had been pall bearers for her husband.
The two men spoke quietly to each other, not wanting to appear to be rushing her. "He was a Vietnam veteran," one of them said, and the other man nodded. "Woman left alone with a young-un, ain't nuthin but another sad story."
Sarah had no tears left, she had spent them all, and her mind began to wander.
***
It was 1967, Poydras High School, the year they would be graduating. Frank Ross was the cutest boy in town, according to Sarah Mayeux, and most of her friends. Frank had a wild side that was only tempered by the five-foot-four-inch, green-eyed beauty.
"Do you have a boyfriend?" were the first words he ever spoke to her, the first day of the school year.
"Yes," was her response, "sort of," she added.
"What does 'sort of' mean?" he asked.
"I've been dating a college guy."
"Well, you're going to have to forget him," Frank said.
"I am," she replied, "and why do I have to do that? He's a nice guy."
"Because I love you, and we're going to get married."
Sarah started giggling. "You're just a wee bit full of yourself, aren't you?"
"So, I've been told," he said, "let's go to the movies on Saturday, and we can discuss this."
"What if I have plans on Saturday?"
"You have to change them," he told her. "Do you have plans on Saturday?"
"Not really," she said, "but you don't even know my name."
"What is your name?" he asked.
"I'm Sarah Mayeux," she said, "who are you?"
"Frank Ross is my name," he replied. His demeanor became slightly less abrasive. He took her hand in his and kissed it then held it in both of his. "I'm sorry, Sarah Mayeux. Maybe I came on a little too strong, but you're the prettiest girl I've ever seen, and I really would like to take you to the movies. Can you change your plans?"
"Where did you come from?"
"Baton Rouge," he said, "I came here this past summer to stay with my dad. I grew up in New Roads, but I left with my mom when she divorced my dad.
"Where do you live?" she asked him.
"My dad has a house on Janis Street," he said, pronouncing the street name like it is spelled.
"It's Jah-neese Street, not Janis," she corrected him.
"Oh, right, I think I heard that before. My dad calls it that. I thought it was just him, but I guess not."
"So, tell me again why you love me," she said.
"I don't know why, Sarah Mayeux, I just know I do. You're going to have to marry me."
"Well, if we are going to get married, then I suppose we had better go to a movie, and maybe see if you can figure out why you love me. But first, you're going to have to stop calling me by both my names, just call me Sarah." At this point, she was enjoying her humoring of the brash boy from Baton Rouge, figuring he was just trying to get her off her feet.
"I can do that," he said.
Frank had lived with his mother in Baton Rouge since his parents' divorce when he was ten years old. It had been a bitter separation that Frank never comprehended. He had only seen his father during the summers, and occasionally when he had come to Baton Rouge to visit the boy.
With the passing of his mother, during the summer of 1967, when Frank was eighteen, he came to live with his dad in New Roads. He started his final year in school at Poydras High, and that was when he saw Sarah. His life would never be the same again. A looming problem hung over his head, however, which he had not told her about. Frank had joined the army reserve when he turned seventeen. In 1969, with the Vietnam War raging, it was only a matter of time before he would have to go on active duty and, almost certainly, be sent to Vietnam.
Sarah fell in love with Frank, and no one was more surprised than she when it happened. He never faltered in his love for her, and he asked her to marry him before the end of the school year. She had been dating a local boy from town, but he was in college at LSU and only came home on the weekends. The college man had made his love for her apparent and wanted to marry her when she got out of high school. She would have a future and a good life with Clayton Conner, and she could make a good case for dismissing this brash and bold braggart, Frank Ross. But he had kissed her hand in the hallway at school and kissed her in the King Theater that following Saturday. Something happened deep inside her, when he kissed her.
"If you really love me, like you say you do, then I will marry you, Frank," she told him.
"I do love you, Sarah," he promised her. "I know, when I came on to you so strong, you thought I was just wanting to get in your pants, which I was." She started giggling, and he continued, "But I wasn't lying. I really did fall for you the first time I saw you."
In March of 1969, Sarah discovered that she was pregnant. She was reluctant to tell Frank, at first, for fear that he might change his mind about wanting to marry her. Her folks were distraught and, being older people, they were stricken with the fear that they might have to raise the baby themselves. Their concern for their daughter did not match their concern for the family name. They wanted to send her somewhere to have the baby, on the misguided notion that her fall from grace could be kept a secret from a small town like New Roads."
"We'll get married now," Frank insisted, "don't worry about what people might think or say. This is the happiest day of my life. We'll live with my dad until I can get us a place."
"I was afraid you wouldn't want to marry me when I told you I was pregnant."
"I told you I love you, Sarah. I meant it," he said.
They named the boy Frank Robert, not his father's middle name, because Frank Ross didn't want to saddle his son with being called Junior. They called the boy Frankie.
Two months after the baby boy was born, Frank got the call from the army. Frank had his pay sent home to Sarah, saving only enough for himself for minimum living expenses. Sarah visited the local Catholic Church every day and prayed for God to bring Frank back to her, alive and in one complete piece. She never wavered from her daily ritual.
Just before he was scheduled for R & R, Frank Ross's unit was ordered to join American forces already engaged in Operation Texas Star, in the A Shau Valley and the mountains east of the valley. The purpose of the operation was to regain the initiative in the area Fought between April first and September fifth, 1970, the operation culminated in the Battle of Fire Support Base Ripcord.
The Battle of Fire Support Base Ripcord was a twenty-three-day battle between elements of the army's 101st airborne division and two reinforced divisions of the North Vietnamese Army, from July first to July twenty-second, 1970. It was the last major confrontation between US ground forces and the North Vietnamese Army.
As part of second battalion, of the 506th infantry division, Frank's platoon became engaged in hostilities in the A Shau Valley in support of Fire Support Base Ripcord. After the helicopter insertion, they took up positions in the jungle covered hills surrounding the base. His unit was part of the overall effort to interdict resupply traffic of the 6th NVA Regiment, along the Ho Chi Minh Trail. The platoon leader was an inexperienced second lieutenant named Melton.
Melton was not without merit. However, he was intelligent and a quick learner. But he had only been in Vietnam for less than three months and this was his first assignment as a platoon commander. The real leader of the unit and the man, to whom every soldier looked for guidance and survival, was Sergeant Jake Tidwell, in his second tour of duty in Vietnam. Sergeant Tidwell had been in the battle for the A Shau Valley in 1969, and that fact alone evoked confidence in the man from every trooper and from the lieutenant, as well.
The jungle was, by its very nature, scary, even terrifying to some. There was danger around every turn and behind every tree. Frank preferred the daytime to the night. Night time brought new and different terrors. The stifling heat was only marginally more endurable at night. The frequent rain brought only a temporary respite that was soon replaced by a heavy steamy atmosphere that hung in the air for hours.
Manpower consisted of four sections, or squads of usually nine to eleven men each. Frank was assigned to first squad, which Sergeant Tidwell ordered to take a position on the left flank of the platoon. First squad's make-up included two thumpers, two soldiers carry M79 grenade launchers; a sergeant named Gronkowski, the squad leader; a Corporal Mendoza; an M60 team, operator and feeder; and one fire-team, four riflemen with M16s. Frank was a rifleman on the squad's small arms fire-team.
In the dim light of pre-dawn of the second day on station, Sergeant Tidwell spotted a detachment of NVA—North Vietnamese Army—coming toward their position. It appeared to be about twenty men, probing. When the enemy soldiers were close enough, Lieutenant Melton and Sergeant Tidwell ordered the troops to fire on them. The resulting action left many of the enemy troops dead and the rest withdrew, reformed, and attacked. A firefight ensued that lasted about twenty-five minutes. The platoon took no casualties and killed all the remaining enemy.
"They'll be more of them," Tidwell told his men, "They know we're here now. They'll be back."
The sergeant was right. After the probing attack of the previous day, additional elements of the 6th NVA Regiment attacked in force, and the men of second platoon fought for their lives. The jungle seemed to breed "little people" as they came from all directions.
The M60 teams did the bulk of the work in killing large numbers of the attacking enemy, but the riflemen fought the "dinks" close up, often hand to hand, once they had gotten into the perimeter. Men were yelling and cursing.
"Zips in the wire," screamed by terrified voices, was heard more than once as each soldier looked around frantically, to make sure the enemy had not gotten behind them. One man on Frank's fire team emptied his entire magazine into one enemy soldier who had broken through the M60's killing zone and invaded their position.
Sergeant Tidwell called in a fire support mission and artillery shells began landing in front of their line. The attack slowed a bit, but no one could relax because there were still enemy soldiers all around them. They were ordered to move into the jungle to scare up what was left of the attacking force. Small arms fire could be heard, on every side, as troops of second platoon would encounter remnants of the NVA soldiers and kill them. Frank and one of the men from his fire team came up on a wounded enemy soldier and both of them shot the man at the same time.
The engagement was not an untypical scenario. Frank's entire combat career in Vietnam had been one such engagement after another. He quickly came to believe that no one could do this kind of work, time and time again, and live through it. He vacillated between resignation that he was going to die in some jungle, somewhere and resolve to stay alive and go home to his wife and baby boy.
In May, Frank was scheduled for his first R & R. His father paid for airfare for Sarah and Frankie, now eight months old, to visit Frank in Hawaii.
It was like a dream for Sarah, who had never been out of Louisiana, a magic time in a magic place. They were ecstatically happy, the three of them. Frank adored his son, and made love to his wife, telling her of his love for her, and assuring her that his love would never end. Sarah was beautiful and garnered second looks from men everywhere they went."
"You're going to get me in a fight before this is over."
"I can't help it," she said, "I'm not even looking at anyone."
"You can't help being beautiful. I would have married an ugly woman if I didn't want men looking at my wife."
They visited Pearl Harbor. Frank wanted to see the battleship, Arizona, still lying on the bottom of the harbor, where it had gone down almost thirty-years before.
"It's almost unimaginable that over a thousand men are still down in that ship, right down there," he said, pointing at the sunken ship.
"It's just so sad," Sarah said, "such a terrible war and it didn't end anything. We're still fighting wars we have no business being in."
"I'll come back to you, darling, and this war will be over for us."
"I pray for you every day, Frank."
"Well, don't stop," he replied, "I need all the help I can get."
In November, Frank's tour was over and he returned to his wife and son. "I have to get a job, now," he said, "and a place for us to live."
Frank's father, Odell, implored them to stay with him, at least until Frank could get on his feet and afford to buy them a house. Sarah encouraged Frank to take his father's offer, and Frank conceded to her wishes. For Odell Ross, it was the happiest time of his life with his son, and his only grandson, living in the same house with him. And the touch of a woman, he'd grown accustomed to having around the house while Frank was away.
Frank got a job selling office equipment for a company in Baton Rouge. He began traveling all over the state, often staying overnight in motels, to be able to meet an appointment early in the mornings. He was good at his job and made a good living for his family.
Eventually, they were able to rent a house for their family and found a two-bedroom just down the street from Frank's father, on Janis Street. It was a small house but big enough for the three of them. "We'll buy a bigger house, as soon as we can," he told her.
But Sarah was content with what they had.
The owner of the house they were renting passed away, and his family wanted to sell the house. Not wanting to move and being unable to buy that bigger house at the time, Frank offered to buy the rented house from the man's family. The owners were eager to sell the house, so they consented. Frank went to the bank, secured a loan, and he and Sarah became homeowners.
"It's not much, baby, but it's ours," he told her.
"It's fine, Frank," she said, "and it's more than enough.
Frank wanted to have his own business, something that he and Sarah could own and manage, and that his son would one day take over when he was ready to retire. He had dreamed of building a bait and tackle supply facility on the river's edge. It would have boat launch ramps, boats to rent, crab traps and such, and sandwiches, drinks, and ice available for purchase.
Property, however, was very expensive on False River, but that did not deter his dreaming of such a business. The facility would have to be established in a more remote area, because Frank could never save enough money to buy waterfront property in town. Sarah got a part time job working for a CPA, answering the phone, filing, and helping with the bookkeeping. The job afforded her the time to take Frankie to school and pick him up in the afternoon.
Sarah was happy, happier than she ever imagined she could be. The lovable, over-confident, mildly abrasive boy, who had declared to her the first time they met that they were going to get married one day, had grown into a caring and wonderful husband and father.
"I put a thousand dollars into a mutual fund, Sarah. I'm going to add to it as I can. In case something happens to me, I took out a life insurance plan to help you and Frankie get by. It's only fifty grand but that would offset the loss of my income. You must leave the money in the mutual fund until you need it for retirement or in an extreme emergency."
"You're scaring me, Frank," she said, "you don't have a premonition, do you?"
"No, I just want to be prepared. I don't want you to have a struggle if something does happen to me."
"What exactly is a mutual fund?"
"It's a company that invests in stocks. We buy shares of the company and our shares go up or down, depending on how well the investments they make do in the market. Ours is a Fidelity fund. I've heard good things about Fidelity, so I think it's a safe investment. I can put two thousand a year in, tax deferred, like a retirement account, four thousand if we put in for you too."
"Okay," she said, "whatever you think is best, I trust your judgement. I don't know anything about investing."
"I'm also looking at some acreage along the river, it's far enough out of town that I think we might be able to buy it, if I can get financing."
"How much is it?"
"Property on the river is going to cost around fifty grand, minimum, but that's what we'll have to do to start the up the business."
"Wow, that's a lot of money, and the dock and building will more than double that, I'm guessing."
"We need a couple hundred thousand to just get started, honey. It's an uphill march, but if we are ever going to be anything but working stiffs, that's what we're looking at."
"I'm proud of you for what you're trying to do for us, Frank, and I'll help any way I can."
"You do help, Sarah," he told her, "just being here when I come home from work is all the help I need from you. You make me happy, baby."
"You make me happy, too, darling. My life has been pretty much perfect since I met you. You are so different from that boy who fed me a line of mush the first day of school, trying to get in my pants."
"It wasn't a line, Sarah, but to be honest, I did want in your pants pretty badly. I still do, and I still love you more and more every day."
"I still love you too," she told him, "and I appreciate what you do for us."
Two years passed before they were able to get a loan to purchase a two-acre plot of land on the river's edge. He took Sarah and Frankie to look at the land he'd bought.
They drove down False River Road, Route One, past the small community of Oscar to Cherie Lane. "It's just past Cherie Lane," he said, as he looked for a place to turn the car around. He pulled off the road and parked. "This is it, let's go take a look."
"I figure we'll use one acre for the parking lot, and turn-around. We'll have a gravel driveway and parking area, maybe have it paved one day. We'll put the building there," he said, pointing at the shoreline. "The dock will extend out past the sandbar, and we'll build boat shed at the end of it. I want to name it Riverbend Boat Rentals, for obvious reasons. It's right near the bend in the river."
"That makes sense to me, darling," Sarah said. "I'm really excited about it. I hope we can avoid getting too anxious to make this happen. It's going to cost a lot of money."
"We'll have to go slow," he said. "I know what you mean, though, I want to do it tomorrow, but I'll have to get control of my impatience."
"It's a beautiful place," Sarah said, "I can already picture it in my mind."
"Yeah, me too," he replied. "It's going to happen, baby, I promise you."
On the ride, back to town, a haunting thought came to Sarah. It was a warning from the bible she remembered from Sunday school. She looked it up when she got back home. It was in the book of Frank, coincidentally.
Come now, you who say, "Today or tomorrow we will go to this or that city, spend a year there, carry on business, and make a profit." You do not even know what will happen tomorrow! What is your life? You are a mist that appears for a little while and then vanishes.
Reading the passage, made Sarah fearful. "Are we moving too fast?" she asked Frank.
"What do you mean?"
She told him about the scripture she had remembered and was wondering if their ambition to better themselves might be sinful.
"I never paid much attention to the bible when I was growing up," he said. "I don't see anything wrong with a man trying to make life easier for his family."
"I think we should start going to church," Sarah said.
"I'm not much of a church person," he said, "you and Frankie are my church."
"But I believe that we should honor God and involve him in our plans and dreams. Don't you, darling?"
"I don't see God dropping two-hundred-grand in my lap, anytime soon. But I do see that we are going to have to work our asses off, if we ever hope to have anything in this world,"
Sarah let the subject drop, but she still had a fear, deep inside her, that kept nagging at her,
September 10, 1981 was Frankie Ross's twelfth birthday. Frank and Sarah had a party for him at False River Park, and several kids from his class showed up.
Adeline Connor, who was there with her father, Clay, handed Frankie a box with a ribbon on it. "I got this for you, Frankie," she said.
He quickly opened the box and found inside a brand-new baseball glove, which was obviously bought by her father.
"Wow, this is a great glove, Addy," Frankie said, "it's my favorite gift, thank you."
The girl insisted on sitting next to Frankie on the park bench when they ate their burgers and hot dogs that had been grilled by Frankie's dad. This birthday would be one that Frankie would never forget.
"The Connor girl seems to like Frankie," Frank said to Sarah, watching the two kids sitting together.
"She's a pretty little girl. I think Frankie kind of likes her too."
"He can fall in love with a pretty, rich girl, just as easy as he can with a mud-duck." Frank said.
"Now, that's just mean, Frank," she said, "ugly girls need love too." She laughed and smiled at him.
"And I don't begrudge them that love," he said, "as long as they don't want it from my boy."
"You're awful," she said and hit him lightly with the back of her hand, across his chest.
On the morning of January 14, 1981, Frank Ross woke up early, before dawn. He watched his wife, lying beside him, breathing rhythmically. He moved over next to her and put his arm around her, snuggling up to her neck and kissing it. Sarah woke up, turned toward him, and smiled. "What are you doing, darling?" she asked him.
"Let me love you, baby," he said quietly, "I need you."
He kissed her with almost desperate passion, and she responded with her own. He continued kissing her until she became aroused. She removed her pajamas and came to him in complete submission.
They made love for almost an hour, taking care to be quiet in the small house where their son was sleeping in the next room. "That was a pleasant surprise," she told him, when they had finished. "Why don't you do that more often?"
"You are incredible, baby," he said. "Nothing ever made me feel like you do."
"Kiss me some more."
He did as she had requested and kissed her again for a few minutes. "I have to go to work, Sarah," he said, "I have a long day today."
Sarah took Frankie to school and then went to her job at the CPA's office. After work, she retrieved Frankie from school, picked up a few items at the grocery store, and went home to start supper. It was seven o'clock and Frank had not come home from work. He said he had a long day, so Sarah was not worried.
When the phone rang, Sarah got a deep feeling of dread. "Hello," she said, and there was a pause. She suddenly felt like she had been hit with a rock, then she dropped the phone and fell to the floor.
"What's wrong, Momma?" Frankie yelled and ran to her. He shook her and picked her head up off the floor, weeping profusely, still shaking her, trying to wake her up.
Frank Ross's car had been blind-sided by a pickup truck being driven by a drunk driver. Sarah's husband, the love of her life and the father of her son, was dead at twenty-nine years of age.
© 2019 by Jack Sprouse