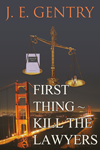 BY: J. E. GENTRY
Attorney Clara Quillen is stunned when she reads about the murders of three San Francisco lawyers and realizes her former boss, Bernard Kahn, is one of the victims. The lawyers were killed on the same night, in the same manner, each holding a copy of an often-misunderstood Shakespearean quote from Henry VI, Part II: "The first thing we do, let's kill all the lawyers." When SFPD Detective Roy Travis questions members of Kahn's law firm, he recruits Clara to aid his investigation since she has access to confidential client information that may shed light on potential suspects. As a long-time mystery fan, Clara jumps at the opportunity and agrees to become an amateur sleuth, working with Travis. During the course of the investigation, the murderer strikes again. And as the list of suspects continues to grow and Clara unearths information regarding elaborate blackmail schemes that incriminate both friends and colleagues, she receives a threat that she, herself, may the next victim unless she abandons her pursuit of the cold-blooded killer…

TAYLOR JONES SAYS: In First Thing ~ Kill the Lawyers by J. E. Gentry, Clara Quillen is an attorney whose former boss has just been murdered. Clara left his employ because he was an unethical jerk, but she finds it hard to believe that someone hated him enough to kill him, along with two other lawyers on the same night. The detective assigned to the case is impressed with Clara's analytical abilities, and he asks for her help in figuring out who the killer is. So Clara starts investigating all of her ex-boss's client, trying to find out who had a motive—only to discover that almost everyone did. And now whoever it is threatens to come after her.
Not only is this an intriguing mystery, but with great characters, a number of interesting twists and turns, and flashes of humor, this is truly an entertaining read.
REGAN MURPHY SAYS: First Thing ~ Kill the Lawyers by J E Gentry is the story of Clara Quillen—mystery fan, wealthy widow, and retired (sort of) lawyer. Clara quit his job with Bernie Kahn because she discovered many of his practices were unethical. A month later, Bernie is murdered, along with three other lawyers on the same night. When Clara is interviewed by the detective on the case, Roy Travis, he realizes that she has access to information that he doesn't—namely confidential client information. So he enlists her aid, not to reveal privileged information, which she refuses to do, but to give him background on the clients and employees of the firm to help him narrow down the suspects. Being a lover of mysteries, Clara is thrilled. She thinks helping him find the killer will be a lark—that is until the killer threatens to come after her if she doesn't "mind her own business."
Gentry's character development is superb and the story well written. Combining mystery, suspense, a hint of romancing, and a generous helping of wit, First Thing ~ Kill the Lawyers is one mystery fans won't want to miss.
PROLOGUE
I can't believe I did it. I really did it. At last. I killed all three of them.
And it came off like clockwork. The perfect crime.
I feel a little queasy. I'll roll down the window some more. Get some fresh air. I thought I might feel sick. But I don't exactly feel sick. Just a little queasy. I never thought there would be so much blood.
Funny, though, I don't feel the least bit guilty. They deserved it, but I thought I might feel guilty anyway. So what is guilt? Big philosophical question.
I hate to admit it, but I feel sort of exhilarated. Probably just the adrenaline still pumping. I didn't think I'd feel this way. I actually feel sort of satisfied. I thought about it so long and wondered if I could really do it. And I did it. I got rid of the bastards.
It doesn't feel quite real, though. Mostly just kind of numb.
Hey, watch out!
That guy almost sideswiped me. Okay, so maybe I was weaving a little. I have to pick my moment to throw the gun off the bridge.
Now. Nobody close. Yeah, fine. It cleared the railing. All those practice sessions with a rock paid off. That was the last part. No one will ever find a gun under the Golden Gate Bridge. Maybe it will turn up someday. Probably never. Now I can peel off these stupid gloves. Probably didn't need them anyway. Just seemed like a good idea. They can go in the trash anywhere, along with the old raincoat and shoes I got at the thrift store. Never be noticed.
The fog feels like a security blanket. It's nice coming off the bridge, back in the city. Who'd want to live in Marin County anyway? I feel like I've really gotten away with it now that I'm back in the city. This is what I've been living for—for months. I've hardly been able to think about anything else.
It was tough to keep functioning like a normal person. Not that anybody would ever suspect somebody like me could be planning a murder. That was the fun of it.
Fun? God, was it really fun, even a little bit? I never thought I was capable of killing anybody, let alone thinking it could be fun. But it was actually sort of cool watching them go down. I felt so powerful, so in control. In one instant, I snuffed out a life. Not that those guys deserved a life. They spent their lives sucking the life out of other people. I just evened the score.
Maybe I missed my calling. Maybe I could even do it again. There are plenty of bastards out there who should be wiped off the face of the earth. Maybe I'm just part of the eco-system, helping the balance of nature. Maybe I should start wearing a white hat and go around snuffing the guys in the black hats. Maybe not. I don't know.
It's all still so new. Feels really weird. I wondered what it would feel like. Now I'm not sure how I feel. Up till tonight, all that mattered was doing it. Now I just have to make sure I get away with it. But everything was perfect, with not a slip. I'll get away with it, all right.
Just find a dumpster. Then I'll be completely safe. It's over.
CHAPTER 1
Three Dead Lawyers
She got hooked on murder mysteries years ago when she was an adolescent. She'd even made up a little jingle about it.
Murder, murder everywhere,
And what was she to think?
Murder, murder everywhere,
The sleuth must find the link.
It was adapted from "The Rime of the Ancient Mariner," of course. You probably remember: "Water, water, everywhere, Nor any drop to drink." She was a model student in her English classes, but she allowed herself a minor rebellion when she hit puberty, about the same time she discovered the mystery section in the public library.
"I'd like to check these out, please," she'd said in a small voice, topping the mystery books with a poetry anthology.
The librarian had looked up over rimless glasses and smiled knowingly. Her strawberry blonde hair had contrasted with the wrinkles in her face. "These are fine," she'd said, "but come with me, and I'll help you find some really good ones."
From then on, Clara Quillen spent a lot of time at the library. She raced through her homework and then reveled in murder, mystery, and mayhem.
But that seemed like ages ago, when she'd only imagined being involved in a real murder mystery. All that would change today, when she would learn about the cold-blooded murder of someone she knew. It would be a while, though, before she would know she was already acquainted with the murderer—and ultimately would be a target herself.
The day wasn't quite ordinary to start with. Despite her eight-hour jet lag, when she woke up, she remembered that today was her birthday. Probably nobody but her mother and maybe even Jake would remember, and they were thousands of miles away. So she had written, "Happy birthday to me" on the calendar. The date was April thirtieth.
She took a long look in the mirror. Her baggy sweatsuit wasn't very flattering. She usually didn't spend a lot of time in front of a mirror, but there's something about birthdays that make you look, even if you're unsure whether you really want to—like when you pass an accident on the freeway. How bad is it?
Not bad for thirty-eight, she told herself. After all, she could pass for, hmmm, maybe thirty-seven—at least if she bothered to put on some decent clothes. She took pride in her humility—though mindful of the contradiction in terms—knowing she looked damn good for thirty-eight. She might even pass for twenty-eight—well, maybe in a dim light.
Today she'd need an extra jolt of caffeine to help get back on California time. She popped the little cup-pack of Jamaica Blue Mountain Coffee into the single-cup brewer and started it to brew while she went to the door to pick up her San Francisco Chronicle. Sometimes they didn't follow instructions to resume delivery after vacation hold, but she was glad to see it was there. She still liked reading a daily newspaper, even when so many had degenerated from being first-rate. Savoring the coffee, she looked out through the balcony window and saw the orange vermillion tips of the Golden Gate Bridge already peeking through the fog. It promised to be a pleasant day, not the weird day it suddenly became.
The stories above the fold weren't particularly compelling—maybe a slow news day?—but the headline at the bottom of page one caught her eye.
Three Marin Lawyers Found Shot To Death in Separate Incidents
The real jolt came at the end of the first paragraph. After she read it, she stared blankly, at first unable to breathe.
She closed her eyes a few seconds, opened them wide, and read it again. She shook herself, not quite sure she was awake yet. Maybe it was just a dream, or maybe just the jetlag after her return from London yesterday. But the words were still there.
Three Bay Area lawyers each died from a gunshot wound to the head in Marin County last night. Alvin P. Hanks, 56, a prominent divorce lawyer with two Bay Area offices, was found dead in his Mercedes sedan parked at the Lark Creek Inn restaurant in Larkspur. Richard N. Rinko, 37, a San Rafael attorney specializing in legal malpractice, was found dead in his Porsche in the parking lot of the Marin County Civic Center. Bernard C. Kahn, 44, a San Francisco attorney, was found dead on a roadside near his Mill Valley home.
Until one month ago, Clara had been an associate attorney in the law firm of Bernard C. Kahn & Associates. After weeks of pointedly ignoring his existence, she was having a hard time registering that Bernie Kahn was now dead. She shuddered, briskly rubbed the goosebumps on her arms, and read on.
The next chilling detail raised more goosebumps. At each murder scene, the same quote from Shakespeare had been found: "The first thing we do, let's kill all the lawyers."
The article said that an investigation of the killings was underway, but the police had released few details and didn't say whether they had any definite suspects. It described the discovery of Kahn's body by his wife. The "distraught widow" was quoted as saying tearfully, "I went out to look for my husband when our dog came home alone from their usual evening walk. I'm just completely devastated by the shock of it all."
Clara could just picture Charlotte saying that to some reporter and milking it for all it was worth. Of course, the quote didn't capture the nasal Texas twang in Charlotte's voice.
Clara read again about the other victims. Hanks was discovered by a waiter who had gone outside the Lark Creek Inn for a smoke. A Marin Civic Center security guard making routine rounds found Rinko slumped over his steering wheel. Although the police didn't say how the killings might be related, the fact that all three attorney-victims apparently died from similar gunshot wounds to the head, along with the same quote from Shakespeare left at the scene, made it fairly obvious that the murders were connected.
Routine murder stories generally didn't make page one of the Chronicle, but these execution-style killings promised elements of the sensational. So, following the skimpy details on page one, the article continued at some length on A13, although the additional information was only standard background. Most of it appeared to have come from the Martindale-Hubbell Law Directory: when and where the victims had gotten their law degrees, what their specialties were, the names of their associates, the locations of their law offices, and so on.
Clara could give them plenty of details about Bernie Kahn, far more than she cared to know. But if she'd had a choice, she wished she'd never known him at all, to say nothing of his "distraught widow." She even had a petting acquaintance with his purebred borzoi Natasha, the dog he had been walking when he was killed. She only vaguely recalled Hanks because of his rotten reputation as a ruthless divorce attorney, and she had never heard of Rinko before.
As she sat immobile with the newspaper in her hands, Clara had a nagging feeling she ought to do something or call somebody. For the moment, though, all she could do was sit and think about her seven months as an associate with Bernard C. Kahn & Associates. She could still see Bernie starting off the regular Monday morning meeting, with the support staff's veiled glances of discontent as he tossed out one of his typical snide remarks. "Well, people, do you think we can try to get through the week without any major blunders?"
After he droned on with constant criticism, Clara was pretty sure she wasn't the only one who had to bite her tongue to keep from saying, "Oh, just shut up, Bernie."
At the end of the meetings, the support staff scurried off to their tiny cubicles, like little mice fleeing from a cat, trying to avoid Bernie's wrath on whatever happened to be his hot button of the moment.
Of all the people Clara had ever known, who would be the most likely candidate for a murder victim? Yep, she thought, Kahn would be at the top of the list. She couldn't recall having known anyone else who aroused such derision, at least in those who saw through his highly polished veneer. His employees and ex-employees had several contemptuous nicknames for him, the most sarcastic being Saint Bernard. His childish tantrums usually conjured up Bernie Baby. When he was especially dictatorial, he was Genghis Kahn, and of course, the epithet earned by his dubious methods in luring new clients was The Kahn Man.
The contempt for Kahn extended to others related to him. His "lovely wife Charlotte," as he usually referred to her, had the endearing nickname of The Empress Charlotta. His parents and siblings, though no one had met them, were The Munsters. Even the borzoi Natasha, who was almost always in the office on Fridays, was surreptitiously called Timid Tasha. She was a beautiful dog, but skittish, and the general opinion was that any dog of Bernie's would have to be neurotic.
It was a fluke, of course, that Clara had gone to work for Kahn at all. She'd considered her options when she finished law school near the top of her class at the University of California's Boalt Hall. She'd decided to wait until after she took the bar exam in July to think seriously about any definite plans. During the month of August, she'd had interviews with a couple of prestigious firms. She'd had trouble seeing herself submerged in one of those big firms. So she'd been intrigued by the pitch in the Daily Law Journal advertisement for Bernard C. Kahn & Associates. "Greater potential for professional development than being an inconsequential cog in a huge law firm."
The ad had sought a beginning associate with "impeccable academic credentials" to do research and writing for a civil appellate practice, an area Clara had hoped to pursue. When she'd looked up the firm in Martindale-Hubbell, she found that Kahn's office also did general business law and estate planning, with related tax and probate work. She had decided she would answer the ad when she saw that the firm's two associates were women, though she'd wondered why there were no partners.
She recalled every detail of her first meeting with Kahn in what she thought of as her "true blue interview suit" with a cream-colored blouse and pearl earrings.
"Good morning, Ms. Quillen, and welcome to our little boutique firm," he'd said without apology, thirty-seven minutes after the interview was scheduled to start.
Months later, she learned he would often read the newspaper in his office while he deliberately kept people waiting, with the intent to increase their anxiety and reinforce his sense of control.
"We hope you recognize the exceptional quality of the firm we've developed. We think your excellent credentials indicate that you are the caliber of person who might fit in well here."
She'd noticed that what might have been intended to sound like a compliment just came off as pompous. She'd also noticed his use of what seemed to be the "editorial we" and had wondered whether maybe it was more like the "royal we." Even so, Kahn had an undeniable facile charm. She'd later watched him shift smoothly from urbane sophisticate to colorful good-old-boy or any other persona the occasion called for to entice a client. He'd seemed quite bright and apparently had a very successful law practice. But despite his faultless attire, he'd still given her the slightly creepy impression of a lounge lizard in a polyester suit.
Looking at her résumé, he'd said, "I'm pleased to see you were on law review. That's an exhilarating experience, isn't it?" Instead of waiting for her response, he'd launched into a story about something he had written when he was on the Harvard Law Review. He'd made a point of informing her that he had gone to Harvard, which of course she'd already known from preparing for the interview. Later, she observed that he typically managed to work Harvard into the first few minutes of a conversation with anyone new, especially a client.
At that point in the interview, Clara had known she could just sit back and let Kahn do the talking. Her Southern upbringing had groomed her perfectly for just how to hang onto a man's every word without being too obvious about it. And so, long after she had effectively shed her Southern accent, she took advantage of her early training—of course, she'd resisted the temptation to drawl, "Why, li'l ole me would just love to work for a big, impo'tant man like you."
After a few more of his pointed, little anecdotes, Clara had decided it was a toss-up which lacked more subtlety, Bernie or the office itself. It was ornately decorated, a feeble imitation of a small Chinese palace. There were actually a few impressive antiques—an excellent screen and some porcelain that had reminded her of some fine pieces she had seen in Beijing. The overall impression, though, like that left by Bernie's self-aggrandizing tales, was one of having been created strictly for effect. Adding to the effect was a vague aroma of incense, although Clara had wondered if she only imagined it. Maybe it was just Kahn's cloying lavender cologne that had drifted across the carved rosewood table.
Eventually, she learned Kahn had acquired the few good Chinese antiques on a honeymoon trip to Hong Kong with one of his previous wives; no one was quite sure which one or even how many wives there had been. The heavy-handed, more recent decor was the product of Kahn's current wife, The Empress Charlotta, whose part-time work as a real estate agent seemed to have given her the misguided notion that she knew something about interior decorating. Office gossip speculated about whether Kahn actually liked the decor or was merely indulging his wife.
Concerned much more with Kahn than the decor, of course, Clara had scrutinized him, while appearing to be captivated by everything he said. He was a smallish man, and she'd guessed that his pompous demeanor had evolved as compensation for his short stature. He had a boyish face embellished by a precisely groomed mustache that she'd supposed was meant to make him appear dignified or maybe dashing. But the real effect was to further weaken his doughy and slightly receding chin. His styled brown hair had just the right touch of gray at the temples. His watery gray eyes were a tad too close together, more noticeable because he had a habit of knitting his eyebrows when he wanted to appear particularly serious or concerned. His manner of dress was consistent with the rest of his personality—all image. His perfectly tailored suit camouflaged his sloping shoulders and tendency toward a middle-aged paunch.
She'd seen him as a bit of a dandy, but he'd also reminded her of a famous portrait of Napoleon she had seen in the Louvre, if one were to draw a precise facsimile of Kahn's mustache above the Little Corporal's upper lip. Later, as she gradually became aware of Kahn's more pernicious qualities, when he was being especially obnoxious in one of his long, pointless meetings, she would amuse herself by picturing him with his hand thrust into his waistcoat, sputtering orders to all who would obey. For variety, sometimes she would imagine the portrait of Napoleon with the emperor dressed in one of Kahn's fancy designer suits and Gucci loafers.
Despite her initial negative impression, the lure that first had attracted Clara to work for Kahn came when he'd said, "I assure you that you will be able to plunge into appellate work right away—with my professional oversight, of course. Here, you will have the opportunity for immediate experience that would take years to acquire in one of the mega-firms."
He'd told her that as soon as she passed the bar exam—with July results due about Thanksgiving—she could expect to be working as a full-fledged appellate attorney.
She had to admit, he had pretty much lived up to that expectation. She didn't learn for a while that the real reason he'd allowed her so much responsibility was his own aversion to the practice of law. He preferred being the front man—the rainmaker, who was all image and no substance. He worked his associates and office staff into the ground for as little pay as he could get away with. He took all the credit, as well as the profits, and then preened when the clients observed how brilliant he was.
The salary he'd offered Clara was barely more than half of what she could get from other firms. She had not, however, let on that she happened to be in a financial position that made salary of virtually no concern to her. But just to exercise her negotiation skills, she'd nudged him up a little before she'd accepted his final offer.
What actually convinced Clara to accept the job were her potential colleagues. Whatever his faults might be, Kahn seemed to have an uncanny knack for hiring good people. She'd immediately liked the two associate attorneys he introduced her to—Katy MacLeod, who did the estate work, and Maura Grimaldi, an experienced appellate attorney and the one Clara would work with most closely. They'd talked only a few minutes, but Clara had known instinctively that she could learn a lot from Maura.
As soon as she started working at the firm, Clara had also found she liked the support staff. There were two quasi-paralegals. Francis Davis was actually a retired attorney with a wealth of knowledge and experience. He was a dear man in his early seventies who exhibited a gentle nature and a penchant for being inordinately helpful. The other one had left shortly after Clara started. She was an intelligent young woman who had a master's degree in fine arts and needed a job. The office manager, who functioned largely as Kahn's handiest scapegoat, oversaw the work of a substantial staff: three word processors, a receptionist, an accountant, a bookkeeper, a computer techie, a file clerk, and a combination copy clerk/office boy.
There were no traditional secretaries. Kahn typically said, "I don't believe in secretaries—they tend to get too proprietary." Translated, that meant he had a paranoid fear of divided loyalties.
Before long, Clara had begun to wonder why an office with only three attorneys had such a large support staff, and she'd asked Francis why.
"It's obvious after you've been here a while," he'd said. "Genghis Kahn has to have some troops to order around. There's even a sort of rank structure. It's codified in a thick manual of intricate office procedures, complete with an organizational chart for who does what, and excruciating detail for how and when every office task is to be performed. The manual even specifies the number of minutes for coffee breaks based on job description and length of employment. Any procedural infraction is cause for reprimand, regardless of whether the procedure has any practical purpose."
The enigmatic exception to the rank structure was the role of Kahn's personal assistant, a striking Asian-American woman about twenty-five named Terri Hu.
Francis had mused, "We were all curious when Terri was hired. At first, we thought Bernie might have chosen her primarily because she complemented the Chinese decor. Terri answers to no one but Bernie, and she responds to his every beck and call, which makes all of our lives easier in the office. She's very good at her job, even if it isn't always clear what her job is. She's perpetually busy, mostly from trying to keep Bernie organized, but she remains placid, no matter what office catastrophes occur—and, unfortunately, they do occur pretty often."
When a crisis did occur, Kahn's typical reaction was to impose blame and then issue an order, usually the functional equivalent of "Off with their heads!"
He never acknowledged that his laborious procedures and his own procrastination in approving work to go out were the root causes of most office problems.
As a result, the turnover among support staff was continual, and of all of them who were there when Clara started right after Labor Day, only Francis and Terri were still at the firm when she left at the end of March.
By then, Clara had learned there were as many as forty or fifty previous employees, including a few attorneys, who had formed a sort of club that had an annual party and generally kept in touch with each other. She was looking forward to becoming a member of the EKG, the Ex-Kahn Group.
She knew that the two associates, Maura and Katy, would have liked to quit, too, as Kahn didn't spare the attorneys his ill temper and demeaning management style. But they needed jobs at a time when many Bay Area law firms were downsizing, and Maura had said candidly, "I can't afford to quit because I'm still helping my husband pay off the loans that got him through medical school. Katy is a harried single mom, and I think she just can't face another job change right now. It's a mystery to me why Francis and Terri stay on."
When Clara had asked Francis why he stayed, he was uncharacteristically vague, and she never seemed to get a chance to have a really personal conversation with Terri.
The petty office problems, even Kahn's mistreatment of his employees, weren't the final impetus that drove Clara to quit. She might have tolerated his being a despotic boss, but she couldn't ignore Kahn's unethical tactics. He often expanded work needlessly to bill more hours to the clients and sometimes even flagrantly padded the bills. Several times, Clara had challenged him, trying to let him know diplomatically that she was on to him.
The first time she'd noticed it, she'd told him there was a mistake on the Fairfax bill. She'd only spent one-and-a-half hours on research, not the four-and-a-half hours that appeared on the bill. Even with her time billed as a junior associate that meant an overcharge to the client of hundreds of dollars.
He'd simply replied, "I just assumed your time sheet was erroneous, so I changed it. I thought the research must have taken over four hours."
She'd had no way of checking whether the error was corrected on the final bill to the client.
After several such incidents, though, she'd become increasingly concerned about her ethical obligation to report his conduct to the state bar. In confidence, she'd asked Francis for his advice. He'd looked dejected as he told her, "I'm sorry to disappoint you, Clara, but there really isn't much you can do about it. If Bernie adds time to what was legitimately billed to the client, it's merely his word against yours as to how much time was actually spent on the work. If he exacerbates a legal matter and unnecessarily protracts work that needs to be done for a client, he could say that you're inexperienced and don't understand the subtleties of his legal strategy. One of the harsh realities about practicing law is that it's hard to monitor anyone's ethics but your own, especially when the offender is your boss." He'd brightened a bit as he'd added, "If it's any consolation, though, I practiced law for over forty years, and I think most lawyers are honest and ethical. And the unethical ones generally get what's coming to them."
Most of the clients were wealthy and didn't question their bills, and many continued to be blinded by Kahn's charm. They loved his personal attention and responded well to his talent for stroking their egos. He had a lawyer's equivalent of a comforting bedside manner. But in the course of her work, when Clara had occasion to review old files, she was astounded to discover how many fee disputes there had been over the years, as well as a large number of clients who had abruptly dismissed Kahn with no apparent explanation.
Ironically, it was because of his murder that Clara would ultimately learn the most sinister of Kahn's schemes to bilk his clients and others. And in the process of opening the Pandora's Box of Kahn's chicanery, she had no idea how vulnerable she would become to the murderer who in one night killed three lawyers.
Clara's thoughts turned again to the murders. As she recalled her little "Murder, murder everywhere" rhyme, it set off a sort of quivering in her bone marrow. Even so, as uneasy as it made her feel, she had an irresistible urge to know every detail.
She wondered if there might be some further news and was about to turn on the television when the phone rang.
"Clara, hon, it's Maura. I wasn't sure if you were back from England yet," said a breathless voice. "Have you heard the news about Bernie? Isn't it awful? I just don't know what to think."
"Maura, hi, yeah. I just read about it in the paper. Do you know any more about it?"
"Not really. There were some short blurbs on the local morning news. I switched around the channels, but they didn't really say anything that wasn't in the paper. I called Katy, and she hadn't heard yet. She couldn't believe it. At first, she thought I was pulling her leg. You know how many times we bantered about hiring a hit man to get Bernie so we could run the firm the way it ought to be. It's a pretty sick joke now."
"God, I didn't think about that," Clara said. "What a ghoulish thought. I don't know anybody who liked Bernie much, except maybe Charlotte and the clients who only saw his charming side. I still can't imagine anybody who'd actually try to kill him. And what about the other victims? Do you know of any connection between Bernie and the other two lawyers?"
"No. As far as I know, Hanks didn't handle any of Bernie's divorces. Rinko did legal malpractice, but even with all of Bernie's faults, I don't know if anyone ever brought a formal malpractice case against him."
"What happens now? Have you been contacted by the police or anybody?"
"Matter of fact, I just had a call from a Detective Travis. He said he has a few questions. I told him I want to get into the office and figure out what needs to be done, and so does Katy. He said that's okay He'll meet us there, and he wants to talk to everybody who worked for Bernie. I'm on my way now, as soon as I can get myself pulled together. Do you want to come in, too? I guess they'll get around to you eventually, anyway."
"Sure, I'll come in. You and Maura will undoubtedly need some help. But I don't think I'll come this morning. I'll wait a little while and give this detective a chance to do his thing at the office. In fact, I think I'll stop by the deli and bring in some sandwiches for lunch. If it turns out you want me in sooner, just give me a call."
"One more thing, Clara. I know this may sound sort of melodramatic, but do you think we have anything to worry about? Our own safety, I mean?"
"Hey, I thought about it, too. There's no harm in being careful, at least until we know more about what happened. Everybody knows there are plenty of lunatics out there. Let's just hope three dead lawyers is the quota."
"Why do I not find that very reassuring?"
"Seriously, just take care, okay?"
"Okay. You, too, Clara. See you around noon."
But Clara wondered, how do you take care when you have no idea where a threat might be coming from?
© 2017 by J. /E. Gentry