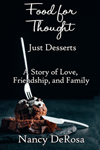 BY: NANCY DEROSA
In Just Desserts we find Emma Craven's life has become more complicated and difficult to navigate. She's student teaching and working at her husband Gary Parker's restaurant, The Green Spruce Grill. An unexpected pregnancy has Emma's head whirling, and she can't keep up with all the responsibilities she now has in her life. She begins to resent Gary, as his life won't change, while Emma fears she will have to shelve teaching for the time being because she's about to become a mother. Her relationship with Gary's family begins to unravel even further and, for the first time, Emma takes some responsibility for the problems and misunderstandings she has with others. She dislikes her mother's new boyfriend Hal and when she catches him out with another woman, she's torn about whether or not to tell her mother, afraid to break her already fragile heart…

TAYLOR JONES SAYS: In Food for Thought: Just Desserts by Nancy DeRosa, Emma Craven Parker's life is in turmoil. She can't get along with her in-laws, no matter how hard she tries, her friends are distancing themselves from her because she is now married and they are not, her mother has a new boyfriend that Emma detests, she and her husband can't seem to get along, and her student teaching assignment is proving too much for her. Through all of this, Emma begins to examine her own actions and how they contribute to her problems, something she has avoided doing too much of in the past. And, to her dismay, she finds she doesn't like what she sees in herself…
As always, DeRosa's character development is superb, her plot solid and intriguing, and the story charming as well as insightful. If you enjoyed the other two book in this series, you really don't want to miss this one.
REGAN MURPHY SAYS: Food for Thought: Just Desserts by Nancy DeRosa is the third in her Food for Thought series. In this episode, Emma and Gary are married and their restaurant, The Green Spruce Grill, is a great success. This should be the happiest time of Emma's life, but things are complicated. Emma's in-laws are cold and distant, she and her husband are constantly fighting, student teaching is a disaster, and Emma's friends resent the fact that she has a husband and they do not. To make matters worse, Emma discovers she is pregnant, and she is unsure how Gary will feel about it, as well as knowing that now her own dreams have to be put on the back burner since she is about to become a mother.
DeRosa certainly has a way with characters and Just Desserts is no exception. I admire her courage in making her main characters human and flawed and very real, rather than the tall, tanned, athletic, beautiful, and practically perfect young people who star in so many of today's romance and women's fiction novels. Combined with real-life problems that everyone faces—loneliness, selfishness, and struggling with relationships—this marvelous character development makes DeRosa's books a delight to read.
Chapter 1
Six months had quickly flown by since Emma and Gary Parker had married. Now that the new Mrs. Parker was so busy settling into her new life, she barely had time to enjoy the summer months. Before she knew it, mid-October had rolled around and Halloween costumes were on display everywhere. Emma wondered, more than once, where the time had gone.
The newlyweds had decided to give up Gary's apartment and live in Emma's place as it was closer to their new restaurant, The Green Spruce Grill. The Grill was always hopping with customers, and Emma, or Gary, had to always hop over there to work long and exhausting hours.
Emma felt life, as of late, was as perfect as it got, and she knew to fully enjoy and embrace everything positive that came her way. Finally, she was in a good place. She wanted to take a selfie and freeze frame this happy moment in time. She knew, more than most, when life was good, something usually came along to create havoc and complications. She hated being pessimistic, but Emma knew how quickly problems could arise and, because of this knowledge, she had the ability to fully appreciate what was here now, never once taking it for granted.
Emma's mom was in a good place too. She had recently met a man named Hal that she enjoyed spending time with. Emma didn't know him too well, but she was thrilled that Sally was happy having a male companion in her life.
Her brother Robert, and sister in law Zoey, had their new baby boy, and the family was doing splendidly. Robert and Zoey had really taken to being parents. Gymboree had now become their second home.
Emma's other brother Danny, and her best friend Dana, were still together and going strong, much to her great surprise, but she realized they did balance each other out perfectly. Dana had brought out the more carefree, fun side of Danny, and Dana was a bit more grounded since dating Danny. It was an added bonus for him that she was an exercise fanatic, and she pushed him to work out with her. Because of her efforts, Danny was now twenty-five pounds lighter and looked and felt fabulous. Emma suspected they might get engaged soon, and she felt genuinely happy for them. Danny's ex-wife Annie, at long last, had gotten tired of torturing and stalking him and had quietly faded into the background. Slashed tires and shattered apartment windows were no longer a part of his life, unless of course, he broke up with Dana. Emma suspected there was still a bit of residual crazy lurking somewhere inside of her best friend, but she was hoping for the best. Dana and Danny were good for each other.
Jenny, Leah, and Nora were still single, lonely, and searching for a man to share their life with. Emma supported her friends as always and listened patiently to their constant woes regarding single life. She understood completely. She had been there for a long time herself.
As far as her in-laws were concerned, Emma felt she was in an all right place with them. Not great, but manageable. She couldn't go as far as to say her mother-in-law embraced her in the family with open arms, but she was Gary's wife now. She felt more empowered not to care. Her sister-in-law Julie was still quite difficult, even more so since she was divorcing her soon-to-be-ex-husband Jim. It was turning out to be a bitter and horrible break up, which made Julie even more difficult to deal with. She was downright rude to everyone, and although Emma knew it was a tough situation for anyone to be in, it was still hard to dredge up the proper amount of compassion for Julie. Emma had to go deep within herself to feel empathy, so unlike her.
Emma felt her main problem with her mother-in-law was her inconsistency in her dealings with her–sometimes she was nice and then, wham, from nowhere she became Cujo, the demon dog, in human form. She didn't try to figure Carol out any longer like she had in the past, and it didn't bother her as much when Carol gave her a zing or a veiled insult. Gary was by her side, and that was what was important. She tried her best to stay out of conflicts with his family. At least Carol was respectful as of late, and Emma tried to accept what his family had to offer without any expectations. It was better that way.
As far as living with Gary was concerned, Emma was pleasantly surprised at how easy it was. He always put the cap back on the toothpaste, occasionally put up with watching the Housewives realty TV shows on Bravo, barely snored, and seldom farted in his sleep. She knew she was indeed a very lucky young lady.
Gary had finally, under Emma's urging, asked his old friend Mike to join the staff of The Green Spruce Grill. He had jumped at the offer as he wasn't happy in the pub he had worked in for the past fifteen years. Emma was thrilled to have him come on board. Not only did Emma adore him, but she also respected his talent as an imaginative and innovative cook and assistant for Gary. Mike was great with the customers and could fill in at the bar in a pinch. Because of Mike, Emma was finally able to step away a bit from the long hours she had been putting in at the restaurant and concentrate on finishing her teaching degree. There still was the problem of being short staffed at The Green Spruce Grill, but she was confident they would eventually rectify that and then she would be able to step away even further. Things were looking up.
Emma was proud of her grades, and she was finally able to take on more classes this semester. Graduation was no longer so far off in the future, and she had just recently been placed at a school in the Bronx to student teach.
She would start in two weeks. The time had come to mold little minds and fill them with knowledge. She swelled with pride at the thought of the wonderful contributions she would give to society. She was standing in the storage room of The Green Spruce Grill when it dawned on her, she could have a future president as a student, and she could be the teacher who had brought out his, or her, special leadership qualities.
She could imagine it, years from now, when she was old and gray, the President of the United States at his inauguration speech to the nation would state, "I owe everything I am today to my fourth-grade teacher Mrs. Emma Parker, she was instrumental–"
"Emma, did you find the sun-dried tomatoes yet? Where are you?" Gary yelled out from the kitchen. "I need them pronto. I'm using them in the lunch special today, and I'm not nearly ready, please hurry."
Emma sighed, jumped down from the counter with four jars of sun-dried tomatoes, and yelled out, "I'm coming, hold your horses." She hurried into the kitchen where Gary was waiting.
"I won't be able to feed these people if I don't get this rigatoni special going," Gary announced as he took the jars out of Emma's out stretched hands. "Thank you, my love."
He smiled at her warmly. Flour was smeared on his nose and tomato sauce splattered on his apron.
Emma laughed when she caught sight of him. "You won't keep the customers in here if they see you. You're a mess."
"Oh, am I really?" Gary teased. "Maybe you should make a huge pot of tomato sauce and bake three chocolate cream pies, and then we'll take a look at you."
"Mike is a much neater cook, my love," Emma called over her shoulder as she walked toward the front of the restaurant to prepare for the lunch rush.
"Don't make me jealous, Emma," Gary warned as he waved a spatula in a threatening manner, a huge grin on his face.
Emma laughed again as she made her way toward the gathering of people at the front desk. The moment she started to host, she didn't have any time for bantering. Two more customers had just walked in, and she was in the process of panicking.
Mike hadn't arrived yet, nor was the new waitress Emma had just hired last week anywhere to be found. It was a typical Friday afternoon rush lunch hour, and it was going to be very busy.
"May I help you?" Emma asked the couple who had just walked in. She clasped her hands together tightly.
"Yes, we'd like to be seated for lunch," a distinguished-looking woman in a severe, dark-navy suit and short blonde hair exclaimed as if she were giving an order.
"But of course." Emma gestured to a table for two by the window. "Will this do?"
"It will do just fine," the woman answered with a slight nod of her head as she walked toward the table.
The man by her side quickly held out a chair for the woman to sit. I know who's running this show, Emma thought in amusement. She looked at the women a bit more closely. "Aren't you–" she began to ask.
"Yes. I am," the woman said grandly, "Your state senator, Ms. Martha Sedgwick."
The senator held her hand up high, level to Emma's nose. Emma looked at it cross-eyed. What does she want me to do, kiss it? She took her hand and shook it quickly. "It's such a pleasure to have you at The Green Spruce Grill, Ms. Sedgwick."
The man finally spoke up after Emma seated them. "We've heard wonderful things about your place here and thought it was time to see what all the hoopla was about."
"I'm so glad you did," Emma responded warmly, "I can promise you won't be disappointed."
"I hear your Mahi, Mahi, Florentine is amazing," Ms. Sedgwick exclaimed as she unfolded her napkin and placed it on her lap.
"It's to die for," Emma assured her as she nodded her head up and down in agreement.
She looked over at the front foyer. People were pouring in. Still no sign of the new waitress or Mike. Roger, the bartender, was handling the bar well thus far, and she had Beth waitressing, but she knew that the two of them alone would not be enough to handle the Friday lunch crowd. She needed at least three waitresses. Four would be even better. Emma was desperately trying to find good people to work at The Green Spruce Grill, but it was proving difficult. She knew she had no choice but to do the best she could under the circumstances. Don't go into panic mode, she told herself firmly.
"Let me get a menu for you." Emma smiled at Ms. Sedgwick and her companion as she strode briskly toward the other waiting patrons.
"I'd also like to see a wine list," Ms. Sedgwick called out.
"Absolutely," Emma answered over her shoulder.
She had Beth bring the wine list to Ms. Sedgwick, and Emma quickly began seating people. She kept looking at the door for Mike and Greta.
"Gary wants to see you," Beth whispered in Emma's ear.
"I'm sure he does," Emma muttered.
"He's flipping out," Beth added gleefully.
"I'm sure he is," Emma answered dryly.
She turned around and walked toward the kitchen. She caught a glimpse of herself in the mirror and saw that her new haircut and freshly highlighted honey blonde hair she had just paid ninety dollars for had flopped flat down on top of her head with nary a curl in sight. It was an unusually warm day, she was also perspiring profusely.
Emma opened the door of the kitchen and heard Gary yell out, "Where the hell is Mike?" He was standing in the middle of a big heap of vegetables, various meats, poultry, and bags of pasta. Larry, his other assistant, was trying to stir four things on the stove at once.
"I have no idea," Emma answered as she put her hands out in a helpless gesture.
Just as those words were uttered, Mike burst into the kitchen. He looked as pale as white chalk.
"What's wrong, Mike?" Emma asked, taken aback at his appearance.
"I–I'm sorry, Gary, so very sorry I'm late," Mike sputtered, ignoring Emma altogether. "I suddenly felt sick to my stomach. I don't know." He held his stomach. "Very queasy, could be a stomach bug. I'm really not feeling well." He shook his head. "But at least I'm a bit better now."
"Mike, are you sure you're okay to work?" Gary asked, as he quickly made room at the counter for him.
"Gary, you can't have Mike working near the food if he's sick. It could be the stomach flu or something even worse." Emma turned toward Mike and added, "Sorry, Mike, I don't think it's anything serious, but really, Gary, think–you could get a lot of people sick."
Mike took his hand away from his stomach and walked over to the area of the counter Gary had just cleared. "I'm fine. I can handle it. It's just an upset stomach. I'm much better, don't worry." He grabbed a jar of sun-dried tomatoes and attempted to twist the jar open.
Gary looked at Emma and shrugged. "He said he's fine, Emma." He glanced quickly at Mike and added, "Just try not to breathe on the food and just, like, wash your hands frequently."
Emma sighed loudly and left the kitchen abruptly. She had her own problems to deal with in the dining room. She knew she had better get her ass back out on the front lines and take care of that end of the business.
Beth gave Emma a dirty look as she tried to seat a table of six, give menus out, and take drink orders all at the same time. The dining room was quickly filling up, and Emma grabbed a tray of Bloody Mary's off the bar to bring to table five. It was then she saw Greta walking in, looking like another piece of white chalk.
She ran over to Emma and said weakly, "I was so sick this morning, Mrs. Parker. I almost didn't make it in today. I feel it right in my stomach." She put her hand to her forehead and added, "I have this pounding headache too. I think the chicken and lobster special yesterday didn't agree with me. I thought the brandy cream sauce tasted off."
Three patrons at the bar turned to look at Greta. Emma grabbed her to the side and whispered fiercely, "Could you please keep that little tidbit to yourself, Greta? I don't want customers thinking they will get poisoned eating here."
Greta put her hand to her mouth and exclaimed, "How stupid of me. I can't believe I said that. I'm just not thinking straight."
"Look, it's all right, just jump in. The dining area is getting out of control."
Greta saluted Emma. "You got it."
Emma jumped in as well and was pleased with the fact that she, Greta, and Beth were holding things together. Customers seemed to be getting their food without too much of a wait, and so far, no complaints. Blessedly they were managing. She couldn't wait for the lunch rush to be over.
Emma was so busy she suddenly felt her bladder was about to burst. She practically ran to the bathroom. As she walked into the little hallway that housed both the ladies and men's room, she heard a loud voice scream out, "How dare you say that to me. Just because you couldn't get it up last night, you think it will make you feel better putting me down? Get a shrink and some Viagra."
Emma ran smack into Mike and Greta, their faces not two inches away from one another as they stood with legs apart in a stance of absolute fury.
"You think you can order a man around in bed like he works for you and then expect him to stand at attention? Sex is not a performance," Mike hissed at Greta. "What man would want to put himself in you?"
Greta put her face even closer to Mike's. "You limp piece of dog shit. What man blames the woman for his dead dick? I've never heard of such a thing."
It was then Mike gently pushed Greta away from him. It was then Greta punched Mike square in the face. Emma didn't know what happened next, but they were both on the floor beating the crap out of each other. Mike didn't stand a chance. Emma turned around to get help and found Ms. Sedgwick standing behind her, a hand to her chest and a look of horror upon her face. Emma saw, out of the corner of her eye, a big stacked pyramid of water glasses that were placed at the end of the bar topple over, all because one little glass was slightly out of place.
© 2019 by Nancy DeRosa
Amy Shannon:
"DeRosa pens a wonderful story in Just Desserts. I've read the two that came before this, and I loved the interweaving of food and romance, and how the characters come together. This story definitely followed the path of its predecessors. It's a new story for Emma and Gary, now that they're married, and I started this book wondering what else could possibly happen. DeRosa gives the reader plenty of plot and wonderful storylines with her remarkable characters. I love the connection Emma has with her friends, and how her relationships are evolving. Emma is one of my unforgettable characters, and I enjoyed reading this. As always, when DeRosa writes it, I will read it!" ~ Amy Shannon Reviews