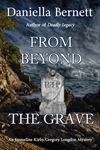 BY: DANIELLA BERNETT
Buried secrets can kill…
The seaside resort of Torquay, along the English Riviera in Devon, is the perfect place for a restful holiday. That's what journalist Emmeline Kirby desperately needs after her harrowing escapes from spies and others with nefarious intentions back in London. She also needs distance to sort out her conflicted feelings for jewel thief Gregory Longdon, who once stole her heart. But who should turn up out of the blue? The ever-charming, devastatingly handsome Gregory. That's when secrets from his past—and murder—shatter the serenity of this picturesque haven.

TAYLOR JONES SAYS: In From Beyond the Grave by Daniella Bernett, Emmeline Kirby has taken a well-deserved vacation on the coast of England in a small seaside village. But her leisure time is interrupted when her ex-fiancé Gregory Longdon shows up to spend her holiday with her. She is most upset, as he was one of the reasons she needed to get away. They are not there very long before there's a murder and, of course, Gregory is a suspect as he usually is. The man always seems to be in the wrong place at the wrong time. Emmeline knows Gregory can be unsavory on occasion and there are things in his past he refuses to tell her, but a murderer?
Told in Bernett's enchanting voice and filled with plenty of edge-of-your-seat tension, as well as a number of surprises you won't see coming, this book is an intriguing addition to her popular series.
REGAN MURPHY SAYS: From Beyond the Grave by Daniella Bernett is the story of Emmeline Kirby, a British journalist who is on holiday at the English seaside. She has a lot of reasons for needing a holiday—narrow escapes from spies and assassins, the death of a cousin she'd only just met, not to mention her mysterious boyfriend Gregory Langdon who has secrets he refuses to divulge. But no sooner does she get to the quaint little village and settle into her hotel, than who should show up but Gregory—with his endless charm, and lies. Then there's a murder. Emmeline doesn't trust Gregory, but she doesn't think he could kill anyone, could he?
From Beyond the Grave is a fast-paced, tension-filled international mystery that will keep you turning pages from beginning to end. Another jewel in the crown of this talented author.
PROLOGUE
Toronto, Canada 1998:
The young man, the accused as he was referred to, gripped his knees hard to stop his legs from trembling. His palms were damp. A single droplet of sweat wended its slow, torturous way from the nape of his neck all the way down to the small of his back. He nervously fingered the collar of what had been a crisp, white shirt, but which had now gone limp. Was it only him or was it inordinately warm? Stifling, in fact.
His blue gaze flickered around the wood-paneled courtroom. It fell first on the Crown prosecutor. From his vantage point in the box behind the two lawyers, he could only see her back and a bit of her profile when she shifted slightly in her chair. Her chestnut hair was pulled back and piled neatly atop her head. She sat ramrod straight as she listened to the judge. Over the course of the three-week trial, she had shown herself to be hard as nails. There was not an ounce of forgiveness or empathy in her soul. To her "the accused" was always guilty. Next, he caught the eye of his defense counsel, who glanced over his shoulder to give him a watery smile. It was half in apology and half in resignation. To be fair, he had done his best but the cards had been stacked against him from the start. Finally, the young man's gaze came to rest on the jury in its box to the right of the prosecutor, the seven women and five men in whose hands his life rested. He studied each juror's face, trying to discern what their collective decision had been. No one looked at him. Not a good sign. No, not good at all.
"Foreman, has the jury reached a verdict?" the superior court judge asked sententiously.
"We have, your honor. We find the accused–" The young man held his breath. "–guilty."
He heard what the foreman had said, but his mind still couldn't quite comprehend it. Guilty. The word thundered in his ears. Guilty. A low murmuring suddenly erupted amongst the benches in the public seating area.
"Quiet in the court," the judge ordered. "Quiet."
He sat there waiting, peering down from his perch. Only his hands, white and blue-veined, peeped out from the voluminous folds of his black robe. When silence reigned once more, the judge cleared his throat. Beneath his tuft of receding steel-gray hair, deep lines furrowed his brow and fanned out from the corners of his cold brown eyes. The young man swallowed hard. He would never forget the judge's eyes boring into every fiber of his being.
"Will the accused please rise."
The young man shuffled to his feet. He didn't think that his legs would be able to sustain his weight. His knuckles were white and distended from holding the edge of the box so tightly.
"Edward William Prichard," the judge intoned with all the gravitas of his office, "a jury of your peers has found you guilty of murder in the death of Henry Cummings. By your own account, Mr. Cummings took you into his home and treated you as another son when you found yourself in need. And how did you repay this kindness and generosity? By stealing from him and ultimately taking his life. Under the Criminal Code of Canada, I sentence you to twenty years in prison for your crimes."
Edward slammed his hand down and shouted, "But I didn't do it. I'm innocent. I didn't do it." His voice cracked. "You must believe me," he implored the jury. "I didn't do it. It wasn't me."
At that moment, out of the corner of his eye, he caught some movement in the public seating area behind him. Edward looked over his shoulder in time to see a woman quietly slipping out of the courtroom. The woman he loved. The woman who had set him up.
The judge was muttering on about his right to appeal, but Edward wasn't listening. What did it matter? Without her, his life was meaningless.
And so that night in his jail cell, Edward turned his back on the world and killed himself.
CHAPTER 1
England, April 2010:
Dazzling sunlight greeted Emmeline as she emerged from the Torquay railway station. She had caught the ten-o-six train from Paddington in London and now, nearly three hours later, she was in lovely Torquay, one of the resort towns on Devon's south coast that together make up the English Riviera. Torquay, with its near Mediterranean climate, was nestled on seven hills and afforded stunning views across Torbay. The town became a fashionable seaside resort during the Napoleonic Wars. Torquay also had been home to writer Agatha Christie, whose mystery novels Emmeline had devoured as a child when she and her grandmother settled by a crackling fire on cold winter afternoons in Kent.
Torquay was the perfect place for Emmeline to escape from everything that had happened over the last few weeks. It was a world away from the Sedgwicks and their dirty secrets, and a world away from poor Ambrose Trent–the cousin she never knew existed and now would never get to know. Her thoughts clouded over as she remembered Ambrose. She still felt guilty, although logically she knew it wasn't her fault. It was all such a terrible tragedy. A lie that had its birth in World War II and condemned three generations of a family–her family–to seek vengeance because there had been no justice.
Emmeline sighed. Right, she had had enough mysteries to last her a lifetime. "Sorry, Agatha, it's time to move on," she said resolutely.
Her dark curls bounced with determination as she gathered up her bags. Gran had been right. She needed to get away for a bit. Now that she had recovered from the concussion and the stab wound was on the mend, Emmeline needed time to forget and to figure out what would be the next step in her career. Once word had gotten around that she had been sacked from The Times, her phone hadn't stopped ringing with offers from rival papers, as well as the BBC and Sky News. Emmeline had been flattered to see that her work engendered such respect, but she hadn't made any decisions yet. Perhaps she would freelance for a while. One thing was certain, she would never, never return to The Times. James Sloane, her former editor and former friend, had come crawling on bended knee and cravenly begged her to come back to the paper. Well, it was too bloody late. Her stomach still twisted in knots when she recalled how he had refused to stand up for her. James and the paper would just have to muddle along without her.
She hailed a taxi to take her to her hotel, which was only a mile from the station. As she slipped into the back seat, Emmeline had to admit to herself that this little holiday would also give her time to think about the vexing problem of Gregory. There was rarely a moment lately when he wasn't in her thoughts. Perhaps, the problem wasn't him but her. If she were truly honest, in her heart of hearts, Emmeline knew that she wanted him back in her life. It was no use denying it anymore, especially to herself. However, it wasn't the loss of the baby or the fact that he was a jewel thief that held her back, but fear. Fear of giving herself completely again, fear of being hurt, and, most of all, fear that he would disappear for good this time. She had been shattered when he left the first time. What if it happened again? Was she strong enough to survive? Maybe by the time she left Torquay, she would have the answers to these unsettling questions.
"Here you are, miss," the cab driver said cheerfully as he turned off Park Hill Road and pulled up in front of the Royal Devon Hotel, which loomed over the bay from its sheltered clifftop perch. He was a smallish man with rosy cheeks and friendly hazel eyes. Although he tended toward the tubby side, he quickly bustled round the car to open the door for her.
"Thank you very much. How much will that be?"
He told her and she settled the fare.
"Shall I nip your bags inside for you?" he asked helpfully.
Emmeline smiled. "That's very kind of you, but I can manage."
The driver touched his finger to his forehead in a little salute. "Then I'll be off, miss. Enjoy your stay in Torquay."
"I intend to. How could you not in such a beautiful setting? Thanks again."
Emmeline felt her body starting to relax as she headed up the steps and into the pristine lobby with its cream-colored walls and ornate moldings and columns. In her jeans and lemon knit blouse, she wondered whether she might be a trifle underdressed for the elegant four-star hotel. But after all, Torquay was a resort where people came to unwind and enjoy a host of leisure activities, from sailing and swimming to cycling and walking. It was silly to worry about how she was dressed. She had never been one of those women who was obsessed with her appearance. In fact, the only makeup Emmeline wore was a touch of lipstick. Just something to give her face a bit of color. She couldn't be bothered with the rest of it.
Her leather pumps barely made a sound on the green and white marble floor as she crossed the lobby to reception.
"Good afternoon, madam," said the woman behind the desk with a pleasant smile. "How may I help you?" She had a long, oval face with high cheekbones and bright blue eyes. Her golden hair fell to her shoulders in neat waves. Emmeline guessed that she was probably only a few years older than she was.
"Good afternoon, my name's Emmeline Kirby. I have a reservation for a fortnight."
"Just give me one moment to verify that, madam." Her fingers rapidly punched at the keyboard in front of her. "Ah, yes. Here it is. However, Miss Kirby, I'm afraid your room isn't ready yet. Check-in time is two o'clock."
Emmeline glanced at her watch. It was a little after one.
"You're welcome to wait in the bar or the conservatory. Light snacks are available there."
After three hours on the train, Emmeline was itching to get out and see the town. "Would it be all right if I left my bags while I go into town and then I could collect my key later?"
The woman smiled. "Of course. I'll just make a note for my colleague, in case I'm away from the desk when you return. Leave your bags there. I'll have the porter take them to your room when it's ready."
"Super. Thank you. Any suggestions where I can grab a bite to eat?"
"You'll find a number of cafés and pubs along the promenade. There are also some gardens along the seafront where you might like to stroll after lunch. It's a short walk from the hotel. Just go back out the front door and make a right at the end of the drive. Here let me show you." She slipped a hand under the desk to pull out a map.
"No, that's fine." Emmeline waved a hand dismissively. "I'm sure I can't get lost. Even if I do, I'm not on a timetable now. I'm on holiday. I always find it jolly fun to discover new places."
The young woman smiled at her conspiratorially. "I'm the same way. Well, I hope you enjoy your stay with us, Miss Kirby. My name's Connie, in case you need anything."
Emmeline returned her smile. "I'll keep that in mind. Now, I'm off to explore. Thanks again."
With a sense of renewed purpose, she pushed the glass door open and once again felt the golden strands of sunlight caressing her face. She started humming a little tune of her own creation as she let her feet lead the way down to the harbor. Twenty minutes later, she was comfortably ensconced at a window table in a quaint café across the road from the promenade. After perusing the menu, Emmeline settled on a warm tarragon chicken salad and a glass of sauvignon blanc. Within minutes of ordering, the waitress was placing the glass of wine in front of her and a basket of fresh homemade brown bread on the table. Emmeline took a sip of the chilled wine and allowed it to roll around her tongue for a moment before swallowing it. Ah, crisp, light, and refreshing.
Her mind wandered as she munched on a piece of the delicious bread and watched as people ambled back and forth along the pavement. They weren't in a great hurry and why should they be? Torquay was not London, where people were always rushing about. Torquay was meant to be savored slowly. A smile curled around her lips as she took another sip of wine and leaned back in her chair. Nothing was going to spoil her stay in Torquay. After all, what could possibly happen here?
Mother Nature was at the height of her seductive powers on this afternoon, and Emmeline was drawn to the harbor after lunch. Yachts and speedboats jostled alongside sailboats as they glissaded in and out of the marina. Wisps of gauzy clouds drifted aimlessly in the cerulean sky. The silken waters of the aquamarine bay undulated and winked knowingly as they captured the still smoldering embers of sunlight that tumbled from the heavens. Emmeline walked all the way to the end of Princess Pier, with its white railings and uninterrupted benches lining either side, to admire the inner harbor. She sat down to watch the teeming activity for a little while and was soon joined by a plump seagull who screeched and eyed her suspiciously at first. Once he was satisfied that she posed no threat, they settled into a companionable silence. Soon though, it was time for Emmeline to make her way back to the hotel.
She wandered through the neatly manicured gardens along the promenade. Her eyes were assailed by the blaze of color and textures. A golden sea of daffodils with orange faces bobbed and curtsied in the breeze, while scarlet, plum, and pink tulips preened and a host of tropical plants indolently nuzzled together nearby. Cabbage trees, or Torbay Palms as they were ubiquitously known, could be seen everywhere and gave the town a Mediterranean flavor. The trees had been introduced to the area from New Zealand in 1820 and had flourished.
Emmeline was looking out across the bay, when her attention was arrested by the sound of a woman weeping. It struck a strident chord when it mingled with the unending stream of merry chatter bubbling forth from the fountain in the center of the lawn. She turned and saw that, not too far away from her, there was an older woman leaning against one of the palm trees with her fists pressed tightly to her eyes. Her snowy white head shook from side to side as sobs wracked her frail body.
"Poor woman," Emmeline murmured under her breath. Perhaps she should go over there and see if there was anything she could do. She took half a step and then hesitated. On the other hand, the woman might not appreciate a stranger intruding into her private affairs. However, when Emmeline saw the woman stumble, the decision was taken out of her hands. She dashed across the lawn, grabbing the woman's elbow just in time to prevent her from falling. "Are you all right?"
"What?" The woman blinked a few times. She slowly turned her head and fixed her bewildered slate-blue stare on Emmeline, as if suddenly becoming aware of her presence. Things were starting to come back into focus.
"I said, are you all right?" Emmeline repeated. "Shall I fetch a doctor?"
"No, no. No need for that." She patted Emmeline's arm with a blue-veined hand. "I'm perfectly all right now. I'm sorry I gave you a fright, my dear. It was simply an old woman being overwhelmed by her memories."
Color was starting to return to the woman's cheeks, but Emmeline was unconvinced. "Perhaps it might be a good idea if you sat down. There's a bench over there. I could sit with you for a bit, if you like."
The woman smiled and patted her arm again. "Don't be silly. I wouldn't dream of it. It would be very selfish of me. I'm sure you have better things to do than to fritter away your afternoon on an old woman."
Emmeline wagged a finger at her, but her smile and gentle tone softened the scolding. "That's the second time you've said old woman in as many minutes. You're not old. As my gran would say, you're mature."
The woman laughed at this, a genuine laugh that lit up her entire face and gave Emmeline a glimpse of the beauty she must have been. "Your grandmother sounds like a very wise woman."
"Oh, she is." Emmeline nodded emphatically. "Very wise and very wily. Nothing gets past her. I learned that the hard way on several occasions when I was a child. At any rate, age is just a number. It's how you feel that counts. Now, shall we sit down? That bench looks awfully inviting. Here lean on me. I'm stronger than I look."
In the end, the woman allowed herself to be led by the elbow toward the bench. Little did she know that Emmeline had no intention of taking no for an answer.
"There, isn't that better," Emmeline said. "And just look at that view across Torbay."
The tide was starting to come in, and they could see frothy crests rise and fall as the waves gently lapped against the shore.
They were quiet for a few moments. Emmeline had always been drawn to the sea. She could sit for hours just watching the hypnotic, almost balletic, grace of the rollers as they crashed upon jagged rocks or the velvet sands of a beach.
"Thank you again, my dear. Not everyone would have taken the trouble to stop."
Emmeline waved a hand dismissively in the air. "You give me far too much credit, madam. I assure you that I have done nothing."
"You took pity on an old–"
"Ah. Ah." Emmeline raised a finger in the air. "I thought we settled that point already. You are not to use that word. You must eradicate it from your vocabulary. The word is mature."
The tiny folds around the woman's eyes crinkled when she chuckled. "Really, you are a most extraordinary young woman. You remind me a little of my daughter. Not in looks, for she's fair, but in your manner. You both have an uncanny ability to see the bright side of things in any situation." She sighed and her eyes clouded as she turned her gaze toward the bay. "Unfortunately, I've lived too long and seen too many awful things in this life to ever be so cheerful again."
"Nonsense. Don't talk such rubbish. You're just a bit down this afternoon. That's all. It happens to all of us. Now, tell me more about your daughter. She sounds like an interesting person."
"Rosie? Oh, yes, she's definitely interesting. She's strong and independent. Very much her own person. We named her Rosemary after me. I suppose you might think that a bit of vanity–" She blushed self-consciously at this. "–but my Denis insisted. At home, we called her Rosie, but outside the family she insisted on going by her middle name. As I said, she wanted to stamp her own identity on the world. But she's extremely loyal to those she loves, and she always put family above all else. By the way, we've been sitting here all this time, and we haven't been properly introduced. My name's Rosemary Dunham."
Emmeline extended a hand. "Very pleased to make your acquaintance, Rosemary Dunham. I'm Emmeline Kirby."
"What a lovely name. It has a musical lilt to it."
"Alas, I cannot take credit for it. I have my parents to thank for bestowing such a pretty name upon me."
"They must be very proud of you."
A tear stung Emmeline's eyelid, as she thought about her parents. "I would like to think so. They were journalists, like me, and they died on an assignment in the Middle East when I was five years old. My gran, my mother's mother, is the one who raised me. The woman you see before you today is the product of her devoted love and care. Gran is my best friend. My rock. She has been there for me through thick and thin, through skinned knees and hurt feelings, through everything."
"You're very lucky. Do you have any siblings?"
"No, it's just me."
"When you were growing up, did you miss not having a brother or a sister?"
"No, because I had Gran. She was mother, father, brother, sister all rolled into one. What about you? Do you have any other children besides Rosie?"
"Yes, two sons. Teddy, the oldest, and Kit, the baby. Rosie is the middle child."
"Did they all get along as children?"
"Well, Rosie and Kit are only three years apart, so they were fairly close. Teddy was eight years older. You see, I was married twice. Teddy was from my first marriage to Arthur. He was only a year old when Arthur died."
Emmeline squeezed Rosemary's hand sympathetically. "Oh, how awful."
"Thank you, my dear. I don't mind telling you that we struggled in those years after Arthur's death. I took two jobs to make sure Teddy went to bed with a full belly. Then when I had resigned myself to my lot in life, I met Denis. Warm, funny, loving Denis. Suddenly, the loneliness and misery lifted and I was laughing again. Actually laughing. And he was wonderful with Teddy. In no time at all, he had my five-year-old son eating out of the palm of his hand. You never saw anything like it. Denis was a natural-born father if there ever was one. We were married five months later."
"How marvelous that you were able to find love twice in a lifetime. Not everyone is lucky enough to find it once."
"Yes," Rosemary murmured distractedly. "Yes, lucky." She frowned at the bay.
"Have I said the wrong thing?" Emmeline asked, confused.
Rosemary patted her hand. "No, not at all, my dear. It's just that today is exactly six months since Denis died."
"Oh, I'm terribly sorry."
"There's no need to be. You couldn't have known. Besides, it was a relief for him and for me. He had been very ill, and it was difficult to watch him wasting away little by little each day."
"Is that why you were so upset just now? Because you were thinking of Denis."
"Yes, that and other things. Today is also the anniversary of Teddy's death. He died years ago. But, I never had the chance to say goodbye. Both my boys were bitten by wanderlust at a very young age and, at the first opportunity, they set off to see the world. Only Rosie was content to remain at home here in England. I suppose girls always do stay close to the nest."
"How tragic about Teddy. You must have been devastated."
A stray tear trickled down Rosemary's cheek. She impatiently wiped it away with the back her hand. "Yes. He was twenty-seven and in the prime of life. I know it's wrong and you should never have a favorite, but Teddy was my first born and he held a special place in my heart." She choked back a sob. "A parent should never have to bury a child. Never. It is the worst thing imaginable. No matter what his age."
"Yes," Emmeline replied, as she was assailed by thoughts of the baby she had lost.
Something in the tone of Emmeline's voice made Rosemary turn. "Do you have any children?"
Emmeline shook her head and swallowed the lump that formed in her throat. "No." This came out as a hoarse croak. She struggled hard against the still-fresh pain. "No, but I would like to have children. Very much."
They fell silent as Emmeline tried to collect herself. Once she seemed to calm down a bit, Rosemary ventured quietly, "I'm sure you will make a wonderful mother one day."
"Do you think so?" Emmeline asked, needing reassurance.
"Yes. You just have to find a nice young man. Is there a special someone in your life?"
Emmeline dropped her head between her hands and groaned. "It's very complicated. That's part of the reason I came to Torquay." She lifted her head again. "I needed time to think."
Rosemary smiled. "Nothing is complicated if you love each other. Do you love him?"
Emmeline's eyes searched Rosemary's face as if answers were written there. Of course, that was silly. She was the only one who could have the answers. Maybe she already knew the answers and was simply afraid to listen. "I–I–"
"Forgive me," Rosemary apologized. "I shouldn't have asked that. None of my business. I didn't mean to pry."
"I didn't think you were. I just can't answer the question. Not quite yet."
"Well, you couldn't have picked a more beautiful setting to chase away the cobwebs in your mind. Torquay will do wonders for you. I should know. My parents sent me here from London when I was a child during the war. Torquay was considered safer than the towns in the southeast. However, it did sustain some bomb damage, largely from planes dumping excess loads after participating in the Plymouth Blitz."
"Really? I wasn't aware of that. You must know the town extremely well then."
"Yes, I do. I stayed with my aunt, my father's sister. She and my uncle welcomed me with open arms. I was treated like another daughter. They had two girls, who were around my age, and a boy. He was seven years younger. The baby of the family and the apple of everyone's eye. We all got on famously from the start. I keep in touch with my cousins to this day. They still live down here. When my children were small, Denis and I brought them down here every summer, and we all had the most marvelous time together. Cousins mingled with cousins. One big happy family." A smile touched her lips at the memories. "I wish the children could have remained small forever. I could protect them back then." She sighed and turned back to Emmeline. "Ah, well. It was all a long time ago. This is the first time I've been back to Torquay in years. Rosie recently got a job down here and I came for a short visit."
"How nice. I must say I was awfully lucky to have run into you this afternoon, Rosemary. Would you care to continue our conversation over tea or is your daughter expecting you?"
"You've spent too much time already listening to the maudlin ramblings of an ol–" Emmeline lifted an eyebrow and cocked her head to one side. "–mature woman," Rosemary continued. "You're young. Go out and explore Torquay. Enjoy your holiday."
"But I am enjoying myself tremendously. I'm just sorry Gran isn't here. You'd like her very much. I'm guessing you're about the same age. I'm sure that the two of you would have a lot in common."
"We already do. We like you. In just half an hour, you've bucked me up no end."
"Oh." Emmeline blushed. "That's nice of you to say. Sometimes it's simply easier to talk to a stranger."
"But we're not strangers anymore, my dear."
Emmeline smiled. "No, we're not. So can I tempt you with a cup of tea, friend?"
Rosemary tucked her arm in the crook of Emmeline's elbow. "I can't think of anything else I'd rather do. However, I insist that it be my treat."
"But–"
"No, my dear, I will brook no arguments."
Emmeline shrugged her shoulders in resignation. "All right. I saw several little cafés along the Strand. Shall we go there?"
"Would you mind terribly if we went back to my hotel? I'm feeling a bit tired and they do a lovely tea in the conservatory?"
"Of course, not. Where are you staying?"
"The Royal Devon."
"The Royal Devon? What a funny coincidence. That's where I'm staying too."
"Then we'll be seeing a lot of one another over the next few days."
"Yes. We can plan an outing together and perhaps I can even meet Rosie. I'm surprised you're not staying with your daughter."
"I didn't want to impose. She doesn't need her mother hovering about the house. Besides, all those years ago when I was a girl, I dreamed of one day having enough money to stay at the Royal Devon. So you see it's a treat for me."
"And for me too. Let's go."
***
Emmeline and Rosemary found themselves swallowed into a beehive of activity the minute they entered through the double doors of the hotel lobby. Maids were rushing about polishing table surfaces and the chandelier, as well as buffing the already gleaming marble floor. "I wonder what's going on?" Rosemary asked as she was nearly knocked down by a porter, who apologized profusely.
"I have no idea," Emmeline said. She caught a glimpse of Connie at the reception desk as she pulled Rosemary out of the fray. "Here, why don't we go over to reception. I have to collect the key to my room and we can find out what the fuss is about from that nice young woman I spoke to earlier."
Rosemary mumbled something that Emmeline didn't quite catch, but assumed it was agreement. She gently guided her new friend across the lobby. "Hello again, Connie."
The young woman had returned the receiver to its cradle and was just punching something into the computer. "Oh, Miss Kirby," she said, startled. Her blue gaze swept over Emmeline and Rosemary. "And Mrs. Dunham. Good afternoon. Miss Kirby, your bags have been taken up to your room. Here is your key. You're in room three-o-three. It has a magnificent view of the sea." She handed over the key to Emmeline.
"Thanks very much. I can't wait to see it."
"Is there anything else I can do for you, Miss Kirby, or you, Mrs. Dunham?"
"Actually, Connie, we were wondering what's going on here?" Emmeline waved her hand at the bustle behind her.
A pink flush colored Connie's creamy cheeks. "On the Royal Devon's behalf, I must offer you ladies our sincerest apologies. Ever since we received the call about an hour ago that a VIP and his wife were coming to stay with us for two weeks, the staff has been at sixes and sevens, trying to ensure that everything is perfect."
"Surely, you've had other VIPs as guests before. What makes this couple so special?" Rosemary asked quietly.
Connie looked intently at the older woman for a second before responding. "I shouldn't be telling you this." She lowered her voice. "And you must promise to keep it to yourselves." Emmeline and Rosemary nodded and leaned in closer. "It's Sir Frederick Cabot and his wife."
"Frederick Cabot? The billionaire who has his finger in everything from oil and shipping to multimedia companies, and who was knighted by the Queen two years ago for his philanthropic works," Emmeline whispered.
Connie darted a glance to her right and left to make certain no one had overheard them. "That's him."
"He lives abroad, doesn't he? Somewhere in France, if I'm not mistaken."
Connie nodded. "That's right. However, he was born in Devon, near Exeter. He has a house here in Torquay and comes back every April. He usually stays about a month and then flees before the summer tourist season gets into full swing. This year, though, he's having some work done on the house. He's only coming down for a short visit. He wants to show his wife the villa and a bit of the area, before they're off to more exotic climes. I believe they only got married in October."
"Practically newlyweds," Rosemary murmured. Her slate-blue eyes never left Connie's face.
The younger woman inclined her head imperceptibly and went on. "From what I understand, Lady Cabot is much younger than her husband."
"Ah, that's the lay of the land, is it?" Emmeline said knowingly.
"Yes. Supposedly she's extremely beautiful, but she shuns the press like the plague. There's no photograph of her anywhere."
"That's rather curious, in view of the fact that her husband owns a string of newspapers and cable companies across two continents. You'd think a man like that would enjoy showing off his trophy wife."
"And another thing–"
"Constance, what's going on here?" A stern gentleman with a receding hairline and dressed in a charcoal suit suddenly materialized. He peered down imperiously at her through half-moon glasses.
"Oh, Mr. Harcourt, I didn't see you. I was just assisting Mrs. Dunham and Miss Kirby. They're new guests."
Emmeline sensed that Mr. Harcourt must be Connie's boss. "Yes, thank you, Connie. You've been most helpful. I think Rosemary and I will take your advice and visit Kent Caverns tomorrow. Perhaps, we'll do an outing to Cockington on Wednesday. You made the little thatched village sound so enchanting."
"It is. You'll love it, Miss Kirby," Connie replied aloud, while she mouthed a relieved thank you.
"And you said that we can take tea now in the conservatory?"
"Yes, that's right. It's just around the corner to your left."
"Thanks again. Mr. Harcourt, I must say that I've never been in a hotel where the staff is so kind and attentive," Emmeline said with a smile that was intended to melt even the stoniest of hearts.
"Yes, well, I must get on," he blustered to cover his embarrassment and quickly disappeared into the office.
Connie exhaled. "Thank you, Miss Kirby. I'm ever so grateful. He's not a bad sort, just a bit of a stickler." She jerked her head in the direction of the office door. "For a minute there, I thought he was going to sack me. I only started two weeks ago, but I really like it here."
"Don't worry, my dear," Rosemary said as she patted Connie's arm lightly. "We won't breathe a word of what you told us to anyone."
Connie put her strong young hand over the older woman's blue-veined one and gave it a quick squeeze. "Thanks. Now, I must go before Mr. Harcourt reappears."
***
Emmeline and Rosemary had just ordered tea and were chatting amiably about novels they had recently read, when Connie came hurrying across the conservatory toward their table. "Miss Kirby, I'm terribly sorry. What with all the fuss over the Cabots and Mr. Harcourt popping up like that, I forgot to give you this. It came while you were out." She handed Emmeline a small brown-paper parcel. It was stamped with the name of rare bookshop in London and had her name and the hotel's address printed across the front in bold capital letters.
"I don't understand. I didn't order any books. And certainly not to be delivered here. There was no note or anything with it?" Emmeline asked Connie in confusion.
"No, the gentleman just left it at the desk. I'm afraid I have to get back. I'll leave you to unravel the mystery."
"Yes, of course. Thanks, Connie."
Emmeline frowned as she turned over the package several times.
"Aren't you going to open it? You won't know what it is otherwise," Rosemary prompted.
Emmeline laughed at her friend's curiosity. "I already know that it's a book. But you're right. Perhaps there's a note inside." She proceeded to tear the paper. What emerged was an elegantly bound first edition of Elizabeth Barrett Browning's Sonnets of the Portuguese. She caressed the claret leather cover and carefully leafed through the volume, pausing from time to time to pour over familiar stanzas. But there was no trace of a note to be found anywhere.
"A volume of the most romantic love poetry. What a handsome gift. You must have a secret admirer. How exciting." Rosemary gleefully clapped her hands together as a child might do.
The kernel of a thought was forming in the back of Emmeline's mind. "A secret admirer. I don't think so," she mumbled. There was only one person who could have sent this book.
© 2017 by Daniella Bernett
Tracy Grant:
"Escape to Torquay with Emmeline and Gregory for a seaside whirlwind of mystery, romance, and unexpected secrets that will leave you eagerly anticipating the next book in the series!" ~ Tracy Grant, author of Gilded Deceit
DE Ireland:
"Dark secrets, deceit and murder threaten Emmeline and Gregory's future along the scenic Devon coast…A story sure to please fans of romantic suspense." ~ D.E. Ireland, authors of the Agatha-nominated Eliza Doolittle and Henry Higgins Mysteries
Bookliterati Book Reviews:
Daniella Bennett is a very descriptive writer. She pays a lot of attention to detail, in the setting of the book, it's scenery, and location, and to her characterization. Emmiline is a very likeable character, very trusting and thoughtful towards others; someone who liked to see the good in others, you see what you get. Whilst Gregory Langdon can be evasive, mysterious and is always holding some of himself back. He is like a complex puzzle in that he has so many different layers, almost different personas depending on who he is with. The femme fatal of this thriller is Lady Veronica Cabot; thirty years younger than her husband, having an affair with her husband's nephew, and is able to make most men go week at the knees. She is sultry, sexy and scandalous, there is a lot not to like about her. It is this triangle of characters that are the main players in this thriller, and the way they bounce off each other, and interact adds tension and suspense to the plot. From Beyond The Grave is a tense thriller that had me hooked from the first page, and kept my attention until the last; it has even made me go and buy the previous two books in the series. The attention to detail, the layers of deceit and lies between the characters, and the plot combine to make this an enjoyable read. ~ Bookliterati Book Reviews READ FULL REVIEW