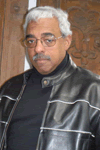 A lifelong resident of the Nickel City, Gary Earl Ross is a retired University at Buffalo professor, novelist, public radio essayist, and playwright.
His sixty-plus short stories have appeared in many magazines and journals, as well as anthologies, among them "Intimacy" (2004, Penguin/Plume), "Wicked: Sexy Tales of Legendary Lovers" (2005, Cleis), "Medium for Murder" (2008, Red Coyote Press), "Darker Edge of Desire" (2014, Cleis), and "Buffalo Noir" (2015, Akashic).
His historical novel Blackbird Rising was published in 2009 by Full Court Press, a small Buffalo publisher, and his plays, most of them mysteries, have been performed in various US, Canadian, and English cities, as well as in Shanghei, China, Manipal, India, and Almaty, Kazakhstan. The Guns of Christmas and The Mark of Cain won, respectively, the 2015 and 2016 Emanuel Fried Outstanding New Play Award. Matter of Intent, performed in Buffalo in 2005 and London in 2009, won the 2005 Emanuel Fried Outstanding New Play Award and the 2006 Edgar Award from Mystery Writers of America. For more information visit www.garyearlross.net.