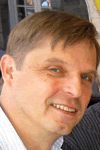 Born in Budapest, Hungary, Geza Tatrallyay escaped with his family in 1956 during the Hungarian Revolution, immigrating to Canada the same year. He grew up in Toronto, attending the University of Toronto Schools, where he was school captain. He graduated from Harvard University with a BA in Human Ecology in 1972 (after taking a break in his studies to work as a host in the Ontario Pavilion at Expo'70 in Osaka, Japan). Tatrallyay was selected as a Rhodes Scholar from Ontario, attending Oxford University and graduating with a BA/MA in Human Sciences in 1974. He completed his studies with a MSc in Economics from London School of Economics and Politics in 1975. He represented Canada as an epée fencer in the 1976 Olympic Games in Montreal.
Tatrallyay's professional experience has included stints in government, international organizations, finance, and environmental entrepreneurship. Since 2004, he has been semi-retired, managing a few investments mainly in the clean energy sector and devoting himself to his family and his writing.
Tatrallyay is a citizen of Canada and Hungary, with an American wife, a daughter living in San Francisco, and a son in Nairobi, and currently divides his time between Barnard, Vermont, and San Francisco.
HIs books include: Arctic Meltdown, a political / environmental thriller, e-published on Amazon and Smashwords, December, 2011; Twisted Reasons, the first book in the "Twisted" trilogy of international crime thrillers, (Deux Voiliers Publishing, 2014); Cello's Tears, a collection of poems (P.R.A. Publishing, 2015); For the Children, the narrative memoir of the author's escape from Hungary and immigration to Canada, (Editions Dedicaces, 2015); The Expo Affair, the memoir of three Czechoslovak girls who approached the author during Expo70, the world's fair in Osaka, Japan to help them defect to Canada, (Guernica Editions, 2016); Twisted Traffick, the second book in the Twisted trilogy (Black Opal Books, 2017); Twisted Fates, the third book in this trilogy (Black Opal Books, 2018); Sighs and Murmurs, Geza's second collection of poetry (P.R.A. Publishing, 2018); Rainbow Vintner, an international political thriller (Black Opal Books, 2019); Extinction, a third poetry collection (P.R.A. Publishing, 2019) and The Fencers, Geza's memoir of how he helped a Romanian fencer defect to Canada at the Montreal 1976 Olympics (Deux Voiliers Publishing, 2019). For 2020, P.R.A. Publishing has contracted to publish The Spinning Mind, Geza's first collection of short stories–two of which appeared in The Marginal Ride, an anthology of short stories (Guernica Editions, 2019) and Black Opal Books is bringing out an updated rerelease of Geza's very first, originally self-published, thriller, Arctic Meltdown. Geza is now readying a fourth poetry collection, Extinction Rebellion, for publication and working on a sequel to Arctic Meltdown as well as a murder mystery
Website: http://www.gezatatrallyay.com
Twitter: https://twitter.com/*****!/GezaTatrallyay
Facebook: http://www.facebook.com/profile.php?id=100003270478058&sk=wall
Linked In: http://www.linkedin.com/profile/view?id=146303690&trk=nav_responsive_tab_profile