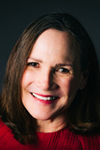 Glenda Burgess was born in New Mexico, the daughter of a US Air Force Lieutenant Colonel in the Strategic Air Command. Her first published work at the age of nine was printed in The Spokesman-Review newspaper for the payment of one dollar.
Burgess graduated with distinction from Indiana University, Bloomington, with a minor in English and a BA in Political Science in International Studies, the recipient of the Wendell L. Wilkie Distinguished Student Award. After earning a master's in Public Affairs from the Evans School of Government at the University of Washington, Burgess was nationally selected to serve as a Presidential Management Fellow in the prestigious government executive development program initiated under President Jimmy Carter. After completing more than a decade of government service on Capitol Hill and for the US State Department in Washington DC, she transitioned her career into full-time writing.
In an intensive post-graduate education in creative writing, Burgess attended university classes, writers workshops, and master seminars at the University of California at Berkeley, the Creative Writing Program at Stanford, the University of Washington, the Maui Writers Workshop, and the Aspen Writers Workshop, to name a select few. She has been fortunate to attend writing retreats and endowed creative residencies and is frequently invited to teach craft and narrative voice at writers workshops and conferences. She has presented her work and led workshops at the Pacific Northwest Booksellers Conference, Portland's Wordfest, the Writers Workshop series at A Book for All Seasons, the Hawaiian Writers Conference, and Eastern Washington University's Get Lit! Literary Festival.
Her work includes a memoir, The Geography of Love, (Random House/Broadway Books); two novels, Exposures and Loose Threads, first published in the UK; and an academic work for the University of Washington, A Special Collections Thesaurus: Women Studies. She has written critically acclaimed short stories and published essays, as well as book reviews in literary journals and freelance articles. She also writes at her blog, Quintessence, on topics relevant to literature, poetry, and elements of creative writing.
Burgess lives in Spokane, Washington. She blogs on writing at Quintessence.
GLENDA BURGESS is a winner of the Rupert Hughes Award for literary fiction and a short story finalist for the New Century Writer Award. Her memoir, The Geography of Love, was named a Ten Best Books of 2008 by the Seattle Post-Intelligencer and a finalist for the 2008 Books for a Better Life Award.