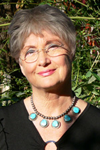 Harol Marshall was born during a record-setting blizzard in Upstate New York. In her first book of heartwarming short stories, Growing Up With Pigs, she writes about her childhood with her four younger brothers on their family farm. The daughter of a police chief and named for her attorney uncle, Harol's interest in law enforcement comes naturally, spurred on by her father's dinnertime storytelling, and by her grade school librarian who introduced her to Perry Mason mysteries.
An anthropologist by training, Harol retired after thirty years in academia, trading in research papers for mysteries. She has authored ten books and a number of short stories some of which have appeared in e-zines, including: Akashic Books' Mondays are Murder series, The Cynic Online Magazine, Southern Women's Review, and East of the Web.
Harol has two children and two stepchildren. Her daughter is an English teacher and blogger, and her son is a former standup comic and author. Harol and her physicist husband live in North Carolina with their three cats. When she's not at the keyboard, she's dancing, cooking, traveling to see her grandchildren, or watching cop shows on TV.