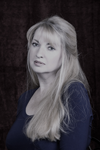 Jane Jordan was born in in England, then, in the 1990s, she immigrated to Detroit, USA, eventually settling in South West Florida.
She returned to England, after a fifteen-year absence, to spend six years in the South West of England living on Exmoor. Here, inspired by the atmosphere, beautiful scenery, and the ancient history of the place, she wrote her first novel Ravens Deep. The next two books Blood & Ashes and A Memoir of Carl completed her gothic vampire trilogy.
Jordan's fourth novel was, The Beekeeper's Daughter, a historical dark romance combined with a supernatural thriller.
While England and Scotland provided a backdrop for previous novels of vampires, witches, and haunted mansions, New Orleans presents a setting for her fifth novel, Whisht Hall, a multilayered thriller that combines the age-old struggle between good and evil, a tale steeped in voodoo, the culture of the deep south, and the hauntingly desolate Dartmoor.
Jordan returned to Florida in 2013, and now lives in Sarasota with her family.