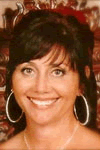 Joanne Efendi is a lover of books and the written word. It had been a life-long dream of hers to write and publish a novel—a dream that she finally fulfilled in early 2014 after writing YA Paranormal Romance Illuminated Darkness and being signed by Black Opal Books.
Efendi grew up in sunny Queensland in Australia and currently resides on the Sunshine Coast with her husband and two sons. She has always had a passion for writing and is a former radio announcer and journalist. Currently she works in her other passion—teaching children the vital, life-saving skill of learning to swim. In her spare time she likes to drink coffee with her friends and train and compete (very badly) in triathlons.
Efendi also has a New Adult romance novel entitled Freefall due for release late 2015, and a YA contemporary novel that draws from her love of Bali, entitled Balinese Princess, she hopes to release soon. Efendi also has plans to write a sequel to Illuminated Darkness, that will be titled Darkness Enveloped.