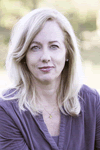 Judithe Little earned a degree in Foreign Affairs from the University of Virginia. After a brief time studying in France and interning at the US Department of State, she earned her law degree from the University of Virginia School of Law, where she was on the Editorial Board of the Journal of International Law and a Dillard Fellow. She lives with her husband and three children in Houston, Texas, where she practices law, rides horses, and fosters rescued pugs.
Little's historical novel, Wickwythe Hall, is set in 1940. Wickwythe Hall goes behind the blackout curtains of a British country house where the American wife of a wealthy Brit, a French refugee desperate to contact her Legionnaire brothers, and a mysterious champagne vendor who turns up the weekend Winston Churchill comes to visit, collide with tragedy in a far-off Algerian port. A note in a biography of Coco Chanel about a little-known confrontation between the British and French navies during World War II inspired Little to imagine her characters and bring this story to life. She is currently working on a second historical novel that takes place in France near the turn of the century.
To learn more about Little and Wickwythe Hall, please her website: www.JuditheLittle.com.
Wickwythe Hall was a finalist in the 2013 William Faulkner-William Wisdom Creative Writing Competition and the Writers' League of Texas 2009 Agents Conference Manuscript Contest.