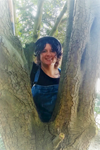 Kathryn Rossati spent most of her childhood in Essex, only moving to the Isle of Wight when she was thirteen. It was a difficult change, as the school system was very different, and as she had trouble in social situations, she had few friends. It didn't particularly bother her though. She had always been a book lover and spent a lot of time with her favorite characters instead, and if she wasn't reading, then she was writing.
Creating worlds and characters has always come easily to her, and she wrote short stories and scribbled down ideas for books for most of secondary school/high school. Yet it wasn't until her last year at college, when her Performing Arts tutor took her class to an open day at Portsmouth University and she listened to one of the creative writing lecturers speak, that Rossati decided to take things further. She signed up for The Open University, took three of their creative writing modules, and also found out about National Novel Writing Month (NaNoWriMo), which she completed six years in a row.
All the while, she'd had a goal for herself to become a published author by the end of her twenty-sixth year, and in August 2017, just a month away from her twenty-seventh birthday, she achieved that goal when Unofficial Detective, the first book in her Half-Wizard Thordric trilogy and the result of her first NaNoWriMo, was published under her pen name Kathryn Wells by a small independent publisher. She now has four books out, another two scheduled for release in 2019, and one scheduled for release in late 2020, as well as her first full-length poetry collection.
In terms of inspiration, her favorite author is Diana Wynne Jones. Rossati has a whole shelf of her books, and her eventual aim is to collect her entire written works. However, there are many, many authors who have lit her imagination over the years, and the list keeps on growing.