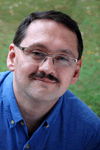 Ken Newman has loved stories of the supernatural since listening to his grandmother's tales of witches, haints, boogers, and catawamps when he was a child. Author of urban fantasy novels, The Paladin, The Ark, The Voice in My Ear, and Forsaken (Black Opal Books in 2015), his fiction reflects his Tennessee roots and his love for all things-that-go-bump-in-the-night.
Mixing folklore with modern themes, Newman's novels create a twisted universe of supernatural creatures and larger-than-life heroes where nothing is as it seems.
When not writing, he enjoys sculpting, cheesy monster movies, and building the occasional trebuchet to keep the neighbors in line. A member of the Authors Guild of Tennessee, Newman lives in East Tennessee with his long suffering wife Christian and their three zany daughters.
Please feel free to contact him. He would love to hear from you.