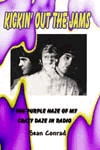 BY: SEAN CONRAD
A record spinner's memoirs…
The true story of the day-to-day, play-by-play adventures of a young, insecure, teenage wallflower, from a small Midwestern factory town, who dives head first in to the rabbit hole of psychedelia, flaxen, waxen, sex, drugs, and rock and roll.
In the dawning of the Age of Aquarius, Sean Conrad experiences the ups and downs of having just too damn much fun—and the consequences that come with it. From hanging out with rock stars to being homeless…and back again. From Porsches to the potholes of life. From scribbling autographs to signing divorce papers. Can there possibly be a happy ending?

TAYLOR JONES SAYS: Sean Conrad's book Kickin' Out the Jams is a very candid look at an ambitious guy who fell in love with radio at a young age, knew what he wanted, and went after it with gusto. Replete with sex, drugs, and rock and roll, Sean takes you on a journey through his life in radio when radio was everything.
From Little Richard to The Cars, and from Chicago to Hawaii, Conrad recounts the wild ride of his life in the music industry. From his highest highs and his lowest lows, he tells a tale of great success and great loss, and of coming full circle. Once you start, you just want to keep you turning the pages to see what happens to him next.
REGAN MURPHY SAYS: Kickin' Out the Jams by Sean Conrad is a fun read. It's a lighthearted romp through the life of a music DJ that opens a view into a whole new world. I remember listening to, and having a crush on, several of the DJs Conrad mentions in his book. It was great to learn a little the guys I once had such romantic teenage fantasy about.
The man's had an amazing life, from driving under the influence and creaming three cars on his way home, to partying with the like of John Lennon and Michael Jackson's family, Conrad has done just about everything imaginable and managed to survive. He recounts these experiences with humor, a touch of sadness in places, and a down-to-earth perspective that's highly appealing. This is a book that you'll want to keep on your shelves and revisit time and again.
PROLOGUE
Goldie Hawn was the first person I saw when I walked into Lou Adler's mansion that night. Coming out of a small bathroom just off the foyer, she was dressed in only a huge, oversize football jersey. The black marks under her eyes made her look like a parody of a pro football player.
In the main living room, I found myself shoulder-to-shoulder with bigger than life stars like Warren Beatty, Sonny, Cher, and Jim Brown. My wife, Beth, and I stood next to a table full of exotic food, holding drinks and facing each other. Just behind Beth, John Lennon conversed with his current girlfriend, Mai Pang, who interestingly enough resembled Yoko Ono.
We were two of the very few people at the party without a star on the Hollywood Walk of Fame. This was truly an honest to god private, inside the movie industry holiday gathering so darting from room-to-room with an autograph book was not an option.
"Beth, we've just got to try and meet him," I told my wife. "If we don't, we'll regret it for years to come."
"How do we do it without being obvious?" she asked.
We stood there trying to get up the courage to pounce, knowing he could wander away to another room any second.
"Okay, let's just brush by him on our way to the next room, and I'll say something like, 'Oops, sorry.'"
The room was wall-to-wall people. A few steps, a hesitant stumble, and the deed was done.
"John, my name is Sean Conrad and this is my wife, Beth. I'm the program director of KHJ Radio." Everyone knew the power of KHJ, including John Lennon, who had a solo career going and needed air play like any other artist.
"Nice to meet you," he replied in proper British accent.
I'd done it. It was a once-in-a-lifetime event for a kid from Beavercreek, Ohio. I remember thinking, Wow, I've really made it.
How I got there is another story…
Sock Monkey Sound:
Thursday, June 20, 2013: Todd Monahan of SockMoneySound.com call Kickin' Out the Jams by Sean Conrad a fun, fast read.
He says: "Kickin' Out The Jams: The Purple Haze Of My Crazy Daze In Radio is a short, straightforward chronicle of life in the radio industry during its 1960's and 1970's heyday…Kickin' Out The Jams is a fun, fast read that never takes itself too seriously. Conrad met and befriended some legendary people, but writes from the perspective of a hardworking Everyman whose successes came from a determination to succeed as well as a little luck. He doesn't always write in the most elegant fashion, but that's part of the book's fun and charm…It's a lighthearted, charming book that covers a fascinating life." READ FULL REVIEW
You can get the audio version of this book HERE.