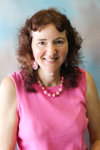 Laura Stewart Schmidt is a lifelong avid reader and writer who was inspired by "Good Books for Bad Children" such as Harriet the Spy, Emily of New Moon, and Otis Spofford. She studied Political Science and Criminal Justice at the University of Missouri, St. Louis, and spent several years working as a community education coordinator, encouraging parents to read to their preschoolers and starting reading clubs for middle-school students. For two years she was a family court advocate for at-risk youth and parents suffering from substance addiction. She worked for several years at a non-profit agency offering one-on-one support for children and adults with developmental disabilities and their families.
Her mystery Step Daughter won third prize at the 2016 All Write Now! Flash Fiction contest. Her short suspense story, "With Friends Like These," appeared in Heater Magazine's September 15, 2016 issue.
Like Don't Fear, My Darling's Louisa, Schmidt spent several years as an active member of the American Indian Society and is a veteran of the powwow and festival circuit. Schmidt is a member of Sisters in Crime, the Society of Children's Book Writers and Illustrators, and the Pacific Northwest Writers' Association. She lives near St. Louis, Missouri, with her husband and two dogs.