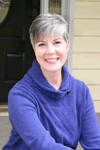 Lisa Ricard Claro is an award-winning author with published novels, articles, essays, and short stories spanning multiple media.
An Atlanta resident for decades, Claro yearned for the beach. She collected sand dollars and seashells in anticipation of the day her inner mermaid would rise and declare, "Enough already. For the love of Poseidon, woman, get thee to the saltwater and sand!"
Heeding her inner mermaid, Claro now resides on Florida's gorgeous Gulf coast. She shares her life with an indulgent husband, two cheerful dogs, and an affectionate-to-the-point-of-madness cat. Claro is mother to three—a handsome son and two beautiful daughters—and is waiting for the day she can add 'adorable grandchildren' to her bio. (No pressure, kids, no pressure.)
Claro has a heart for rescued pets, and you'll find one in all of her books. Sometimes their rescue is part of the story, as with Pirate the dog in Love Built to Last, and sometimes they're already ensconced in their forever home like Pavarotti the cat, in Love to Win. As you read Claro's novels, watch for the rescues.
A fan of every genre, Romance is one of Claro's favorites because she believes in love and happily-ever-after. She's a Mystery buff too, and a whodunit is coming soon. But no matter the genre, Claro's books are written from her heart with inspiration from mermaid wishes, starfish kisses, and silky sand between her toes. (Okay, okay—and maybe the occasional margarita or daiquiri. Mermaids love that stuff!)