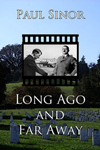 BY: PAUL SINOR
The biggest secret of World War Two may be about to be revealed—totally by accident. If the truth gets out, history may have to be rewritten, counties may go to war, allies may become enemies, and lives will be lost. One of those affected is Max Maxwell, and he's not happy about it. He stumbles on the secret when his uncle, a WWII veteran dies, and Max and his brother go through his belongings. From that day on, the fuse is lit, and there's enough explosive to destroy Max and everything he holds near and dear. He finds out exactly what the United States Government will do to keep a secret and how far it will go to destroy someone who can reveal it…

TAYLOR JONES SAYS: In Long Ago and Far Away by Paul Sinor, private investigator Max Maxwell is on the case again, this time in Washington DC. His uncle, a retired general who served in World War II, dies and Max and his brother find something in their uncle's possessions that could affect national security. Powerful people in the government want it, and they don't care what they have to do, or who they have to kill, to get it. While Max is harder to kill than most people think, it will take all of his skills, smarts, and contacts to get him out of this one.
Written in Sinor's unique and refreshing voice, the story combines intrigue, black ops, and suspense, with just a hint of romance, to make this one to remember. A really great read.
REGAN MURPHY SAYS: Long Ago and Far Away by Paul Sinor is the story of a Pacific Northwest private investigator who ends up on a case in Washington DC. Only this time, it's personal. Max Maxwell lives in the Puget Sound in Washington, but when his uncle dies, Max heads for Arlington to the funeral. After the funeral, Max and his brother Curtis are asked by their aunt to go through their uncle's things and decide what to keep, give away, and/or throw away. But they discover something from World War Two, when his uncle was a general in the army, that could have serious repercussions for US national security. An errant comment from Curtis's wife, and all of a sudden, Max's world is turned upside down and everyone he cares about is in danger. Calling in favors from his old army boss, and sometimes current client, Max struggles to get to the bottom of both the mess he finds himself in and the murder of his godfather, his uncle's best friend. What he finds is a rogue government agency that holds little value for human life and believes the end justifies the means, regardless of who they have to dispose of, to which Max takes great exception.
Well written, fast paced, and intriguing, Long Ago and Far Away is a fascinating tale of mystery, espionage, black ops, and murder. Once you start it, you won't be able to put it down until the end.
Chapter 1
It was a sound I hoped I never got used to hearing. It came from far away at first. I tried to block it out by listening to a bird chirping in a nearby tree, but that didn't work. The late afternoon sun was easing its way west when I first picked up the distinct sound of metal grinding against the pavement. Then in rapid succession came the sound of leather creaking and the gentle clop, clop of horse's hooves. Soon the symphony of wagon wheels and horse hooves melded together to become the unmistakable sound of a horse-drawn artillery caisson bearing the body of a member of the military on that final journey through the curving, hilly roads of Arlington National Cemetery.
This, at least for the people gathered beneath the canopy covering the freshly opened grave, was not just another funeral. This was personal. The Honor Guard Platoon in their dress blue uniforms sat astride the horses following behind the caisson. The occasional sound of a dress sword clanking against another metal fitting either on the rider or the saddle was heard. As they drew nearer, one of the horses gave a short whinny while tossing his head from side to side causing his harness to make yet another distinctive noise. By this time, even the bird had stopped chirping and all eyes and ears were attuned to the matter at hand. The funeral of Major General Harry Lee Maxwell.
General Maxwell had been a member of the 505th Parachute Infantry Regiment. He was a Pathfinder at Normandy and had jumped in the night before to mark landing zones for those to follow. Wounded twice and sent back to England to heal, he had been released from the hospital just in time to be sent to a little town in Belgium where he got to participate in the Battle of the Bulge. At the end of the war, as a captain, he was one of the first men to enter Hitler's headquarters. Major General Maxwell saw combat in Korea as a battalion commander. Twenty years and three promotions later he was at the Pentagon when Saigon fell to the North Vietnamese. After WWII, he had begun a career in the intelligence field and his record was impeccable. None of that mattered today as the Honor Guard slowly lifted his coffin from the caisson and side-stepped to the open grave where they placed it.
I watched as they made their way to the open grave and saw the small group of people stand around it. Six chairs were placed along the side of the opening. These were reserved for the family. One chair was occupied by the general's widow. She wore a simple black dress and shoes with a small heel. A black hat sat on the back of her head on a knot of gray hair. When the coffin was placed atop the contraption that would lower it into the ground, she along with the other family members, took their seats. All but one.
The general was my great uncle, and I stood beside his widow, my Aunt Helen and held her frail arm to steady her as she regained her seat. The general was my father's uncle and since he and Aunt Helen had no children, my brother Curtis and I were as close to them as if we were their own children. If they were assigned to anyplace in the United States, my brother and I would usually spend several weeks with them during the summer. Being around my uncle was one of the determining factors for my having made the army a career. I knew he was proud of me, but I always thought he would not be happy unless I got at least one star.
Aunt Helen sat ram-rod straight as we watched two men take the flag from the casket, snap it taut, and make the folds necessary to have it come out as a triangle. The flag was clutched to the chest of the man who did his precise facing movement and handed it to the colonel who would present it to the widow.
In five minutes, it would be over. A military career that lasted over thirty years and three wars had come to an end. She had been with him from his graduation from the US Military Academy, though wars, untold separations, and managed to become the wife and partner required of a military spouse.
I placed my hand on the back of the metal folding chair where she sat as the colonel approached. Like the Honor Guard, he was in his dress blue uniform. He wore a ribbon rack indicating twelve awards. The highest of which was the Bronze Star. He had the obligatory Combat Infantryman's Badge, Parachute Badge, and Ranger Tab necessary for him to ever think of being promoted to general. His impressive career would pale if compared to the men who stood behind the row of chairs where my aunt sat. Two of the men dressed in uniforms older than the men who folded the flags were veterans who had served in WWII with the general. His best friend, a retired colonel, that my brother and I had always called Uncle Mike, stood as steady as he could while holding a cane in his right hand.
As the colonel approached Aunt Helen, she straightened herself in the chair and placed her hands in her lap. The colonel leaned down to her level and extended the flag using both hands to lay it atop her outstretched hands. He straightened himself and offered a final and slow salute with the obligatory words of condolence extended by the president and the secretary of the army on behalf of a grateful nation. Once he finished, the firing squad broke the silence with a volley. From a distance a bugler blew "Taps," and for the first time I watched as tears rolled down Aunt Helen's cheek. I was not stronger, and in spite of all I could do, I shared that emotional moment with her.
The Honor Guard remounted and rode away taking the caisson with them. A crew stood discreetly in the distance ready to fill in the grave when the last person left the site. Aunt Helen, still the gracious army wife, steeled herself to talk to the men and women who knew Uncle Harry and had worked or served with him. As the last one walked away leaving my mother and father, my brother Curtis and his wife Nancy and Uncle Mike beside Aunt Helen and me, no one seemed to have the right words to say.
Uncle Mike pointed with his cane to the casket. "You have no idea how much history is about to be placed in the ground with him." He looked at Aunt Helen, "I know you're going to miss him, but he left a mark on this nation that will be hard to emulate, if not impossible."
"And some of the things the two of you did left more than a few marks." For the first time that day, I saw the beginning of a smile on Aunt Helen's face as she reflected on years past.
Uncle Mike pointed toward the line of cars that brought us to the cemetery. "If I know Harry, about right now he'd say, 'Okay, everybody, suck it up. Let's go have a drink.'"
My dad shook his head and smiled in agreement. "Gin and tonic with two pieces of lime."
"Hell, yes, that was his drink. First round's on me." Uncle Mike headed for my car which I had rented when I arrived for the funeral.
***
I was in my office in Edmonds, Washington, a small seaside town a few miles north of the Seattle city limits. After retiring from the army, my family and I settled in the city. At that time, my family consisted of my wife and two daughters. Soon after I retired, my wife confessed that she was not as happy in the marriage as I thought she was and filed for divorce. Funny thing about military retirement is that if the military member had been married for more than ten years, the government believed the spouse was entitled to half the retirement pay. I guessed it was payment for putting up with deployments, separations, and the other excess baggage that military personnel dragged around with them. Now, two years later, my wife was living in Florida, my oldest daughter was married, and my youngest daughter was in still college. I never heard from my ex-wife, my married daughter was secure with her husband, and I only heard from the one in college when she needed money. After feeling sorry for myself for a while and wondering what I did wrong or what signals I missed, I finally got my shit together and set some directions in my life. I used my military police background to apply for and receive a private investigator's license from the state. At first, I took simple cases. Insurance claims, the occasional skip tracing, background checks for employment, and a couple of cheating husbands and wives. Up until six months ago, the most exciting thing in my life had been an occasional night at one of the local Indian casinos playing Texas Hold'em.
That changed when a diving buddy of mine was thought to have died by drowning in a diving accident. I didn't believe it and found out he had been murdered by a local police officer for having sex with mostly underage girls at the high school where he was a coach. It was during that investigation that I met Anna. We went diving together and, from our first meeting, I had been playing with fire where she was concerned. She was one of the most attractive women I had ever known. She lived in a small mansion on one of the islands in the San Juans, had more money than I would ever make, and was married. We had discussed this little inconvenience several times, and she assured me that she and her husband shared a last name, a house, and little else.
I thought my life could not get more complicated than that until I got a call one day from my old commanding officer. He was a retired two-star general and worked in Washington, DC, as a "beltway bandit" in the intelligence arena. He convinced me to take a "temporary" assignment with him, which resulted in almost getting both me and Anna killed in an international incident.
I left my apartment that morning and drove through the city to my office. I normally stopped at a local greasy spoon called the Tree Topper for breakfast, but I had stayed awake until nearly two in the morning trying to finish a book I was reading.
When I got to the office, I walked to the back room that served as a place for my coffee maker and a little bit of storage, though I didn't have much that needed storing. I fired up the coffee maker and watched as the liquid dripped from the top portion containing the paper filter and the coffee grounds and made its way down. At first, it was relatively clear and then as the water got hotter, the color began to change looking more and more like real coffee.
I didn't wait for it to finish and placed a cup beneath the stream and filled it with almost-brewed coffee. I took it to my desk and had a seat. The red light was blinking on my antiquated answering machine, indicating someone had called while I was not in the office.
A quick tap of the button and a voice came out of the machine. "Hi. It's me." It was Anna. All she had to say was "hi" and she had me. That one word seemed to be coming from a point in her body that required all her breath to squeeze it out. "I guess you've already gone home, so I won't bother you tonight. Call me when you get this message."
I wanted to call her immediately, but the red light indicated I had another call, so I hit the button to listen. It was my brother's voice and he was short and to the point. "Uncle Harry is dead."
© 2018 by Paul Sinor
Liza Black:
"Long Ago and Far Away takes an intriguing historical what-if and turns it into a twisting slolam of a tale that will keep you in your seat holding your breath until the very last word." ~ Lisa Black, NYT Bestselling Author of Perish