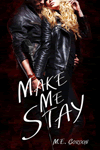 BY: M E GORDON
Caroline:
When someone says "Make me stay" in the most dramatic, love-sick kind of way, most people think it sounds desperate, weak, or needy. I, for one, think it sounds like all of the above! I'm not stupid, and I sure as heck am not desperate. In fact, I'm the complete opposite of weak. I've lived my live with a steel trap around my heart, and I don't need anyone—especially a man. So how in the hell did a wannabe rock star get me to say those three words…make me stay?
Kane:
One-woman man? You've got to be joking. I was a rock god…in a bar…in a small town…eh, details. I was getting women like I was their gift from God. I was going to make it big. My band and I were going to bust out of Small Town, USA, and we were going to knock the panties off every woman in sight. So, when I caught some sexy groupie touching my baby…my beautiful guitar, did I want to test those waters? Hell, yes! But did I want to be a one-woman man? Hell, no! But after that, all I knew was that I wanted to make her stay.
TAYLOR JONES SAYS: In Make Me Stay by ME Gordon, Caroline "Kitty" James is determined not to commit to sexy Kane Lawson, lead singer of One Night Stand. Kane is equally determined to make Kitty his, despite the issues they both face. He woos and wins her, or so he thinks. But when Kitty walks away and breaks Kane's heart, it may be more than they can overcome.
With a solid story from both points of view, a strong plot, and lots of steamy sex scenes, this is my kind of book.
REGAN MURPHY SAYS: Make Me Stay by ME Gordon is a steamy romance told from both the heroine and the hero's POV in first person. At first, I wasn't sure it would work, but it did, quite well. Our heroine, Kitty James brings a lot of baggage when she reunites with her father after a four-year estrangement. And it's not physical baggage but mental. Her mother's death has left Kitty unable to commit to relationships. She also has a dream job in New York after her summer in Nowheresville, Maryland, is over. So what if she has to leave the only guy she has every loved behind when she goes? Relationships never work out anyway, right?
Make Me Stay is a fun, heart-breaking and heart-warming story of love, loss, and forgiveness. Add in the hot love scenes, and you have a story you will want to read again and again.
CHAPTER 1
Caroline
For four years I had managed to keep my distance. I kept myself busy so I wouldn't have to think, or remember. Now I stood in front of the old building. My bags weighed me down, and so I dropped them. Spring was present, the trees all had early buds on them, flowers were poking up through the winter mulch, but there was still a slight chill to the air.
I stood before the large wooden doors, not sure if I really wanted to go through them. This building was my father's way of coping. He bought the place in the middle of his mid-life crisis. He packed up my childhood home–without asking me, I might add–and moved from our beautiful two-story house in our relaxed neighborhood and charming little town that was right outside of New York City. And this, was where he picked…Nowheresville, Maryland.
Okay, it wasn't "nowhere," it was forty-five minutes to Baltimore and an hour to DC but, to me, it was a foreign country. I knew nothing about this place. Glancing from side to side, I took in the surroundings. Surprise, surprise, nothing was to my left and nothing was to my right. It was a beautiful day and I was standing in the middle of an empty main street, one of the two streets that even existed.
If someone was looking for small town USA, it was right here. Although it was quaint, with about a mile or two of shops and eateries lining either side of the street, it was empty, and old, really old. I expected people to be walking up and down the street, holding hands, walking babies in over-dramatic carriages, a kid or two on the playground across the street in the park. My father had totally lied to me.
It was a Sunday afternoon and there wasn't a soul in sight. Craning my neck I took a deep breath and took in the tall three stories of the building. It was an end unit, in a row of attached buildings. An alley way, large enough for maybe a large SUV to fit through, separated the last building, a body shop that looked a little too rundown to actually be functioning.
The sign that hung in the middle of the ground-floor windows was lit up. I shook my head. He could have named it anything in world and all he could come up with was BJ's? My father named a bar, BJ's. It was the letters of his name, Benjamin James, but come on, Dad. BJ's? Really? It didn't help that there was another glowing, flashing sign on the other window that said BJ's you'll never go home disappointed. I should have run. I hadn't seen my father in four years, what's one more? I still can't believe that I agreed to work here until I could find a job. What was I thinking?
I was in the middle of planning my escape and excuse, when one of the large doors opened.
My father practically knocked me over in an embrace. "Caroline! You're here!"
There was something about being held tightly by your dad that seemed to take all your cares away. Holding my upper arms, he took a step back to admire me, and I got my first look at my father in the flesh. We had skyped and talked on the phone, but other than that, nothing. He was tall, with broad shoulders, surprisingly fit, his hair more salt than pepper. A few more lines appeared at the corners of his green eyes, but overall he looked good. I was relieved. I had this image of him looking worn and run down, beer gut, and unclean, but he actually appeared to be the complete opposite. His sprit was bright, and he looked happy.
If there was one thing I knew about my father, it was that he did whatever he could to make others happy. He worked his butt off when I was a kid, commuting to the city for a job that paid extremely well, but left him in a day in, day out, state of mind. He took the overtime that was offered and sometimes worked late at night, so my mother and I could have everything we ever needed.
Toward the end of my high school career, I could see my mother and father wearing down. He had moved all the way to the top of his company, but he hated it. My parents had more money than they knew what to do with, yet they were both miserable. So when I got a call, six months after my mother died, that my father had sold the house and moved here, I wasn't too surprised. That doesn't mean I agree with it. I mean, the man could have moved anywhere, the tropics, Europe, a log cabin hidden away. No, not my father. He decided to put roots down in Nowheresville.
"So, what do you think? Is it how you remember it?"
Remember it? What was my father talking about? He must have been getting drunk on his own liquor.
"Dad, I've never been here before, what are you talking about?"
Scratching his head he scrunched his face. "You probably don't remember. You were pretty young."
I nodded.
"Do you remember Uncle Brian at all?" he asked.
The name sounded familiar.
"Well, he's not really your uncle, he's my cousin. We came here a lot when you were little, probably until you were four, maybe five, I can't remember. Anyway, this is where they live. Don't you remember playing with his son JJ?"
I took a moment to search for anything I could on this JJ. A picture, in an old photograph binder we had, came to mind. I could see me sitting on a beach–no, not a beach, a lake. There was a little boy sitting next to me with his arm around my shoulder.
"I think I remember," I said, still trying to recall him.
"It's fine. You'll meet him tonight. In the meantime, I'm sure we have a picture of you two somewhere around. Your mother use to take them all the time–" My father immediately stopped talking. Still standing before me, he seemed to be miles away in a memory. Shaking his head a moment later, he smiled down me.
I felt like I should have said something about her, comforted him, but I didn't, because I didn't talk about it, not to him, not to anyone.
"So, what do you think?" he asked again, showing off the brick building.
Nodding and smiling at him, I said the first thing that came to mind, pointing to the glowing sign in the window. "I guess I'll never leave disappointed." His booming laugh took me by surprise.
"Oh, Caroline, I'm so happy you're here. You're not going to want to leave."
I huffed on the inside. I might have agreed to this for the summer, but I was moving on after that. College degree in hand, I was out of here and back to New York as soon as the summer was up and a job was in line. I needed the city. I needed the noise, people walking down the street, tall buildings. Hell, I even missed the rats in the subway. There was no way I was staying there any longer than I had too.
© 2016 by M. E. Gordon
Lynnette Wiles for  Ab Fab Book Blog:
5 Stars! I was given an arc in exchange of an honest review. I am so happy I was given this book as it is an amazing story. Caroline and Kane have such an explosion attraction that makes you anticipate what will happen next. I love that ME Gordon writes in a way you feel like a movie is going through your head. This is a must read that I will be recommending to everyone. The sex scenes are not too graphic but enough to let you know how hot it was. I fell in love with Kane and all the boys of One Night Stand. There is no way anyone reading this book wouldn't. I repeat awesome story and story telling. Please keep the story going with the band members. Even if you are not into rock star romance, you should read this book. ABSOLUTELY LOVED IT!!!! ~ Lynnette Wiles for  Ab Fab Book Blog
Abby Elsey:
So I read A LOT of books. Most of them tend to be the same scenario or they end the same. This book had me on the edge of my seat the entire time! The turns that you did not expect! I did LOVE this book. It was so different. The banter between her and the band and her sneaking off and just leaving. When he calls her name and she doesn't even turn around. Then you turn the page and you see 9 months later! Wow! Is all I can say. I was so scared there was going to be a cliffhanger after she got on the plane. I enjoyed this book so much. It even had cute humor in it and it was HOT!!  I feel privileged to have read it first. ~ Abby Elsey
Emma-Jane Read Reviews:
I was sent a copy of Make Me Stay for an honest review. M.E. Gordon did not disappoint. I read her debut novel Torn Hearts, which I loved. This time I went in blind. I had no idea what it was even about. I don't normally do rock band books. They all seem a bit similar, but this surpassed any I have read. The story of Kane and Caroline dragged me in and kept me up till 1 a.m. in the morning, just to finish this book.
Caroline is closed off to relationship's after the death of her mother, not willing to let anyone close. Kane is a rock band dog!! Sexy in every way but not one for relationships that last longer than just one night.
Can these two open up enough to see how good they could be together without hurting each other? You will have to read it for yourself to find out. Can't wait for another book. Looking forward to more from this author. ~ Emma-Jane Read Reviews