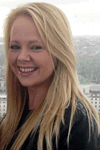 Melissa Speight lives close to the historic city of York, in the United Kingdom, with her family. After studying for an honors degree in Journalism she has since written three romance novels. Besides writing, Speight's main passions are travelling, adventure, running, yoga, and live music.
She is also an active supporter of cancer charities in the UK and, after conquering Mt. Kilimanjaro in Tanzania, she is planning her next fundraising challenges for charity.
Speight dedicates her literary career to the memory of her mum.