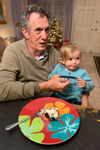 Michael Harris grew up near the base of Mount Shasta, in far northern California. Then he went off to college (the University of Oregon, Harvard, the University of Iowa Writers' Workshop), served in the army in Vietnam, and worked on West Coast newspapers, including the Los Angeles Times, for which he reviewed books for more than twenty years. He traveled in Europe and Asia, including an eighteen-month stint teaching English conversation in Tokyo. But he never forgot the beautiful mountain country he came from, and writing his new novel, White Poison, was a way of returning to it, at least in spirit, and exploring the darker side of its history.
Harris has written four other books of fiction, all available in paperback or e-book on his Amazon page. In 2010, PM Press published his novel The Chieu Hoi Saloon, set during the 1992 Rodney King riots in Los Angeles, about which Publishers Weekly said, "This impressive novel reaches deep into the souls of its characters." He has also written an offbeat love story, Romantic History, which ranges from Seattle to Crete to Boston; Where Desert Rivers Die, a crime novel of the Southwest; and Postwar Children: Two Novellas, about working-class life in the early 1950s.
His short story "Plea Bargain," about the opioid crisis, appeared in the Winter 2019 issue of Prairie Schooner Magazine.
No longer gainfully employed, Harris reads a lot, plays golf, and enjoys baby-sitting time with his granddaughter. He and his wife, Takako, live in Long Beach with one resident cat and three outliers.