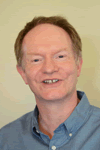 Paul Howard was born in the Garden of England, in East Kent, and educated at Castlemount Secondary school, a school that closed thirty years ago. He's always felt lucky to be surrounded by such a wonderful coastline and has fond memories of days spent on the beach as a kid. His deceased father, Mike, was a seaman, who often used to regale him with tales from his overseas trips, including catching strange fish in New Zealand and of his friend, Vic, who used to bare-knuckle fight at fairgrounds in Australia.
Howard lives with his partner, Anna-Maria, a German woman, whose great uncle was Max Brauer, a former prime minister of Hamburg. In the 1930s, Brauer was involved in trying to stop Hitler from coming to power. The resultant success of the Nazis meant that he had to flee Germany for Manhattan before he was arrested. Howard's partner's family has an interesting past, with her deceased English father, a special forces commando in World War Two, receiving commendation letters from Winston Churchill for his bravery in the conflict.
In the 1980s, Howard worked for Hoverspeed at Dover International Hoverport. At the time, he never appreciated what a unique job it was. Because of the huge fuel costs, hovercrafts are far too expensive to run these days. The possibility of having passenger-carrying hovercrafts again is something the world will never see. Since 1989 until recently, Howard worked for Royal Mail as a postman, but his partner's disabilities, Ehlers-Danlos Syndrome and other associated conditions, meant he has had to give up work to become a home care-giver.
In his years of working for Royal Mail, he found a sense of community and a level of camaraderie among postmen that you wouldn't find anywhere other than the armed services. Unfortunately, due to his circumstances, it was time to move on, so, alas, he had to leave many friends behind, look to the future, and focus on his writing.