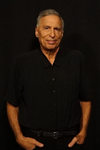 Paul Thaler is a former reporter and a media commentator for many national publications and network programs. He is author of the critically acclaimed The Spectacle: Media and the Making of the OJ Simpson Story, and The Watchful Eye: American Justice in the Age of the Television Trial. Bronxland is his first novel. Thaler lives in the Riverdale section of the Bronx with his wife, Amy, and their three children, Matthew, Robby, and Rebecca.
Bronxland was voted the Number One Best Historical Coming-of-Age Book on GoodReads.com
Bronxland is a finalist in the Eric Hoffer DaVinci Eye Award.