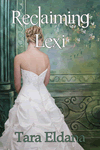 BY: TARA ELDANA
She's filled with a sense of dread on her wedding day…
Lexi McCardle still dreams of Luke Kettering, the guy who dumped her in high school, although she hasn't seen or heard from him since. Concerned about her wedding-day jitters, her family questions her decision to go through with it. Then her fiancé calls it off just as she's kidnapped by Luke. Luke says he loves her and always has. But she doesn't believe him. Can she ever get past her feelings of hurt and betrayal in order to trust him again?
He's tried to forget her, but to no avail…
After he learns of Lexi's wedding plans on social media, Luke calls in all his favors through his contacts with the prosecutor's office where he works and discovers a dark secret about her fiancé, forcing the man to call off the wedding. Luke then kidnaps Lexi and takes her to a remote cabin in Northern Michigan to give them some time alone. He's always loved her, but even as the passion ignites between them, he fears they can never get past her anger. Can he convince her that she belongs to him, or will his betrayal in high school doom their love forever?

TAYLOR JONES SAYS: In Reclaiming Lexi by Tara Eldana, Lexi gets dump by her fiancé on her wedding day and is kidnapped by her old boyfriend Luke, whom she hasn't seen since high school. Not only does Luke kidnap her and take her to a cabin in the mountains, he confesses that he made her fiancé call off the wedding. Needless to say, Lexi is pissed. However, she has never gotten over Luke and wasn't sure that she should go through with the wedding anyway, so she doesn't resist all that hard.
As this is a steamy romance, it's my kind of book. The sex scenes are hot, and the action is fast-paced. The only thing wrong with the story is that it ends much too soon.
REGAN MURPHY SAYS: Reclaiming Lexi by Tara Eldana is a cute, clever, and hot steamy romance. Our heroine, Lexi McCurdle is getting married, or at least she thought she was. Although she is dreading it, she assumes that her fears are just normal jitters. Then her finance sends her a text, telling her there is someone else. On her wedding day! He couldn't have told her this sooner? Or in person? Then, as she is left reeling from the shock of having her wedding called off when she is just about to leave for the church, she gets kidnapped by Luke Kettering, her old flame from high school. Lexi hasn't seen Luke for eight years but she has never forgotten him, or forgiven him for dumping her after only dating her for three weeks. Now Luke is suddenly back in her life, and he seems determined to stay there.
Reclaiming Lexi is short, even for a novella, but Eldana packs a lot into the story. The characters are charming and intriguing, the plot strong, the sex scenes hot and steamy. What's not to love?
Chapter 1
"Are you sure?" her mother asked.
Lexi McCardle fidgeted with the beading on her ivory gown, fighting to breathe through the tightness in her chest. She met her parents' worried gazes then glanced at the clock in the kitchen of the home she grew up in. In true Michigan fashion, calm skies that had blazed sunny blue two hours ago were now gusting an ugly shade of greenish gray.
The impending storm matched the turmoil brewing inside of her. She was getting married in one hour. She would stand in the church where she and her sisters were baptized. She would pledge her body and heart to Marcus in front of 150 of their family and friends. Unfortunately, she couldn't get her mind off Luke, the senior she dated in high school for all of three weeks, until he dumped her ass and fucked his way through the rest of her sophomore class, with the exception of her.
She hadn't seen him since high school. Eight years later and he still haunted her dreams, like the one last night. It should be Marcus, not Luke Kettering making her heart pound. Marcus made her feel calm and safe. Thoughts of Luke made her restless and edgy. She was pathetic.
Lexi and Marcus had dated for two years before he proposed on their college graduation day, promising he would upgrade her diamond as soon as he was working. As always, he'd kept his promise. So what if his kisses didn't make her blood sing? He always kept his promises, but now Lexi wanted to break her promise to marry him.
"Don't do it," hissed her younger sister Kenzie, a senior in high school. "And not just so I don't have to wear this God-awful dress."
"Kenzie." Mary McCardle softly chided her youngest daughter, but her tone meant major business.
Reeni, her middle sister, squeezed Lexi's hand.
"These are just jitters, right? This feeling of sick dread in the pit of my stomach is normal, isn't it?" Lexi didn't realize she spoke out loud until her mother grabbed her other hand.
"No, sweets, it isn't," her mother said.
Lexi's cell phone pinged. It was a text from Marcus. Sorry, Lex.
She stared at the words, and texted back. Sorry 4 what?
I can't. There's someone else.
Lexi set her phone on the kitchen table next to her bridal bouquet of white roses. The perfect, expensive blooms seemed obscene.
"Lexi?" Reeni picked up the phone and then let loose with string of expletives Lexi didn't have the nerve to say in front of their father.
"What?" John McCardle demanded.
Kenzie took the phone from Reeni and, together, she and their father read it. John yanked off his bow tie and then slammed his fist on the kitchen counter. Reeni held the phone out for Mary to read.
"Douche bag couldn't tell you to your face," Kenzie growled.
Lexi thought of everyone waiting at the church and the food her parents had paid for and turned panicked eyes on her mother. "Mom?"
"We'll deal." Mary took off her pink orchid corsage and threw it across the kitchen. "You stay here."
***
Luke watched Lexi's family storm out to the Buick in their driveway and speed off. He'd been watching the house like some crazed stalker since dawn. Since no one else had left, Lexi should still be inside. Unless she'd spent the night someplace else.
Taking a chance she was still there, he walked up to the front door, turned the knob as if he had every right, and walked into her house.
Lexi stood in front of the fireplace, staring at her cell phone, unaware of his presence.
Her breasts and hips had filled out in the last eight years. Her cheeks had lost a bit of the round fullness, but it only made her more beautiful. Her blonde hair hung in waves, and her turquoise eyes reminded him of the waters in the Caribbean. The same stunning eyes and face he saw every time he fucked a woman.
She looked like an angel in her dress. And he wanted to rip it to shreds because she bought it to marry someone else.
© 2015 by Tara Eldana
Armenia Fox's Reviews:
Reclaiming Lexi is a fast-paced, steamy short story. Ms. Eldana weaves all the romantic elements into this contemporary short story which is an admirable effort for her debut in the romance genre. I think it has great potential were the characters and storyline developed in a longer story. All in all, an entertaining read. I'm sure to look for more of her work. ~ Armenia Fox