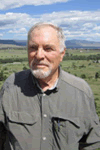 Rex Burns is the author of numerous books, articles, reviews, and stories. The first in his series of police procedurals, The Alvarez Journal, won an Edgar for Best First Mystery and introduced the hard-boiled Denver homicide detective, Gabriel Villanueva Wager. Another, The Avenging Angel, was made into a feature movie starring Charles Bronson (retitled Messenger of Death, 1988). With Suicide Season, Burns introduced the Devlin Kirk series, a Denver private detective specializing in industrial security. Novels featuring the father/daughter detective team of James Raiford and Julie Campbell are published by Mysterious Press/Open Road.
Burns's books are published in hardback, paperback, and audio, and have been translated into a number of foreign languages. He is also co-editor, with Mary Rose Sullivan, of an anthology of detective stories entitled Crime Classics, and has published under the pen name "Tom Sehler." He has published short stories in several periodicals and anthologies, and his "Leonard Smith" series of Aboriginal police stories currently appears in Alfred Hitchcock's Mystery Magazine.
For several years Burns wrote a monthly mystery book review column for the Rocky Mountain News. Other of his reviews have appeared there and in the Denver Post, the Miami Herald, and the Washington Post. A number of his essays on craft have been published in The Writer and elsewhere. He was a contributor to Scribner's Mystery and Suspense Writers, and an advisor and contributor to the Oxford Companion to Mystery.
He received his AB from Stanford University, and, after serving in the Marine Corps, his MA and PhD from the University of Minnesota. He has published articles on American literature and culture, and a study of nineteenth century values entitled, Success in America: The Yeoman Dream and the Industrial Revolution. Retired from the University of Colorado, he lives and writes in Boulder, Colorado.
Into Enemy Arms has won NY Literary Magazine's 2017 Best Story Award.