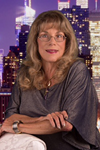 Ronnie Allen is a New York City native, born and bred in Brooklyn New York, where she was a teacher in the New York City Department of Education for 33 years. As a New York State licensed School Psychologist, she was given the opportunity to be one of three educators to create a unit in her school for emotionally needy students. Her various roles included classroom teacher, staff developer, crisis intervention specialist, and mentor for teachers who were struggling. Always an advocate for the child, Ronnie carries this through as a theme in her novel Gemini, with the reader seeing the horrors of child abuse through the eyes of three characters.
In the early 1990s Allen began a journey into holistic healing and alternative therapies. She actually completed her PhD in Parapsychic Sciences in 2001, writing the dissertation when she was home for four months recuperating from being in a coma for 12 days. Medical science had given up on her and told her husband and son that she had less than a 2% chance of survival. Well surprise, surprise! Here she is! Definitely the survivor. And so are her characters!
Along the way, Allen has picked up many certifications. She is a Board Certified Holistic Health Practitioner as well as a crystal therapist, Reiki practitioner, metaphysician, dream analyst and Tarot Master Instructor. She has taught workshops in New York City and in Central Florida where she now lives in all of these mediums both in person and online with the goal being to teach people how to make the mind body connection for their healing and personal growth.
Combining a love of the crime genre and her psychology background, with her alternative therapies experience, writing psychological thrillers is the perfect venue for her.