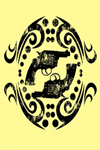 S L Ellis came from a small-town in Michigan, where life consisted of family and work and too much winter. After a few decades of shoveling and scraping snow, Ellis was ready for a fresh start. A move to Florida and time on the beach improved her disposition a hundred-fold. It was there that writing became more than a thought. Classes were taken, workshops worked, and a few books written.
Ellis's short story "A Brush with Death" was published in Vol. 12, DARK TALES, a UK magazine and reviewed by: Vince A. Liaguno, Dark Scribe Magazine Anthology Reviews: "'A Brush with Death' is a solid, at times poignant, chiller in which a dying woman—who knows death well after a lifetime of obsession—makes a deal with the Grim Reaper. Ellis's keen observations on aging and death are spot-on."
Also, Ellis's short story "If the Shoe Fits" was accepted for publication in HARDLUCK STORIES for its final issue.