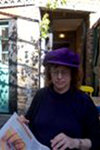 Sandra Gardner is a former contributor and columnist for The New York Times. She is the author of four non-fiction books: Six Who Dared (Simon & Schuster), Street Gangs (Franklin Watts), Teenage Suicide (Simon & Schuster), and Street Gangs in America (Franklin Watts). Gardner's first three books in her mother-and-me mystery series are scheduled to be published by Black Opal Books. You can learn more about her on her website.
Street Gangs in America received a book award from the National Association of Press Women.
Dead Shrinks Don't Talk, her first mystery novel, was the winner of Swyers Publishing's 2011 First New Author (fiction) Contest.
Her novella, Halley and Me, won the 2012 Grassic Short Novel Prize from Evening Street Press.