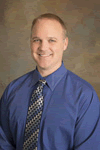 Scott Abel works in state government and is the author of several short stories and the young adult paranormal romance novel, Sunrise.
A native Texan, Abel was raised a PK (preacher's kid) and grew up listening to his father, a masterful storyteller, every Sunday. Whether it was sermons from the pulpit or episodes of The Twilight Zone, powerful stories that tug at the emotions and stretch the mind captivated him.
As he began his own journey through life as a football coach and college administrator, he remained a sucker for a good story—plus chocolate and peanut butter. Now, as a husband and father, he's discovered he's got a few stories of his own to tell.
As an author, Abel is firmly entrenched in the shadowlands where the line between light and dark isn't always so distinguishable. He invites you to step through the thin, misty veil separating the known from the unknown and venture with him into the realm of Sunrise where the supernatural is not only possible…but natural.
In addition to his writing endeavors and work in state government, Abel is also a public speaker. He often speaks to organizations, non-profits, and churches on leadership, communication, teamwork, and motivational messages.
Abel has a bachelor's degree and a law degree from Texas Wesleyan University, but is a rabid, life-long fan of the TCU Horned Frogs. He lives in the suburbs of Austin with his wife and two precocious daughters – who enthusiastically assist him in his search for the perfect combination of chocolate and peanut butter.