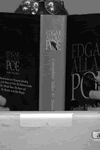 S. J. Francis was born to be a writer, but not until high school did writing take over. Always ready to take on any writing project when assigned one as a child, Francis wasn't aware, yet that it was a love for writing burning within the soul that welcomed the projects. It all started with the publication of one short story, that had been rejected so many times, that Francis lost count, that the writing bug awakened. Francis is a long-time freelance writer, a University Professor, bibliophile, and most recently, a novelist. Writing keeps Francis sane, even when life around isn't. An active voice for causes that involve animals and military veterans, Francis is never at a loss to help others, especially the underdog, cat, and other writers.
With over three hundred publication credits, Francis writes for many publications, as well as regularly contributing to local newspapers. Francis's background also encompasses working as an executive producer for network and public TV. Francis currently lives in Mississippi, where a major part of Shattered Lies takes place—but grew up in New York City, where the latter portion occurs—has a great respect and fondness for both places, and considers the world a notebook full of endless ideas. When not writing, Francis can be found reading a good book, or spending time in the outdoors with the pets. As in all the stories Francis writes, in the end, good and bad, it's all about family. Francis's first novel, Shattered Lies is a women's fiction/mainstream/family saga novel. The family dynamic is a never-ending source of ideas and Shattered Lies is no exception. Future projects include a sequel to Shattered Lies and a novel about the dynamic relationships in Hollywood.
Connect with Francis at the author's website with the link below www.sjfranciswriter.com
Or at one of four blogs:
http://sjfranciswriter.blogspot.com
http://onefortheanimals.blogspot.com
http://aconsumerview.blogspot.com
http://abookreview4u.blogspot.com
Look for S.J. Francis all over the internet!
The first original book cover for Shattered Lies, designed by SJ Francis, was a semi-finalist in the 2015 Authorsdb Book Cover Contest
Shattered Lies was chosen as the General Fiction Official Selection for the 2015 New Apple Book Awards
Shattered Lies was a finalist in the National Indie Excellence Awards
Shattered Lies won an Honorable Mention in the 2016 Readers' Favorite contest in Women's Fiction.
Shattered Lies was a runner up in the 2016 Shelf Unbound Best Indie Book Competition
Shattered Lies was a winner in the 2016 NABE Pinnacle Book Achievement Awards for Women's Fiction
Shattered Lies was a finalist in the 2016 UK Wishing Shelf Independent Book Awards
Shattered Lies has earned the Literary Classics Seal of Approval for 2017.
Shattered Lies is a Honorable Mention in General Fiction at the 2017 San Francisco Book Festival
Shattered Lies is a Silver Award Winner for Best in Category for Mature Issues ~ College Level Fiction in the 2017 Literary Classics Book Award
Shattered Lies was voted Top Book of 2017 by Amy's Bookshelf Reviews