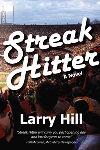 BY: LARRY HILL
His life is about to change…
A utility player for the San Francisco Giants, Navo Lejeune finds himself in the unlikely position of challenging Joe DiMaggio's hallowed hitting streak. And then he meets Melanie…
Her life is about to change.
A prominent art dealer has picked her for international fame and Melanie Blake's days as a barefoot bar artist in Oakland are numbered. And then she meets Navo…
The history of baseball may be about to change…
The world holds its breath as Navo hits his way closer to DiMaggio's record. Will he make it? Or will his dark family secrets destroy his success even as they threaten his life?
Go beyond the batter's box into a world of betrayal, strife, family pride, and a love affair as surprising as the streak itself.
TAYLOR JONES SAYS: Streak Hitter by Larry Hill fascinated me from the very first page. It's the kind of book to read on a rainy afternoon with soft music and hot tea. It's a book about life, about what happens when life doesn't go the way you would like it to, and you have to figure out how to survive. In Streak Hitter, Hill has captured the essence of sacrificing for a dream, and the consequences of letting that dream push you in directions you aren't sure you want to go. And it asks a question we would all do well to answer for ourselves: just how far can you go in pursuit of your dreams and still look yourself in the eye?
Streak Hitter also gave me a look at life in the competitive dog eat dog world of playing major-league baseball that I hadn't seen before. And although, it's fiction, it is very obvious that Hill knows America's Favorite Sport inside and out. The novel is also about dysfunctional families: the players, the problems, and the things people will do to—and for—each other in such a family. But Streak Hitter is mostly the story of two people, Navo and Melanie—their lives, their struggles to rise to the top in their respective fields of baseball and art, and their growing love. I was both moved and impressed by Streak Hitter.
REGAN MURPHY SAYS: Streak Hitter by Larry Hill is an excellent effort by a debut author. The story combines an in-depth knowledge of baseball, and what it takes to play in the majors, with a complicated, yet surprisingly tender love story of an ordinary and quite realistic couple—a misfit ballplayer and a divorcee with a fourteen-year-old son. It's also a touching story of family dynamics and how they influence our lives. The story focuses mainly on the hero, Navo Lejeune, a pinch-hitter for the San Francisco Giants, who bounces between playing in the majors and getting bumped down to the minors when he isn't needed. He is taking one of those trips down to the Giants' Triple A Team as the book opens and he is determined to get back to the majors and stay there. As he heads from San Fran to Fresno, he stops at a bar where he meets Melanie, a struggling artist who gets stuck in Navo's head.
Then one day a female beat report makes a comment and Navo discovers, quite by accident, that he's on a hitting streak and he becomes determined to break Joe DiMaggio's record of safely hitting in 56 consecutive games. Of course, along the way, he falls in love with Melanie, gets arrested for bookmaking, and nearly gets murdered in a tragic case of mistaken identity. Streak Hitter is touching, intriguing, riveting, and realistic. Hill did his homework and it shows in the strength of the plot.
Chapter 1
Navo LeJeune showered, gathered his gear, and left AT&T Park without saying goodbye to a soul. At least this time he'd been allotted seventy-two hours to complete his journey. But having a couple of nights free didn't mean freedom. Not when they'd cut out his fucking heart again. The San Francisco Giants had notified him that he was being sent down to the club's Triple-A team, about a four-hour drive away. Players called this trip, "Taking the Bart to Fresno." It wasn't his maiden voyage.
Soon, his aging Pontiac Grand Prix joined the line of traffic on the Bay Bridge's gloomy lower ramp, with Alcatraz hunkering like a ghost station out in the bay. Listening to the post-game wrap on the radio, Navo drove through the Treasure Island Tunnel, reflections spinning off the car's black hood like beaded blood.
When he found an East Bay nightclub he'd heard evil things about, he wheeled the Pontiac into the outer reaches of the loaded parking lot. Feeling numb, but not numb enough, he got out of his car and made sure it was locked. Even in retreat his bats and baseball gloves had to be secured. Then he put his best misdemeanor smile on his face and strode toward the nightclub's entrance.
He had no problem being waved in. Not necessarily because he'd been recognized as a Giants player. More likely the door dude had figured his tailored silk suit put him a step ahead of the milling night crawlers. Or perhaps, his black eyes appeared too menacing to mess with.
He caught a Goose and tonic at the bar downstairs, then shouldered past dancers moving to a deejay's reggae-ton beat. Took stairs to a mezzanine, where it seemed the crazies had risen to the top. Up here an excited mob circled a young woman sketching at an aluminum easel, her show card reading "MELANIE." Nothing more. Navo edged his way in for a closer look.
"Marvelous,'' a gnome-like man wearing a pink turtleneck shouted. He sounded like a shill. "Live art to music. Isn't that a novel approach?"
Navo agreed. The artist's ass bopped under a khaki smock, her bare feet shuffling. Her profile, beneath a backward cap, appeared a tad older than he'd first judged. She worked in frantic gestures, lines trailing her chalk's bold strokes until they formed solid shapes. Fascinated, he studied her composition until she stepped back as if to give the piece her own evaluation. To him the result seemed a mess of human-like forms tangled in sex, or combat—he wasn't sure. In all it had taken her about ten minutes, just long enough to oil her smooth, tan forehead. She waved a spray can in front of her sketch, removed it from the easel, rolled it up and slipped it into a mailing tube. Immediately, she swapped it for a patron's outstretched cash offer. Then she returned to work, readying another effort.
Navo drained his drink. "She has guts," he said to an obvious cross dresser breathing hard next to him. "She ever take a break, talk to anybody?"
When he got no answer, he maneuvered to where he might intercept her should she give it a rest. In a matter of minutes, she finished the piece she was working on, stepped back, and did her bit with the spray and roll. After making a quick sale to a business suit, she put the money away in the breast pocket of her smock. When she turned to leave her spot, Navo managed to block her path. For a moment they stood eye to eye. Then the crowd bumped them along toward the bar.
He touched her elbow with one finger. "Over here."
She drew her arm away and wiped her hands on some tissue she carried. "Over where?"
"There."
"That's my table."
"Unbelievable."
"What's unbelievable?"
"That I picked the right spot."
The way she'd dropped her head, and placed a hand on the back of her neck, it was hard for him to see the grin, but it was there at the corner of her mouth. Tired, but it was there.
***
A bartender handed Navo two beers. He passed one to Melanie and they sat across a small table far from her easel.
"A quick break," she told him. "Can't lose my momentum."
"Mo is a must."
She removed her cap, freeing short, damp hair almost as dark as his. Her eyes picked up every reflection in the crowded space. While she momentarily looked away, he searched for what made up such a fine face, beyond her great eyes. Bone structure, he thought, and of course her skin tone. In a tiny head trip he compared her coloring to that of Rudy Cruzamonte, Giants second baseman, a man of such mixed origins his true ethnicity remained unknown.
He took a sip of beer. "I'm en route to Fresno but I got some time to kill."
"Fresno I know." She said it like it conjured up bad memories.
He remembered the town too—like a preacher remembers he'd left his wallet in a Highway 99 motel room.
"Navo LeJeune," he said, offering "Navo" again with his hand.
"Heard you the first time." Like it was an everyday name. Her hand was cold from the beer bottle. "I'm Melanie."
"Yeah," he said. "Got that off your poster."
"What do you do? Other than drive to and fro late at night?"
"Play baseball."
She dropped her eyes to his waistline, and he knew he'd just had a physical exam, nothing lewd, shit, maybe an artist's appraisal. "How long have you been doing this?"
"Fifteenth year in the game." Truth, nothing, but the truth. "In the majors off and on for half of that."
"Where?"
"Tonight I played in San Francisco."
"Tomorrow it's Fresno?"
"Actually I'm free for a couple of days."
"Sounds like you're going the wrong way."
"Well, I hope to be coming back up," he said, underscoring a sudden promise to himself. He'd give odds she knew little of baseball and those who played it, but she nodded as if giving his claim consideration.
"Well, maybe you will."
"You say that like you care." Not liking the way she'd frowned, he added, "I mean you said it with some feeling. Maybe nothing special, but enough we might talk some more."
"I have to get back to work. And you look like that drive ahead of you has got you trying way too hard."
He almost mentioned the seventy-two hours again, picturing the two of them laughing easy about this allotment of time, like it was to be shared. No, she'd given no signs of being easy. He thought of telling her he'd watch her perform again, purchase her next sketch. No, he decided again. She didn't sketch in bars just to be watched. And he'd have no idea what to offer for a completed piece.
In an effort to keep her at the table, he fell into small talk. "You live around here?"
"I'm sharing a studio in Berkeley with a friend. I have an apartment for my son and me." Her shoulders slumped as if she'd surrendered more that she'd wanted to. Her eyes challenged his, not so soft now.
He refused to look away. "You're right about me trying too hard. This is about as hard as I know how."
She shook her head ever so slowly. Not in a stone cold negative way, more like there was a degree of tenderness in the gesture she couldn't hide. "I have to go now."
He reached for her hand, grabbed it. "I don't know if I've ever held the hand of an artist before." Using a bar napkin he risked blotting a bead of sweat coursing the mark near her temple toward a scar that ran just above her left brow. "One way or another," he whispered, smelling the natural scent of her hair and skin. "I'm going to make my way back to the Giants."
She tipped up her beer, drank, then pulled the bottle free of her plump lips. "You do and I've got an art show in June at the Yerba Buena Center that I'll sell you." A quick smile teased her face, lit up her eyes. "Actually, it's not mine. I'm just having a show there." She hesitated. "Well, I'm part of a group show, so don't expect too much if you happen to drop in."
She stood and spun, filtering through a row of pesky admirers. He imagined X-raying her starched smock, putting the fantasy in context to her paradise eyes, expressive hands, those bare ankles and feet—swift on the dark floor as she scurried away from him.
Columnist Bill McEwen:
Monday, March 12, 2012: Bill McEwen calls Streak Hitter a Triple Play.
He says: "The long rite that is a baseball season began, as it always does, with players reporting to spring training. But this season arrived with a gift that will carry me past Opening Day and last for years to come: a copy of Larry Hill's novel, "Streak Hitter." The author, who turns 80 on Cinco de Mayo, has pulled off a triple-play with his tale of Fresno past and present, baseball and art…Hill writes with a contemporary eye. Indian gaming politics, meth heads, fighting dogs, bookmakers, downtown developers, pseudo punk rockers and steroid allegations are part of the riveting story…[His] descriptions of baseball's unwritten rules for the field and the locker room are spot on. While writing the book, he talked with Rex Hudler, a former big-league utility player from Fresno and one of the game's most colorful characters, to add to his baseball knowledge. The effort took about five years, during which Hill did dozens of rewrites — adding characters and storylines, cutting others out and polishing page after page one sentence at a time. His first efforts focused too much on baseball. Then a sharper picture emerged of LeJeune and the pressure of playing a kid's game for a lot of money and knowing your career can end with a single play. "You have to write about character. You have to picture who this guy is," Hill says. "I don't think I could write about him if he were from somewhere else beside(s) Fresno."…The challenge for many novelists is recognizing the difference between stretching a story to its full-throttle limit and letting it become a cartoon. Hill keeps the characters colorful without overstepping the boundaries of life as we know it." READ FULL REVIEW